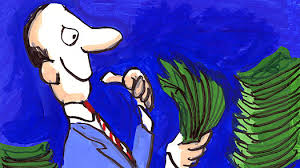 SIT so 'n paar jaar gelede in die Seaview vir 'n dop. Daar sit 'n paar Gansmanne aan die kroeg oor 'n glasie. Ek hoor 'n stem wat ek in my jong dae geken het: diep, welluidend, vol deernis en opregtheid, 'n ware domineestem.

Besef toe so 'n stem kan net aan een mens behoort; 'n ou koshuismaat van my wat destyds tokkelok geswot het en vir wie ek seker dertig jaar vantevore laas gesien het.

"Ek hoor vir ****," sê ek vir my buurman, "dit kan net hy wees, maar ek sien hom nie."

"Daar sit hy," sê buurman. Ek kyk, maar al wat ek sien is 'n grys ou mannetjie met waterige oë, wat niks lyk na die belowende jong dominee van destyds nie.

"*****, is dit jy?", vra ek.

"Ja"

"Wat maak jy hier?"

"Ek's uit die kerk geskop, nou het ek my eie kerk hier kom stig; kom luister Sondag na my preek."
Sondag sit ek toe daar en luister hoe my ou maat 'n roerende preek lewer, nie 'n droë oog in die saal nie.

Na die diens hou hy my terug; ek moet saam met hom die kollektegeld tel. So gesê, so gedaan.

"Dankie tog," sê hy. "Nou kan ek my skuld hier in die dorp rond vereffen en daar's nog genoeg oor vir 'n botteltjie Tas daar ookant Uilkraal" En daar gaat ons...

If you would like to submit your own story and/or find out how to get involved in this project please visit our website for more information.