Eben Lourens vertel hoe die snoek een keer dik geloop het. Almal in die skuit moes mooi bontstaan en raakgryp om die blinklywe aan boord en in die bakke te kry. Met al die gewerskaf verloor een ou sy beste vismes oorboord. Die snoek byt soos besetenes en wragtie, die volgende snoek wat hulle vang. Spoeg toe ewe flink ta se vismes uit..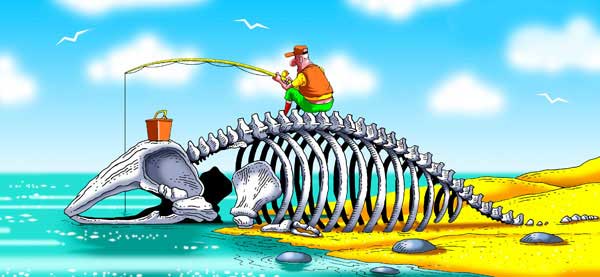 Ek kom 'n slag in 'n geweerwinkel naby Stellenbosch te lande. Een hele muur hang vol trofeë en ek verneem of dit dalk Piet Walvis se werk was.
"Nee," sê die geweersmid. "Maar ek ken vir Piet; ek het op Kraaifontein net windaf van hom gebly. Hy's 'n ordentlike ou, maar ek kan jou nie sê hoe bly ons almal was die dag toe hy en sy stink geraamte daar weg is nie…"
If you would like to submit your own story and/or find out how to get involved in this project please visit our website for more information.