A small group of local residents has for some time now had the dream of writing an all-encompassing book about Gansbaai. This book will contain full information and stories about Gansbaai and its colourful history.

Here's this week's story: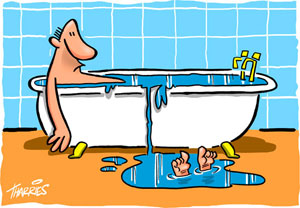 Die eerste Fouries in Afrika het vroeg in die agttiende eeu reeds begin uitwyk van Wellington se kant, waar die Franse stamvader Louis vanaf 1690 die plaas Slangrivier met 21 kinders begin bevolk het. Natuurlik moes die meeste van hulle elders 'n heenkome gaan vind, want een plaas was net te klein vir almal.

Ene Philippus Fourie het so 1735 deur die Rûens getrek en te lande gekom in wat deesdae Baarsdcheerdesbosch genoem word, lank voordat daar enige teken van Gansbaai was. Vandag is die van Fourie, saam met Groenewald, Geldenhuys, Otto, Swart en Lourens, natuurlik een van die algemeenste vanne in die buurt.

Een van die merkwaardigste afstammelinge van hierdie vroeë Fourie was bepaald wyle Barend, wat onlangs (2013) in 'n Blomparkse ouetehuis in Gansbaai oorlede is. Barend het 'n stukkie grond in 'n klofie buitekant B'bosch by sy ouers gëerf en amper sy hele lewe daar 'n kluisenaarsbestaan gevoer in 'n eenkamer-kleihuisie met 'n rietdak.

Barend was bekend daarvoor dat hy skynbaar sy hele volwasse lewe lank nooit sy hare gesny, sy baard geskeer of sy voete gewas het nie.

In 'n onderhoud met 'n tydskrif is hy een keer gevra of hy ooit bad. Ja, so dan en wan sou hy sy sinkbadjie in die son sit en as die water middag se kant louwarm is, dan klim hy in. Hy demonstreer dit toe aan die tydskrifmense; een van hulle vra hom hoekom sy elmboë en voete dan buite die bad op die grond rus.

"Maar sit jy nie jou voete in die bad nie?"

"Nee," sê Barend.

"Hoekom nie?"

"Maak die water te vuil..."

Op 'n keer wou 'n familielid by hom weet hoekom hy nooit sy huis 'n bietjie afwit en opknap nie. Barend was 'n skrander kêrel en gladnie humorloos nie; hy het die navraag effens oordink voor hy homself só daaroor uitgespreek het: "Nee, want dan kry ek te veel las van die vroumense."

If you would like to submit your own story and/or find out how to get involved in this project please visit our website for more information.