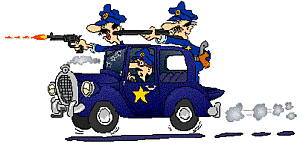 'n Kennis van my bly op 'n grondjie buite die dorp met sy vier honde. Sy oprit is 'n serwituutpad wat uit die Pearly Beach-pad opdraai berg se kant toe na waar die waterwerke staan.

Een oggend skuins voor dagbreek skrik hy wakker van 'n onaardse lawaai: twee motors jaag so al hulle kan rondom sy huis. Daar is net een toegangspad na sy plekkie toe en die ou in die voorste kar het dit seker nie geweet nie. Die jagtog hou minute lank aan en die stofwolke hang later soos rook om sy huis. Hy loer oor die vensterbank en sien 'n polisiekar wat 'n bakkie jaag – sodra die voorste kar wil ontsnap, keer die SAP-kar hom af en dan is dit weer net om-en-om.

Toe val daar 'n skoot; buurman besluit dis nie sy dag vir heldedade nie en duik onder die bed in met sy histeriese honde. Die skote kom nou van weerskante af maar skynbaar almal mis. Skielik ry die bakkie die inrit/uitrit raak en daar gaat die hele prosessie in die pad af...

Stilte. Die stof gaan lê en die honde bedaar.

"Dit was amper soos 'n Wilde Weste-fliek," meen buurman. "Jy weet mos: die voorste lot swaai skielik weg en die agtervolgers jaag by die afraaipad verby."

Hy het nooit gehoor hoe die petalje afgeloop het nie, was maar net bly oor die gebrek aan bloedverlies. "Seker maar stropers gewees," meen hy. "En hulle sê Gansbaai is vervelig!"
If you would like to submit your own story and/or find out how to get involved in this project please visit our website for more information.