Published: 17 October 2013
By:Gansbaai Courant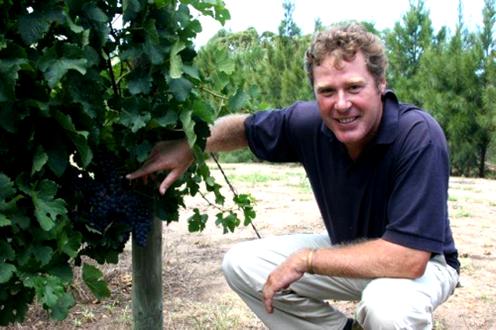 Lomond Viticulturist, Wayne Gabb
Lomond, one of Africa's southern most wine farms, has triumphed at this year's Veritas Awards (10th October 2013), having won three Gold medals at the prestigious event. Some 1800 wines entered this year's competition, known for showcasing the country's best of the best. The winners were announced this past weekend during a gala dinner at the Cape Town International Convention Centre (CTICC). Leading the way to the winner's podium was the Lomond Syrah 2011, followed by the Lomond Pincushion Sauvignon Blanc 2007 and a white wine blend, the Lomond Snowbush 2007.

"We're very happy with the performance," says winemaker Kobus Gerber. "Where the Pincushion and Snowbush are concerned, the achievement shows the ageing potential of South African white wines. Our cooler climate allows the grapes to retain their character and undergo longer, consistent ripe-ning." Lomond viticulturist Wayne Gabb adds: "Most South Africans aren't accustomed to seeing matured white wines, especially Sauvignon Blanc. It's thanks to the ideal conditions at Lomond that these wines have gained the recognition they deserve." As for the Syrah, Gabb says the wine has displayed excellent consistency in quality, emphasising its Rhône style. The Lomond Catstail Syrah 2011 won Gold at this year's Decanter World Wine Awards in London. Accentuating Lomond's excellence across the ranges too, was the Gold medal won by its 2012 Sauvignon Blanc at the 2013 Concours Mondial du Sauvignon, held annually in France.

Lomond is situated near Gansbaai, in the valley of the Uilenkraal River. It is one of only a handful of wine farms within the Cape Agulhas appellation of origin. Exposed to cool, sea-mist air, its vineyards experience little variation in day-night temperatures throughout the year. The soils are mostly of sandstone and shale origins with the intrusion of granite in sections creating lean, gravelly soils. This marked diversity of soil types combined with the valley location, allow for the production of superb wines.

Lomond is part of Cape Legends, a premium wine distribution and marketing company based in Stellenbosch, with an extensive collection of superlative quality, award-winning wines from some of the Cape's most recognised wine estates.

For more information about Lomond, visit www.lomond.co.za.