Daily Blog 09 May 2019 | White Shark Diving Gansbaai
Sightings: Bronze whalers, Seven-gill shark, Cape fur seal and Short-tailed stingray
Location: Joubertsdam
Water Temperature: Cold
Visibility: Poor
We started our first trip of the day in some really beautiful calm conditions. On the way to our anchor spot we were lucky enough to spot a pod of Humpback dolphins. As soon as we got to our dive site we quickly geared up and started to wait for the shark to arrive. Unfortunately, we had to wait for quite a while and had to change our anchor spot to try our luck elsewhere. As soon as we moved the bronze whalers started to arrive giving some really close passes in front of the cage. We had the most excited passenger on the boat today, Tristan of 7 months, who spent his all trip sleeping giving his parents and his big sister Skylar a chance to enjoy beautiful wildlife around. As the last cage were about to get out an unexpected visitor – Seven-gill cowshark - went for the bait.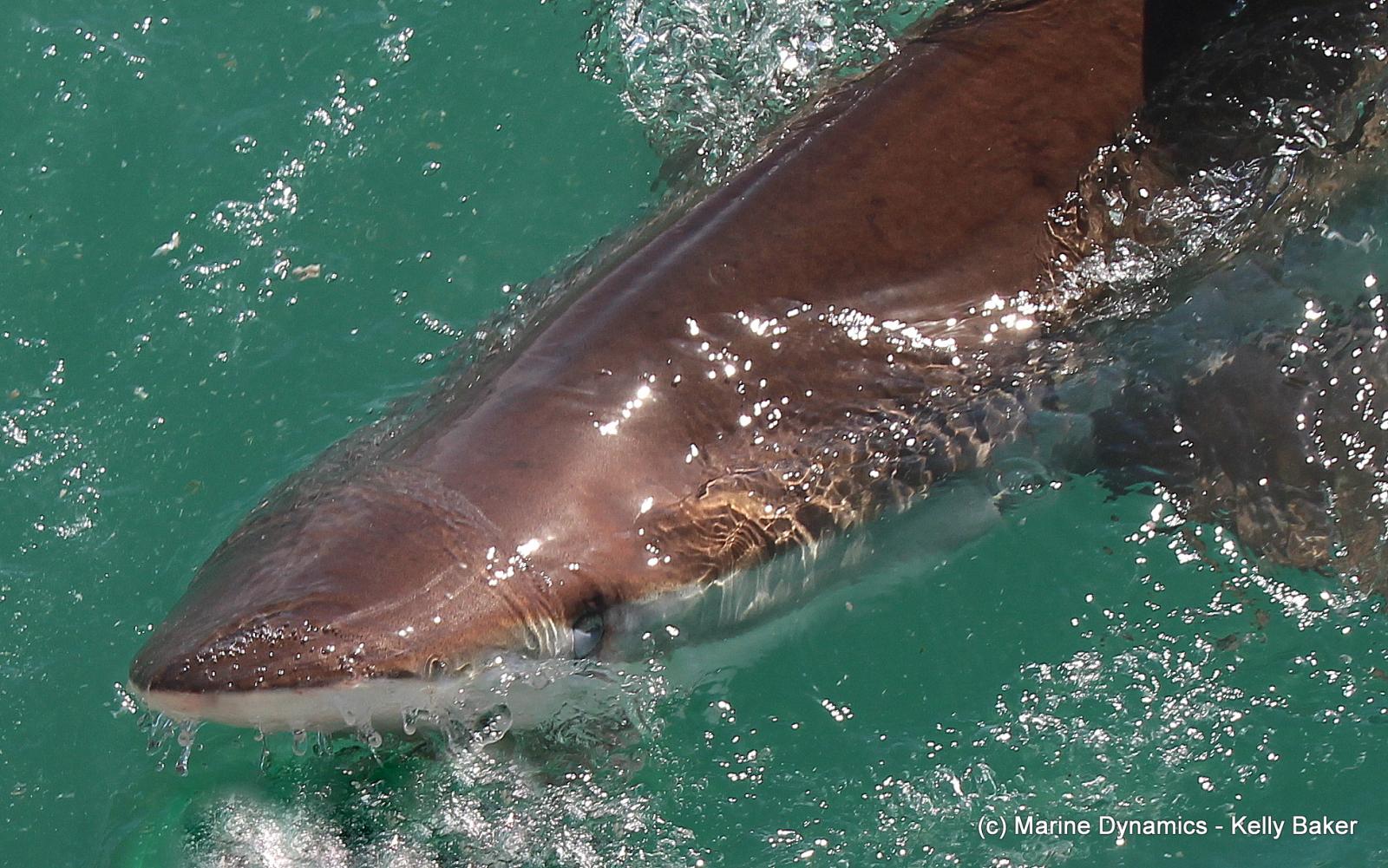 The second trip of the day launched on to the same beautiful conditions as the first, as we cruised through a stunning bay to make our way back to the anchored cage. We had little time to wait for our first shark sighting as a Bronze whaler appeared as our divers were working their way into their wetsuits. The sharks were fierce this afternoon with some shark-tacular approaches seen from a number of large, adult Bronze whalers, curiously most of which were males - an afternoon for the male sharks to shine it seems. We also had a Short-tailed stingray join for the trip and a hungry Cape Fur seal was seen eagerly hunting fish around our vessle Slashfin. An afternoon filled of triple S diving - Sharks, Stingrays and Seal!
If you are looking to get up close and personal with the great white shark then Cage Diving in South Africa, and more specifically with Marine Dynamics, is a once-in-a-lifetime experience you won't want to miss. Book and pay online with us and get a free video of your encounter with the world's apex predator.
"Loved being upfront + close to those amazing marine life! Thank you for such a well organized + educational trip!" - Kelly
"Thank you! We enjoyed it very much, thanks to a lovely crew." - Jaime and Jennifer
"Good experience, good people" - Sonia