Specials
Weekly Specials @ The Brewery Hemel-en-Aarde (Monday - Saturday)
Weekly Specials @ The Brewery Hemel-en-Aarde (Monday - Saturday)
Every Monday (11:00 - 20:00): 2 FOR 1 PIZZA SPECIAL
Every Monday we're spreading the good vibes with our 2 FOR 1 Pizza special ALL DAY!
Buy any 2 of our pizzas (plus toppings) and get the cheapest one FREE!
Please note this is for SIT DOWN ONLY.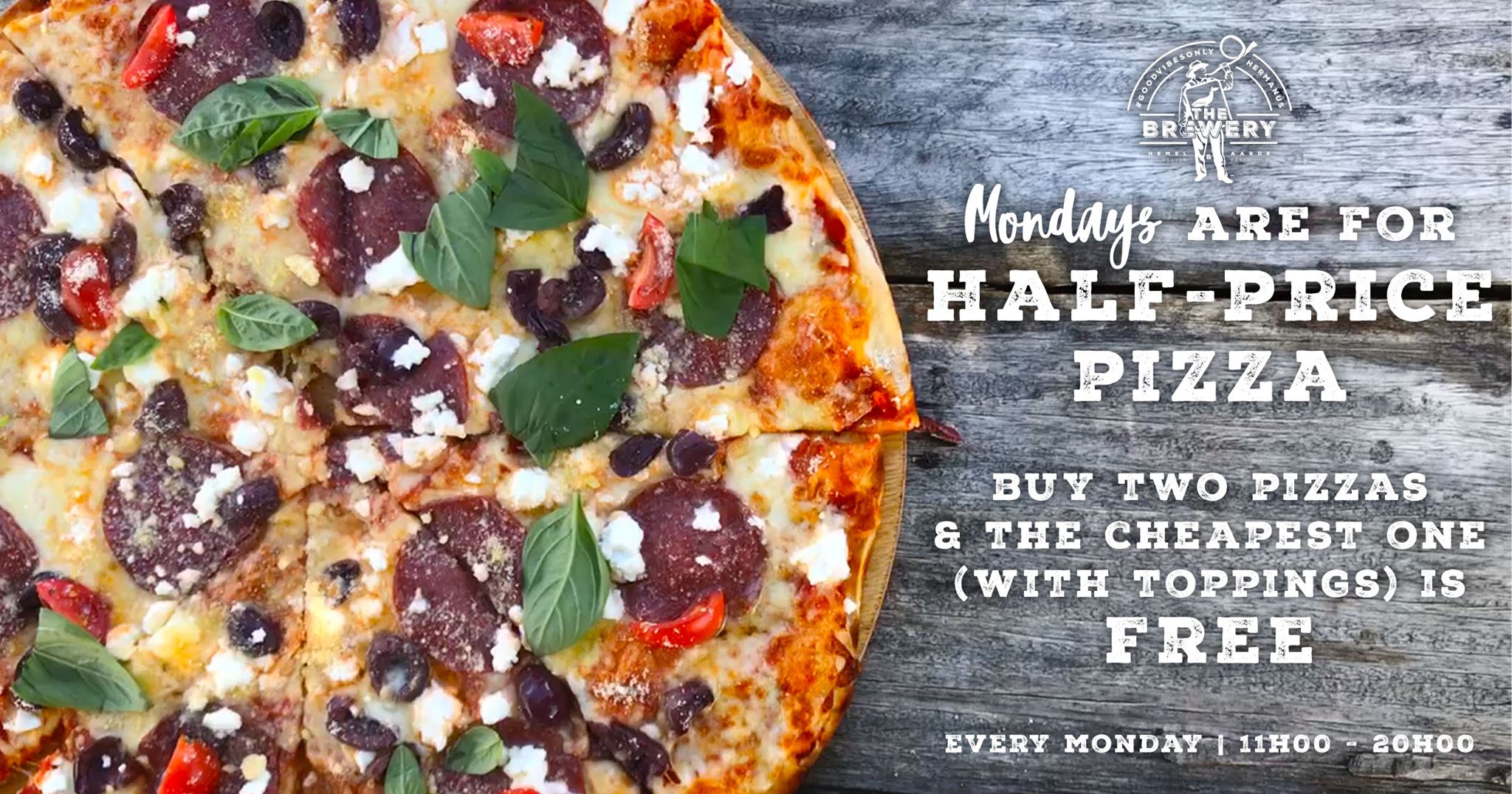 Every Tuesday (11:00 - 20:00): 2 FOR 1 BURGER SPECIAL
Yes. Yes, there is A BREWERY BURGER. And every Tuesday we're offering our amazing burgers as a package deal.
Buy any 2 burgers (excluding our Beyond Burger) and only pay for one!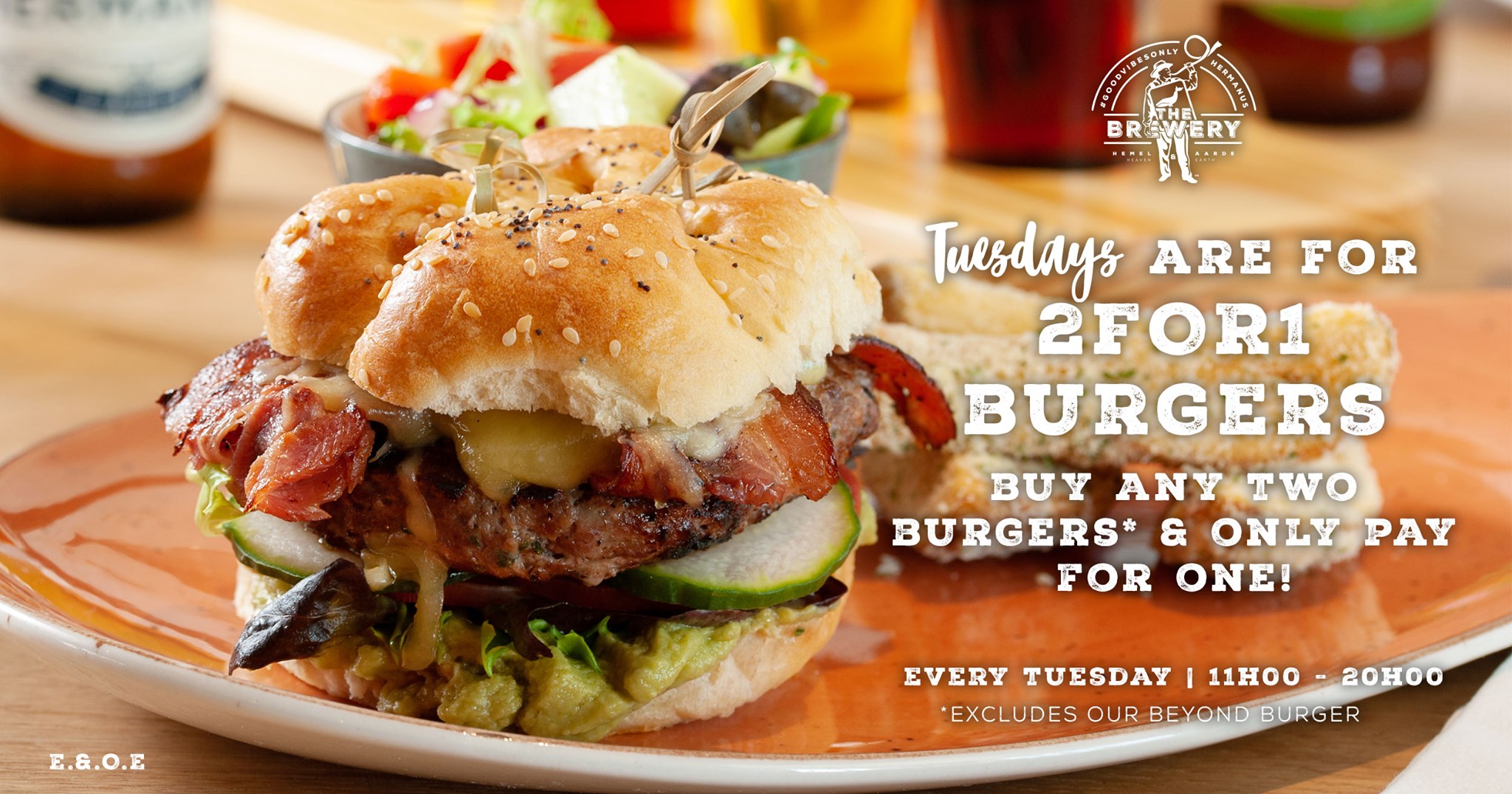 Every Wednesday (11:00 - 20:00): WOOD-FIRED GRILLED HALD CHICKEN + COMPLIMENTARY DRINK
Get a wood-fired grilled half chicken basted in Portuguese-style peri-peri or lemon and herb sauce, served with rustic chips! PLUS a complimentary glass of your choice between any of our on-tap Hermanus™ beers, gins, or house wines!
We celebrate mid-week with this fantastic special for only R175.
Sit-down only.
Every Thursday (11:00 - 20:00): RIBS SPECIAL
It's "Small Friday" but there's nothing small about this special!
Get 1kg of slow-cooked and flame-grilled BBQ pork ribs for ONLY R140. PLUS rustic potato chips!
Every Friday (17:00 - 19:00): DOUBLE HAPPY HOUR
Enjoy 2 hours of happy hour from 17h00 - 19h00! Get half-price Hermanus™ on-tap beers, gins, and house wines.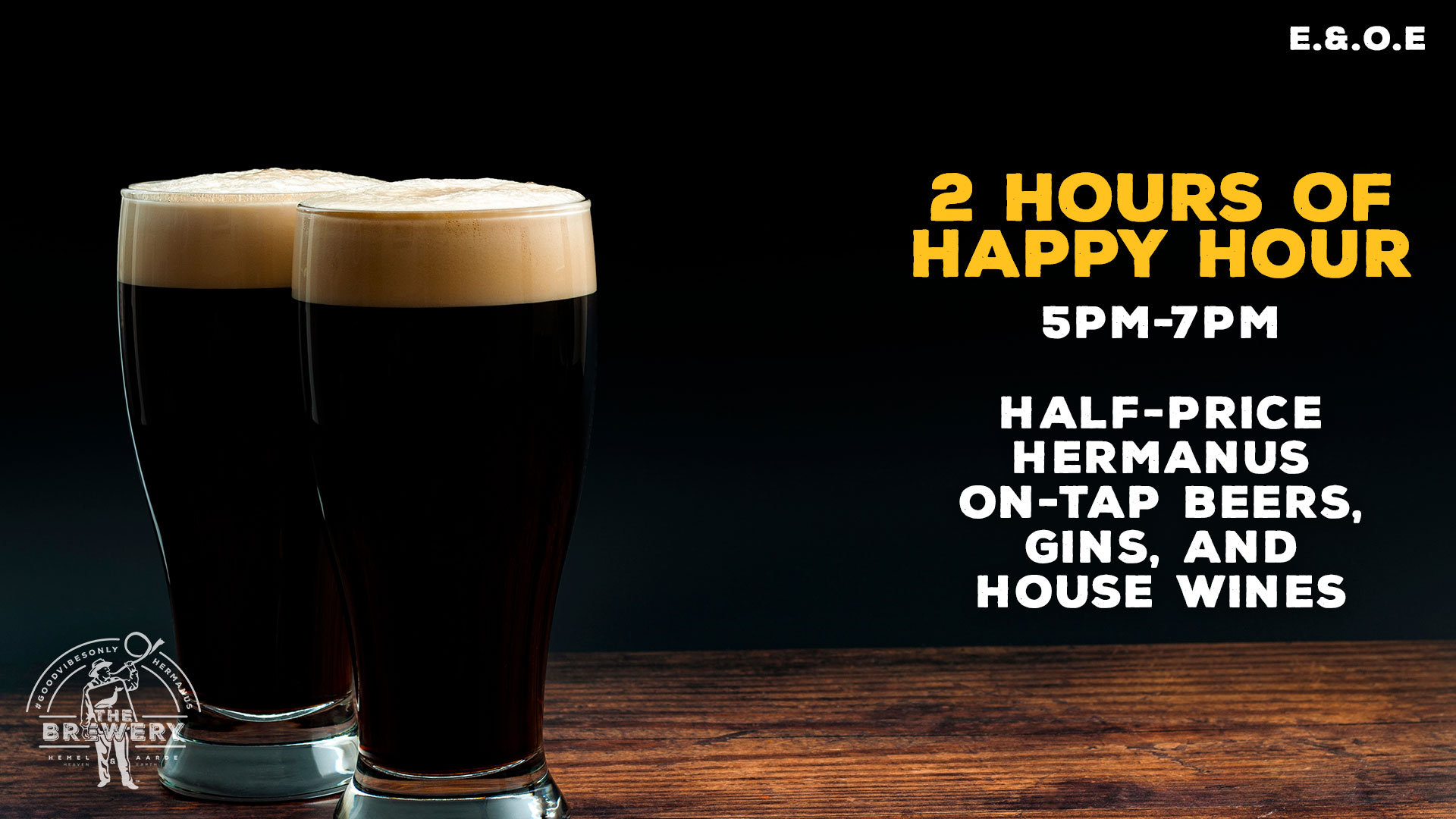 Every Saturday (All Day): R30 PER 500ML ON-TAP LAGER OR LIGHT LAGER
The Brewery loves a good vibe (as you well know) and we've decided to keep it going with R30/500ml of Hermanus™ Lager or Light Lager EVERY SATURDAY!
HAPPY HOUR: MONDAY - THURSDAY (17:00 - 18:00)
For more information, contact The Brewery Hemel-en-Aarde.