Activities in the Overberg
There are many activities and things to do in our area. They are as varied as you could wish.
Below are some of them for your information:
Walker Bay offers various excellent whale watching spots. The closest is a few minutes' drive from Bellavista from the top of the cliffs of De Kelders. Whale season is between June and December.
Walker Bay, the lagoon and the Klein River area are famous for bird watchers with nearby town of Stanford declared as "bird watchers paradise of the Overberg". Various nature reserves nearby invite you to explore the local fauna and flora.
Our property of 300 hectares offers private hiking and jogging trails with plenty of bird and animal watching, in the middle of the real "Fynbos Kingdom". Feel free to pick the flowers that you like most as an ever-lasting souvenir from our beautiful area.
On the more leisurely side, our salt water over-flow swimming pool, dropping into a kid's pool, is available to all our guests.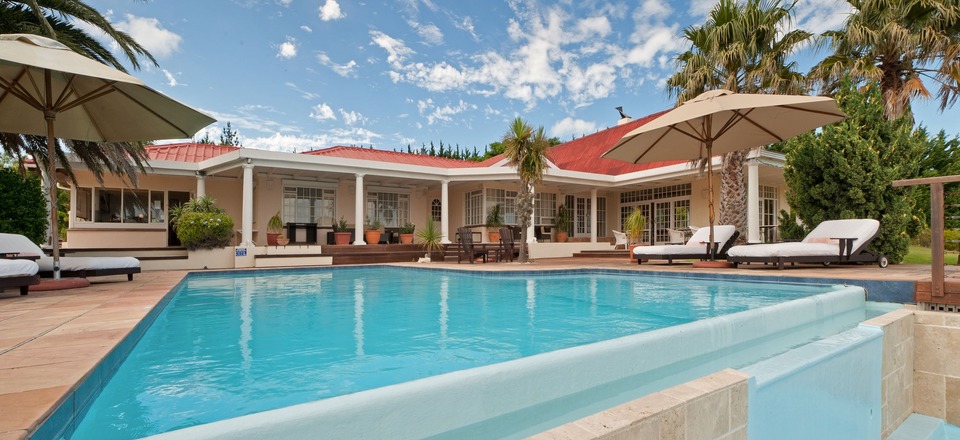 The comfortable deck chairs around the pool area invite you to read a book, to sip a lovely South African wine or simply to snooze away and relax.
Day trips to Cape L'Agulhas - the tip of Africa, Arniston, Hermanus, the coastal Winelands, Greyton and other places of interest.
We highly recommend a visit to Platbos, Africa's Southernmost Forest. Platbos is an ancient indigenous forest situated at the foot of Africa. Described by botanist and author, Professor Eugene Moll, as a "unique South African forest jewel", this is a forest that enchants and inspires all who come to visit.
We also highly recommend a visit to Panthera Africa - animals and humans in harmony. Panthera Africa is a non-profit company inspired by the passion Lizaene and Cathrine have for the four pantheras; panthera leo - the lion, panthera pardus - the leopard, panthera onca - the jaguar and panthera tigris - the tiger. Panthera Africa is an environmentally friendly sanctuary for any captive bred big cats, where they will be protected and prosper for the rest of their lives.
Cruises on the Klein River and the Lagoon nearby as well as kayaking on the open sea during which you will enjoy the varying scenery enormously.
An off-road 4x4 on a private farm up into the Overberg is available for the adventurous ones. Own suitable 4×4 required, no renting available yet. Fishing in the lagoon, from the boat in the open sea or from the rocks as well as horseback riding are also exciting activities available in our area. Hermanus features one of the most famous and beautiful golf courses in the country (several other beautiful golf courses are also available in the area) and has an interesting craft market and nearby Caledon is well known for its hot springs and casino of international standards.