HERTZ New Arrival - Toyota Corolla Cross Hybrid
Hybrid Information: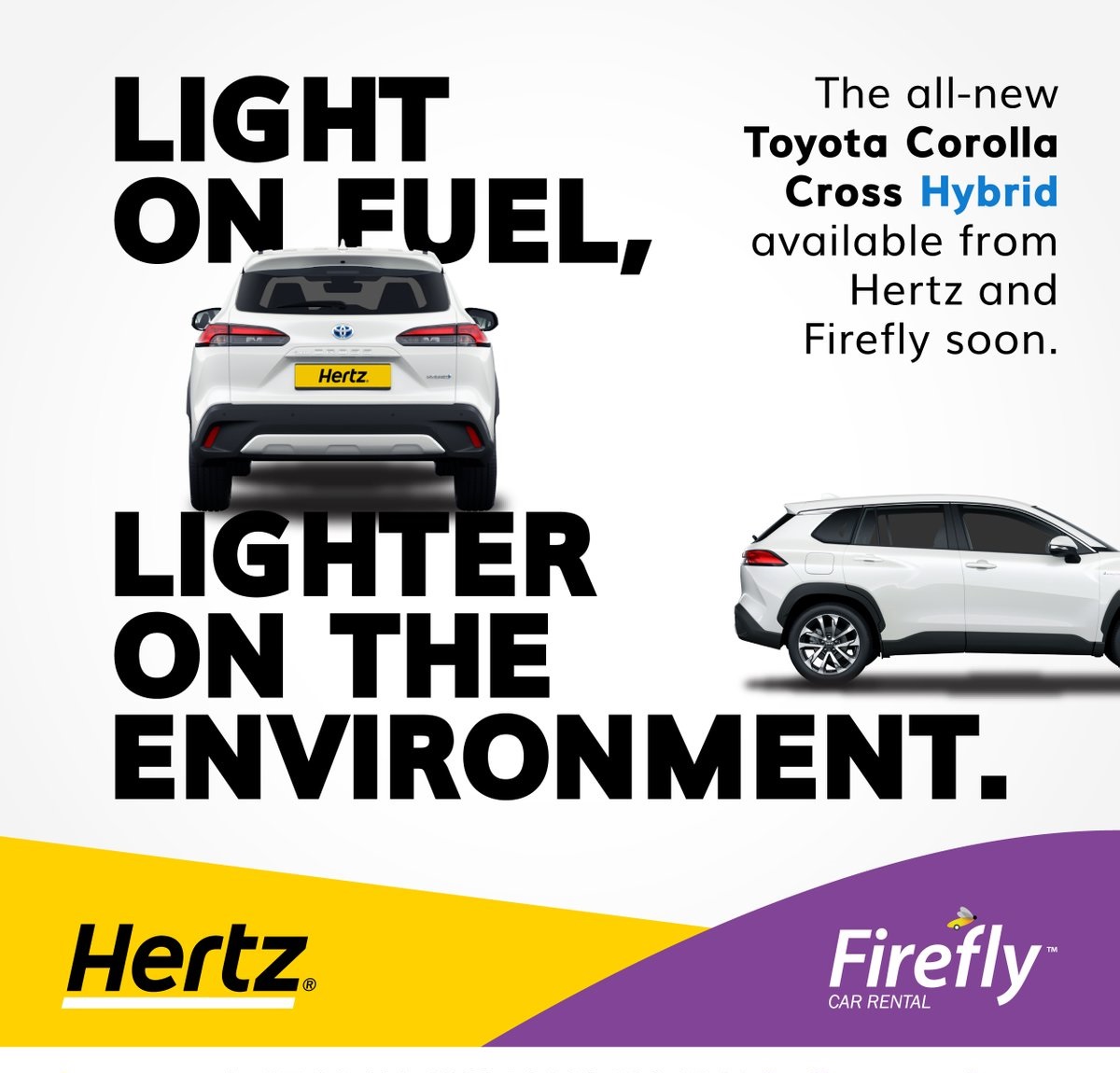 Corolla Cross Mild Hybrid
Mild hybrids offer the basic benefits of Hybrid technology - electric-boosted performance and some energy recovery under regenerative braking for modest fuel economy gains - at a relatively low cost.
This drivetrain is comprised of a petrol engine, two electric motors, a Hybrid battery and a continuously variable power split transmission that integrates the petrol and electric power plants and sends drive torque to the wheels.
HYBRID DRIVE (LHD) SYSTEM
Function: The petrol engine is ideal for powering the wheels at higher speeds and spinning one of the electric motors (MG1) to recharge the battery when driving. The electric drive motor (MG2) is ideal for powering the wheels at lower speeds and recharging the battery when coasting or braking.
The Hybrid battery stores electricity generated by MG1 and MG2, and then sends this electricity back to MG2 to help power the vehicle. The continuously variable transmission is also the Power Split Device and integrates power from both sources before sending it to the drive wheels.
Benefits of Hybrid in Business
Toyota Hybrids make perfect business sense. They deliver class-leading Total Cost of Ownership, a high standard specification and extremely low CO2 emissions which could lead to lower taxation.
Our Hybrids work hard to save your business money.
• Renowned Quality and Reliability
• With our renowned quality and reliability at their core, Toyota Hybrids will become a dependable member of your team. Benefitting from lower wear to parts - such as brake pads and discs - our Hybrid models also come with a 8 year/195,000km warranty from new, and when they pass their annual.
Low Emissions and Running Costs
• Toyota Hybrids deliver for your business on the road, but also make a bold environmental statement off it. Featuring class-leading CO2 emissions and low fuel consumption they impact our planet less while saving your drivers' and business money thanks to lower tax and operating cost.
FAQs Regarding Hybrids:
Question 1:
What about performance, is it just all about fuel economy?
Answer:
Hybrids have the performance of a larger engine, with exceptional fuel economy.
Hybrid vehicles deliver the performance of larger petrol engines, the fuel economy ratings of smaller engines, and instant low-end torque for quicker 0-30 acceleration thanks to the combination of the petrol engine and electric motor accessories.
Question 2:
Do I have to plug in my Hybrid vehicle?
Answer:
Hybrid vehicles do not need to be plugged in.
The Hybrid technology automatically recharges the 12-volt and Hybrid batteries using regenerative braking or by running the engine to generate electricity.
Question 3:
Do Hybrids have a higher cost of ownership?
Answer:
No, there is a lower anticipated cost of ownership.
Hybrid powertrains eliminate many of the components found in conventional powertrains. Fewer moving parts means less wear and tear, fewer parts to replace and lower maintenance costs.
| | | |
| --- | --- | --- |
| Engine Code | Fuel Cons. (l/100km) | CO2 Emissions (g/km) |
| 2ZR-FE (Petrol) | 6.8 | 154 |
| 2ZR-FXE (Hybrid) | 4.3 | 98 |
For more information, contact Hertz Rent a Car.