Nursing Intake 2023 Applications Now Open!
NURSING ISN'T JUST A CAREER BUT A PASSION AND A CALLING.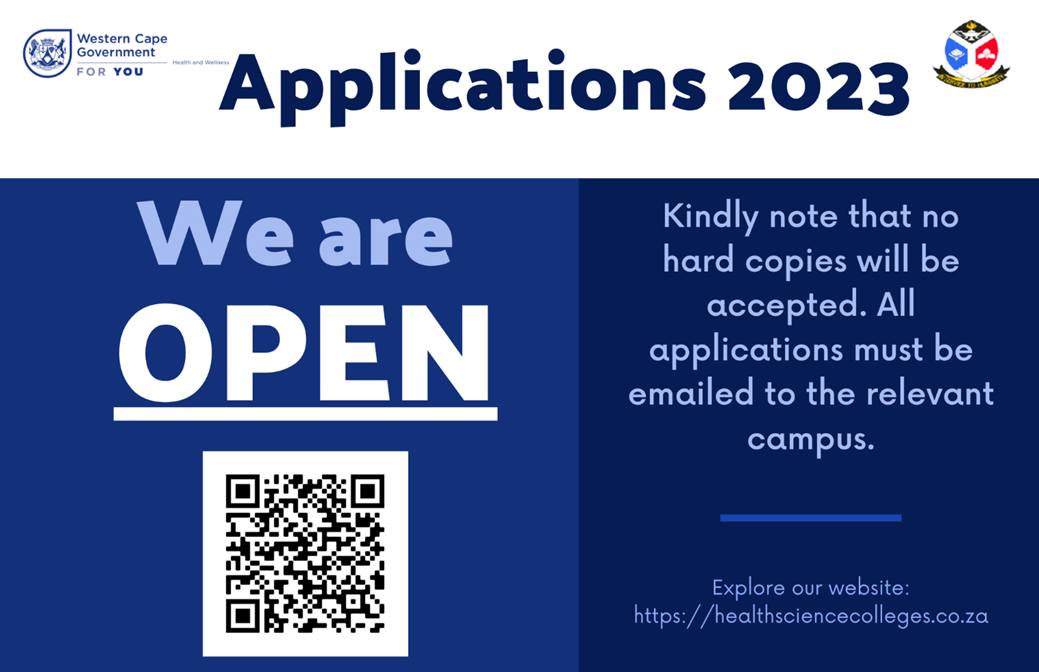 The Western Cape College of Nursing invites all interested students to apply for admission into nursing programmes before 30 September 2022.
A qualification in nursing offers you endless possibilities, from working in the local health sector, hospitals, community health centres, clinics, private health care facilities and non-governmental organisations, or taking up opportunities abroad.
When you apply, make sure you meet the minimum admission requirements and that you correctly identify the programme (and campus) you wish to study. All applications (including all requested documentation) need to submit an application via email to the preferred Campus Admissions office.
Only one application form per student is allowed. Any additional applications will not be processed.
No guarantee can be given that funding will be granted to students. All prospective students must make provision to pay for Application/Registration/Study/Residential fees.
For more information, go to the Western Cape Government Health and Wellness, Health Sciences Colleges website on healthsciencecolleges.co.za
Please see contact detail per Campus:
Boland Overberg Campus (Worcester):
• Modesta Willemse, Email modesta.willemse@wccn.org.za and Tel: 023 347 0732/52
Metro West Campus (Athlone):
• Verna Middleway, Email verna.middleway@wccn.org.za and Tel: 021 831 5815 (R171), or Thabo Mbenenge, Email thabo.mbenenge@wccn.org.za and Tel: 021 831 5810 (R169)
South Cape Karoo Campus (George):
• Semonay Malgas, Email semonay.malgas@wccn.org.za and Tel: 044 813 1849