This year the Elgin Open Gardens consists of 20 different gardens throughout the Elgin and Botrivier areas and covers 2 full weekends of blooming beauty! Hosted on the 29 - 30 October and again on 5 - 6 November 2016, the gardens on show include some of more than 50 years old.


This year marks the 15th annual Elgin Open Gardens and being hosted within the Elgin Valley and beyond it promises to be an event of bountiful beauty. The various gardens will be serving up freshly baked goods, piping pots of tea and light lunches as well as selling a selection of pot plants, perennials and more. The Elegantly Elgin Wine Route will also be open for those wanting to not only look at the fruits of nature from the area, but also taste them. There will also be art exhibition at Wildekrans Country House by Francois Koetze, Bert Touwen at Lavenham and the Elgin Artists' Group at Glenbrae as well as greenhouse tours at Oak Valley.
The various routes for the Open Gardens are as follows:
Route 1 - Grabouw and Environs
Lothian Vineyards - The Stone Kitchen - Palmiet River - Oak Valley Flowers -Eikenhof - Fresh Woods
Route 2 - Viljoenshoop Road
Belfield Wine Estate - Fairholme - Lavenham - Heideland - Dennegeur - Almenkerk Wine Estate
Route 3 - Highlands and Valley Roads
Keurbos Nursery Gardens - Auldern - Iona - Brookelands - South Hill
Route 4 - Houw Hoek and Botrivier
Wildekrans Country House - Houw Hoek Outspan - Basterskloof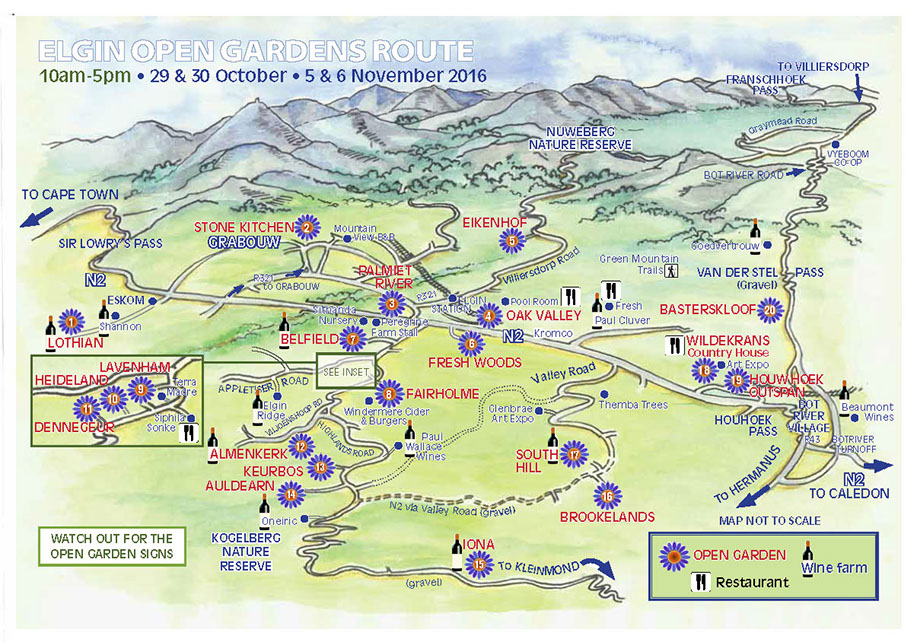 Book your tickets today for a beautiful weekend in the Elgin Valley! Remember to also book your accommodation to avoid disappointment and stop by the local places to eat to experience true country hospitality!
For more information visit www.elginopengardens.co.za