Oubaas Lesch's best fish to catch around Gansbaai's coastline.
Please note images courtesy of Oubaas Lesch


# 1 Galjoen
Scientific name: Dichistius capensis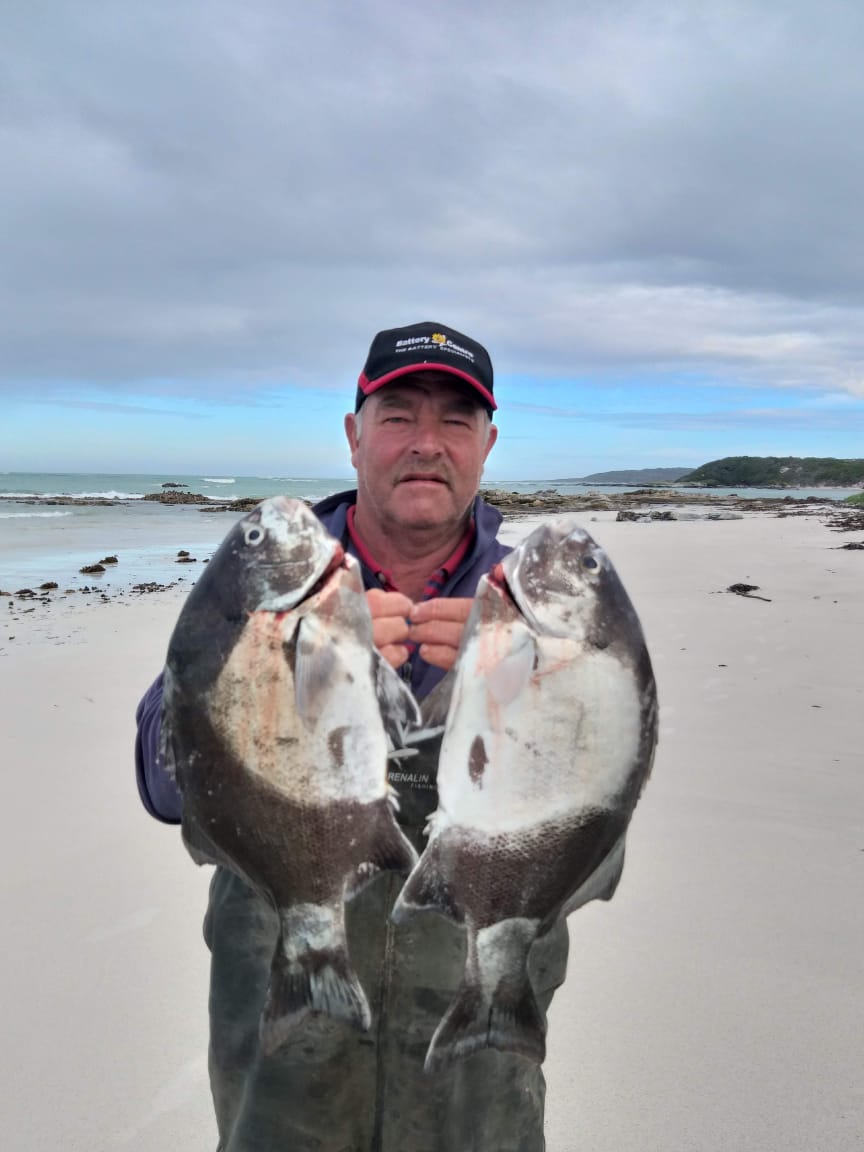 Galjoen is endemic to the coastal waters of southern Africa and is South Africa's national fish. They are known as strong swimmers that readily enter rough surf, sometimes close to shore, in search of food. Remarkably, they can change colour to blend in with their surroundings and become nearly-black when exploring the rocky coastline and pale bronze when closer inshore. Galjoen have small mouths, sharp incisors and thick, muscular lips to help lever their prey off rocks.
Season - mostly winter
Wind - northerly
Size (minimum) - 35cm
Bag Limit - 2 per day
Bait - red bait, wonder worm (shingle worm), blood worm, moonshine worm, white mussel and prawn


# 2 Musselcracker
Scientific name: Cymatoceps nasutus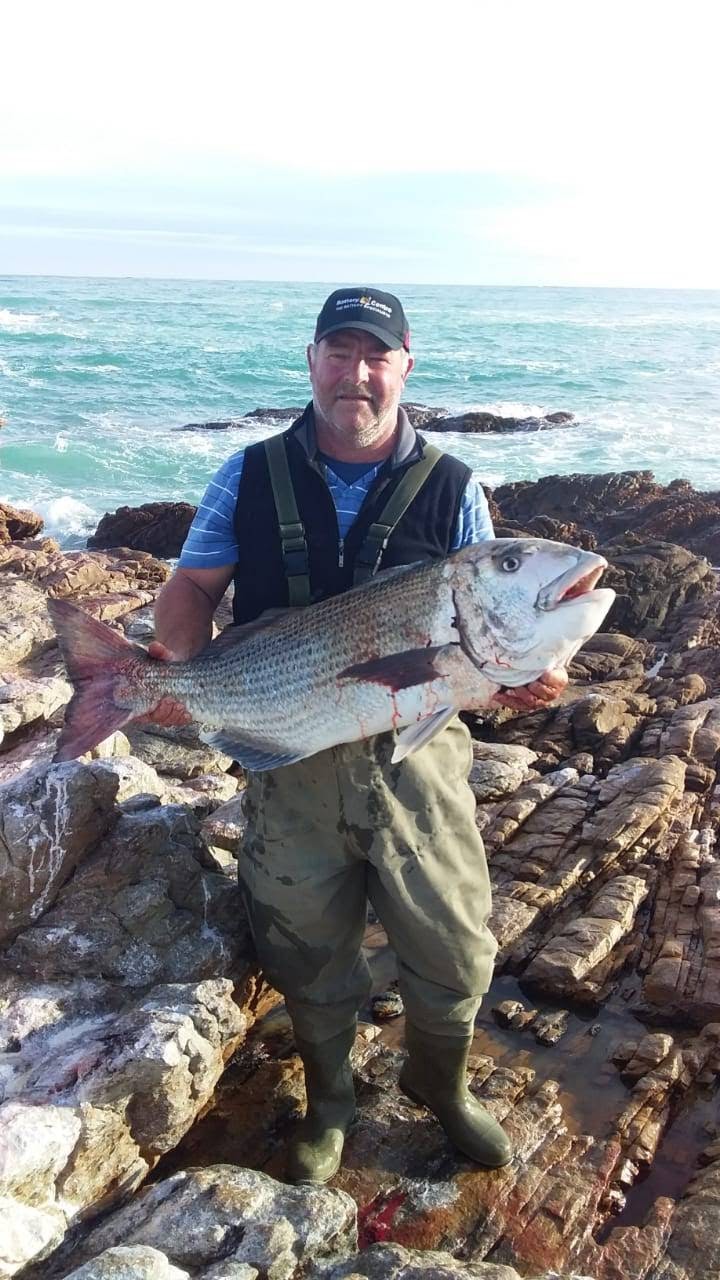 Musselcracker is one of the most iconic species of bottom fish and although very resident as juveniles, move onto deeper reefs when they mature. Their life history characteristics include slow growth, late maturity, the ability to change sex and a lengthy-lifespan of about 45 years. Musselcracker can crush the shells of their prey with their powerful jaws and strong, rounded teeth.
Season - mostly summer
Wind - any direction except easterly (favours westerly)
Size (minimum) - 60cm
Bag Limit - 2 per day
Bait - red bait, red crab, crayfish tail, chokka and crayfish tail


# 3 White Steenbras
Scientific name: Lithognathus lithognathus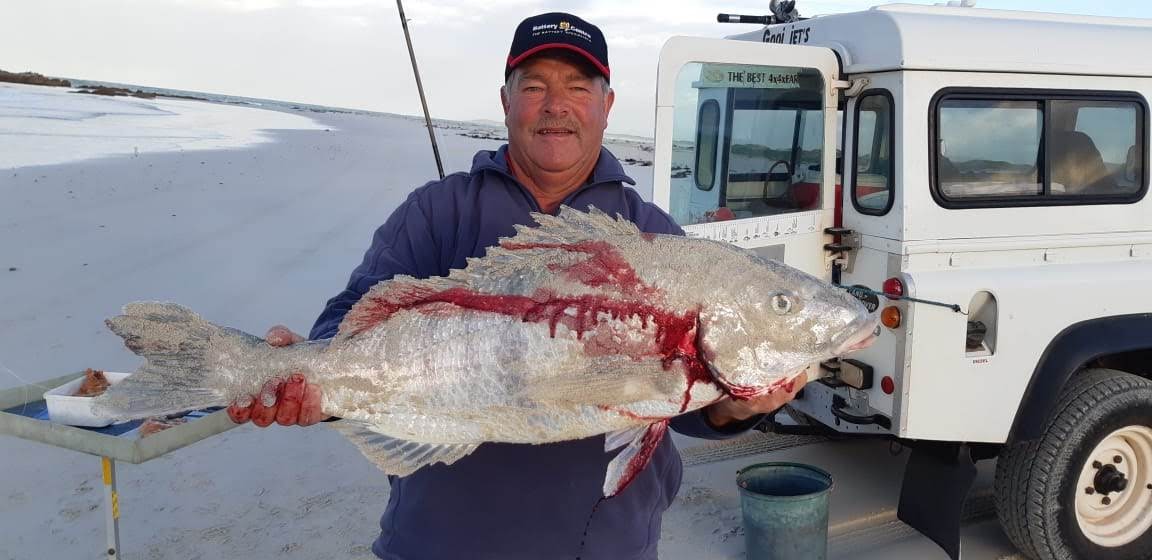 White Steenbras is a large, silvery fish that occurs in both the Atlantic and Indian oceans. Although fairly solitary in their natural habitat, there can be large runs of them at certain times of the year. Steenbras prefer shallow waters to deeper sea and also enjoy estuaries where they can survive in almost-fresh water for extended periods. They have pointed noses and tiny teeth at the front of their jaws, with larger molars towards the back.
Season - all seasons
Wind - all weather
Size (minimum) - 60cm
Bag Limit - 1 per day
Bait - Bloodworm, moonshine worm, wonder worm, crayfish tail, prawn and white mussel


# 4 Kabeljou (Cob)
Scientific name: Argyrosomus inodorus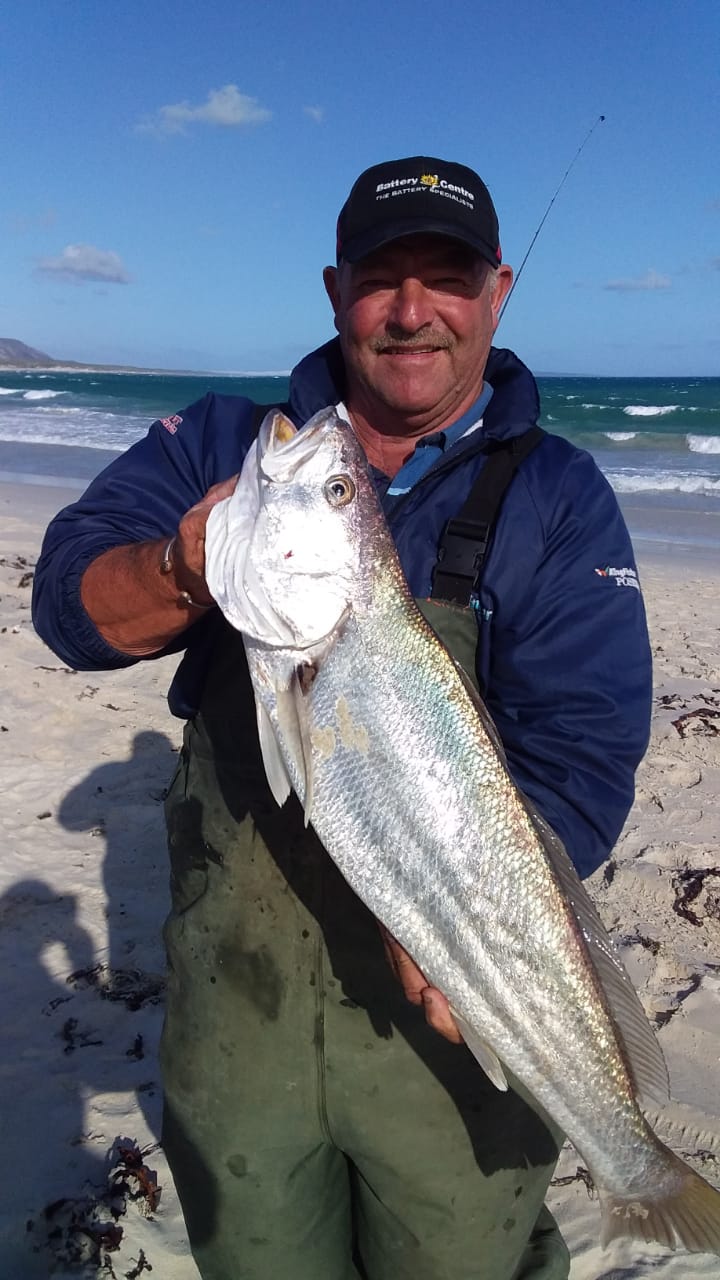 Kabeljou is an aggressive genus of fish that mainly moves around in shoals and feeds mainly at night. They prefer conditions that are calm and murky so the brown and yellow water on sandy bottoms and rocky reefs, and in estuaries, especially appeal to them.
Season - summer
Wind - south-easterly
Size (minimum) - 50cm
Bag Limit - 5 per day on the west side of Cape Agulhas Lighthouse (one on the east side)
Bait - chokka, octopus, pilchards and small live mullets
Oubaas lists a 28.6kg kabeljou as one of his top catches.


# 5 Cape Hottentot
Scientific name: Pachymetopon blochii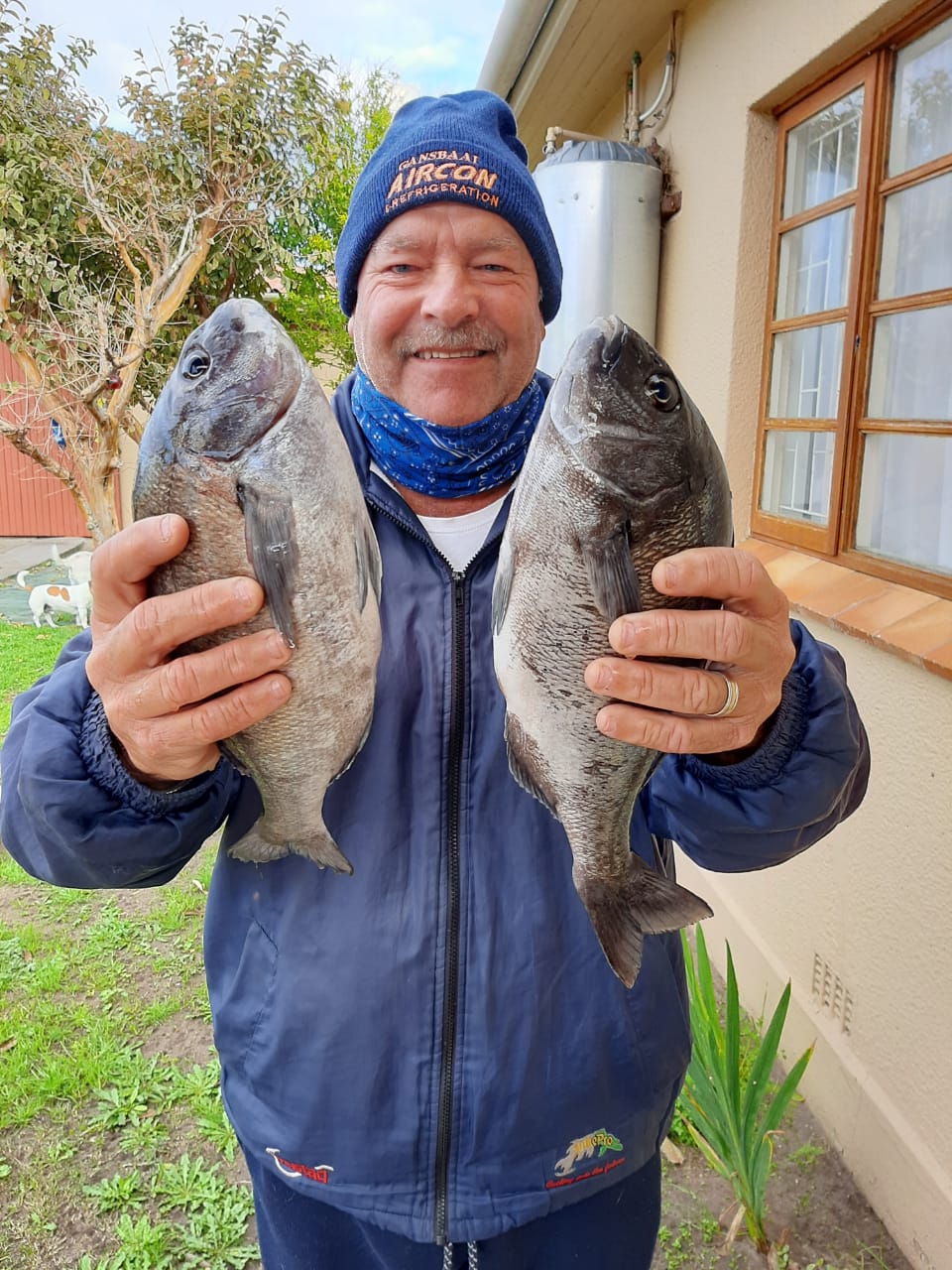 Cape Hottentot is bronze-grey sea bream that inhabit small shoals in kelp forests, and over rock reefs. The fish has five rows of incisors and some have at least one molar to assist with their omnivorous diet.
Season - summer
Wind - south-easterly
Size (minimum) - 22cm
Bag Limit - 10 per day
Bait - red bait, white mussel, wonder-worm (shingle worm), blood worm, moonshine worm and pilchards



Photos of fish caught by Oubaas