The coast south of Queensland, Australia saw the unusual stranding of a group of Killer Whales yesterday. Australian rangers and officers rushed to the scene to help as a fishing boat kept a close eye on them from the water.

A small group of 5 Killer Whales, also known as Orcas, was spotted near Fraser Island as they thrashed about trying to free themselves. Rangers and officers attempted to keep the animals comfortable with shade and keeping them wet as they waited for the late afternoon tide to rise.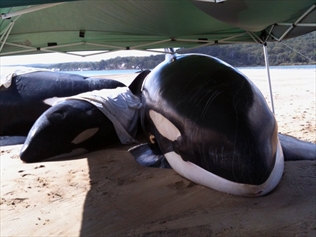 The group consisted of 4 adults between 6m and 7m and one juvenile of about 4m long. The group was spotted near Frasier Island where they became stranded on a 5m long sandbar. It is believed that the monochrome cetaceans became stranded when it became low tide. Killer Whales are known to appear along the coast off Queensland during winter as they follow the migrating Humpback Whales. They normally feed on the weak and the young larger Whales. Experts all agree though, that Killer Whale strandings are very rare across the world, even more so in Australia.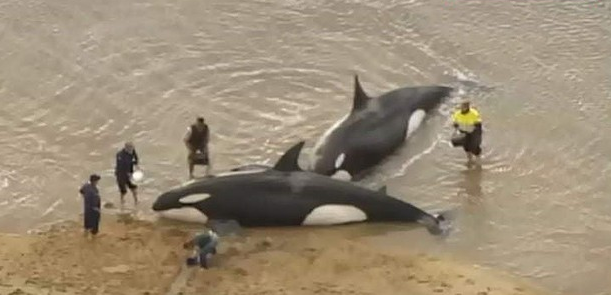 Another two Killer Whales got stranded at Bookar Island, also in the Great Sandy straight. This time a mother and her calve. Despite the efforts of the rangers and officers, both animals passed away from overheating.

The awaited late afternoon tide finally allowed for the Orcas to free themselves, after which they appeared to head south-east into deeper waters. Let's us hope they do not return to the get stuck again as so many other dolphins and whales have done in the past few months. Rather leave the shallow waters to us!