Gansbaai Tourism forms part of the Cape Whale Coast and is run by experienced staff who personally welcome you to Gansbaai at their modern visitors' centre, at The Great White Junction. The team are also available to answer enquiries telephonically and can assist with bookings and reservations for events and establishments in Gansbaai and surrounds.
The vibey info-hub and shop is well-stocked with area maps and is the place to visit if you want news about current and upcoming events. A collection of historical photos and news articles are on display for those who want to take a stroll down memory lane. Furthermore, the centre offers the community administrative services such as the sending of emails and the typing of CVs.
As a business owner, being a member of Gansbaai Tourism means that you can actively be involved in the marketing of Gansbaai and all it has to offer while contributing toward an entity that:
Welcomes and orientates visitors to Gansbaai, its businesses and activities
One of the first things a visitor to Gansbaai could hope for is to make a face-to-face connection with knowledgeable locals who know everything possible that there is to know about the area, its businesses and the community. The team at Gansbaai Tourism are passionate about tourism and the value it brings to the town and is ready to assist with any query and request.
Creates exciting events to draw interest to Gansbaai
Gansbaai Tourism believes that happy residents and visitors, equal a happy and successful town. There is always something special happening throughout the year with weekend markets and major festivals as well as community-driven charity events that collectively draw thousands of visitors to Gansbaai each year.
Promotes tourism members inside the Tourism Centre
Gansbaai Tourism offers its members a multitude of benefits that include the display of marketing brochures and events posters inside the spacious tourist information centre. The Gansbaai Tourism team can assist with bookings for accommodation and reservations for one of the many restaurants in Gansbaai.
Showcases Gansbaai on as many marketing platforms as possible
Gansbaai Tourism is constantly keeping abreast with the latest marketing trends, and in doing so have partnered with Xplorio, the Overberg's official Town Website. To add value to the online service, Gansbaai Tourism is well represented on social media platforms such as Facebook and Instagram where regular competitions are held.
Assists with local economic development
Gansbaai Tourism is up-to-date with local economic development and products which they regularly share with members via informative newsletters. Regular workshops are held to educate and empower those who share a passion for service excellence, and community success. Furthermore, speakers and bloggers regularly appear at tourism meetings which are perfect networking opportunities for members and key role-players.
Offers the use of modern and affordable function facilities
Gansbaai Tourism offers the use of a spacious function hall that has a fitted kitchenette and restrooms. The hall is perfect for community meetings, workshops, educational courses and personal functions such as weddings and birthday celebrations.
Educates the community to live holistically
Gansbaai Tourism wants Gansbaai and the natural surroundings to remain well-kept for future generations to enjoy, and in doing so proudly practise responsible tourism. This means the constant challenge to educate locals and visitors against using single-use plastic is on the agenda as well as continually organizing eco-initiatives such as beach and hiking trail clean-ups.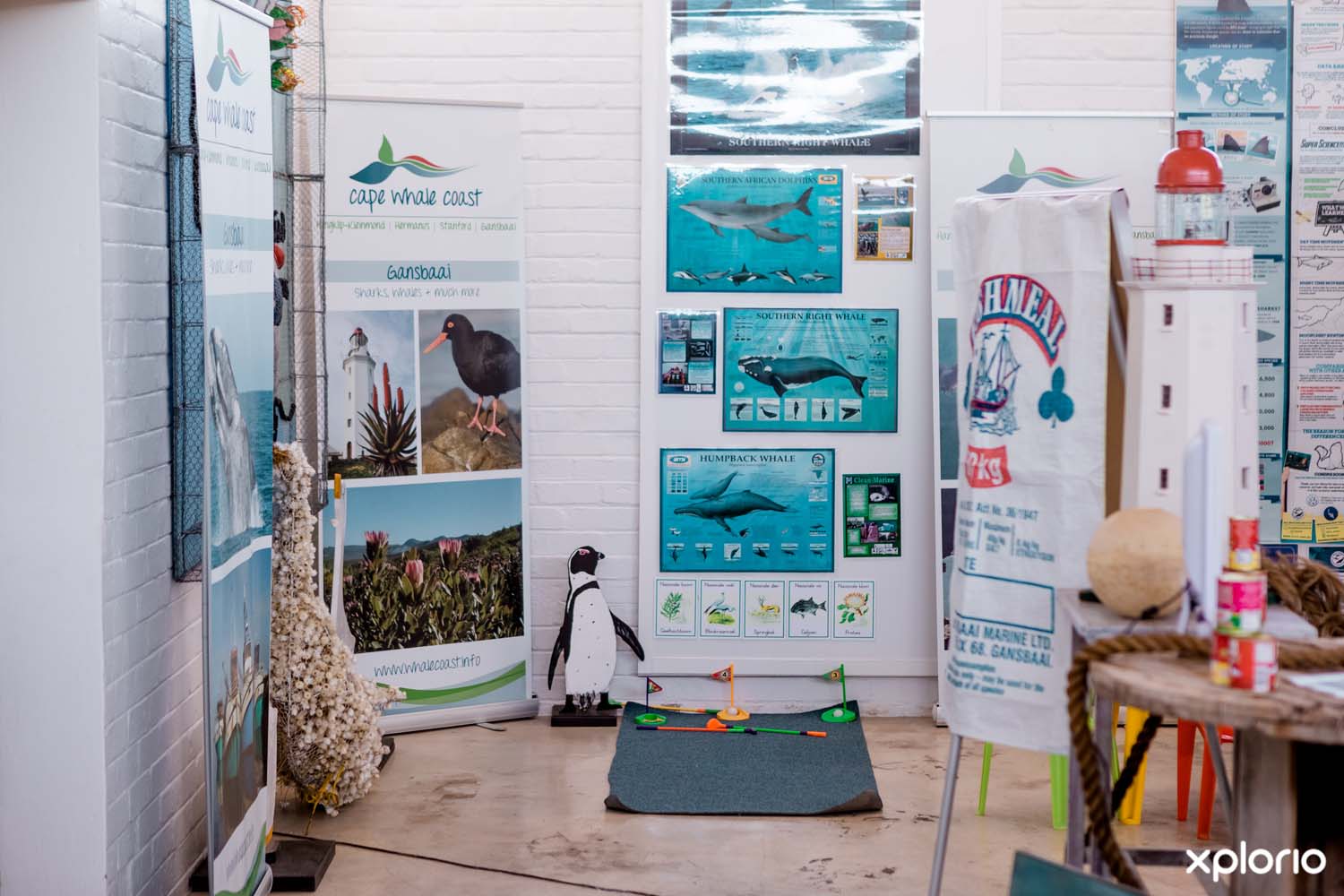 To continue marketing Gansbaai effectively means a continual need for well-trained staff, technical equipment, marketing material and office stationery. Funds for transport and accommodation are also needed for the Gansbaai Tourism team to represent Gansbaai at nationally and internationally recognised tourism expos and seminars that are held out of town. These running costs rely greatly on membership.
For more information contact Gansbaai Tourism directly.