A Wilderness Escape for the Whole Family
Looking for a quiet nature escape where you and your family can fully explore a piece of the African wilderness together?
De Hoop offers a magnificent haven of unspoiled beauty, where fynbos meets the ocean and a world of creatures, great and small, are waiting to be discovered - hands on!

This 36 000 hectares of protected wilderness and coastline is home to a rich diversity of fauna and flora. With no large predators to put you at risk, families are free to safely explore the untamed landscape.
Spend a morning hiking among the game, and get up close and personal with large eland and bontebok, Cape mountain zebra, ostriches, baboons and more. Bring or rent a bike and ride together to Tierhoek to enjoy a pre-booked picnic at the natural spring.

A professional guide can escort you on an eco-boat trip to explore the Vlei - a Ramsar site of international importance, where rare flamingoes, pelicans, otters and other water species come to breed. See if you can find the hamerkop's home - holding the record for the biggest-sized nest for a small bird. Listen to the honeyguide's call as it tries to lure you to the giant beehive that clings to the cliffside. Watch a grey heron, the patient hunter, catch a frog.
Or join the guided marine walk to learn more about the majestic Southern right whale, and discover the abundance of sea life in the tidal pools where starfish, alikreukel, limpets, octopi and barnacles make up a dazzling rainbow display. Extend your stay at the shore to swim or snorkel, or simply soak up the sun at your own leisure.

Back at the lodge, you can cool down in the family pool or play a spot of tennis. Kids can clamber on the jungle gym and enjoy the restful shade under the wide umbrella canopies of ancient fig trees. Adults can treat themselves to a massage at the spa or enjoy a peaceful dip in the reserved infinity pool (reserved for the grown-ups) that overlooks the river.
Late afternoons call for a rest at your beautifully-appointed and comfortable family cottage. Light a fire for an early braai or prepare a scrumptious family meal in the fully-equipped kitchen. Eat together under the stars before you end the night with a round of Jenga or Cranium while sipping on hot chocolate.
Not in the mood for cooking? The Fig Tree Restaurant offers delectable cuisine with a local twist, using only the finest ingredients from local producers. Youngsters can choose from a nutritious and tasty kids' menu, while an extensive wine collection offers more than 800 different wines to the connoisseur.
Decembers bring extra-special holiday programmes: go on a night walk to find scorpions, spiders and owls; observe thousands of bats rushing out from their breeding cave into the dark; or enjoy stories and s'mores around a bonfire in the boma.
Parents who need some alone time can book a babysitter in advance.
Make the most of your precious family time at De Hoop - a true wilderness of wonder where every moment spent together will become a treasured memory.

Take 50% off until 13 December 2019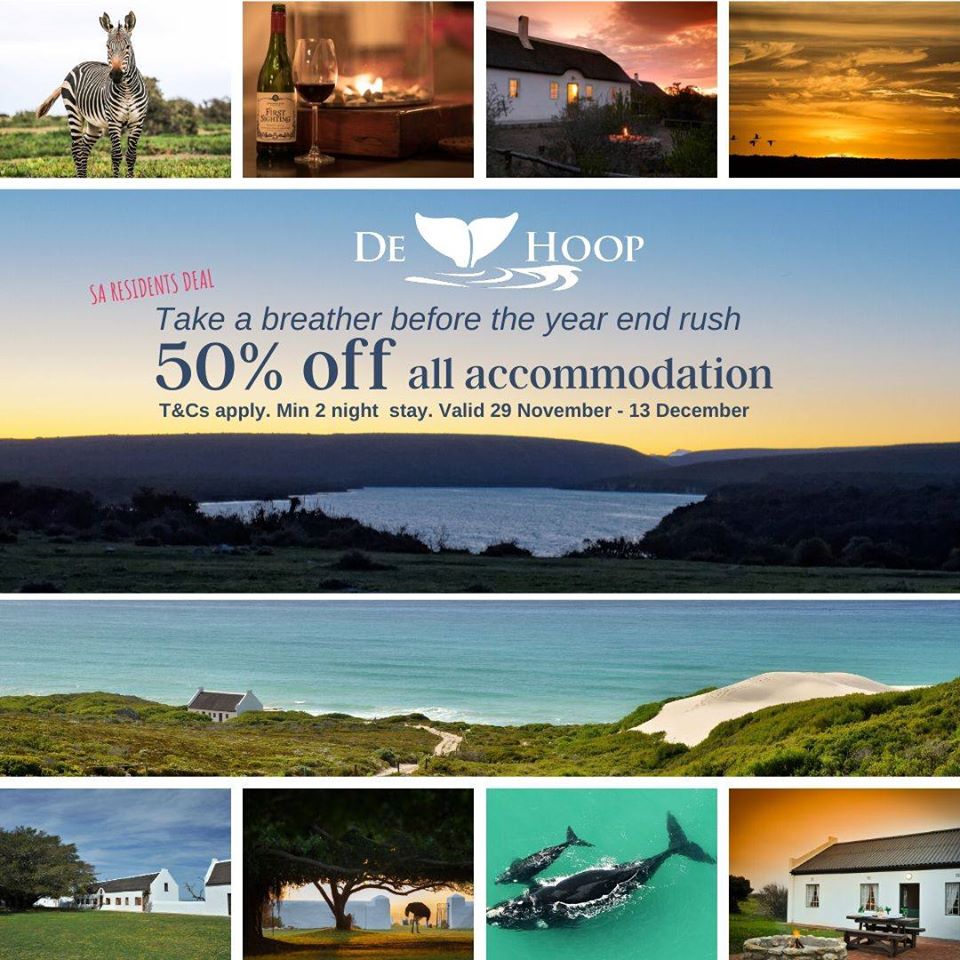 Do you need to catch your breath before the year-end rush?
Terms and Conditions apply: Valid for stays from 29 November 2019 to 13 December 2019. 50% discount on all accommodation types. Minimum of a 2-night stay applies. Valid for South African residents only. Only for NEW direct bookings.
Find out more here.
Winter Special 2020 Open for Bookings
We've frozen the price on our Winter Special - 2020's at this year's rates!
Find out more here.