Specials
Wines & Whales Package: 4-Nights
Wines & Whales Package: 4-Nights
Stellenbosch | De Hoop Nature Reserve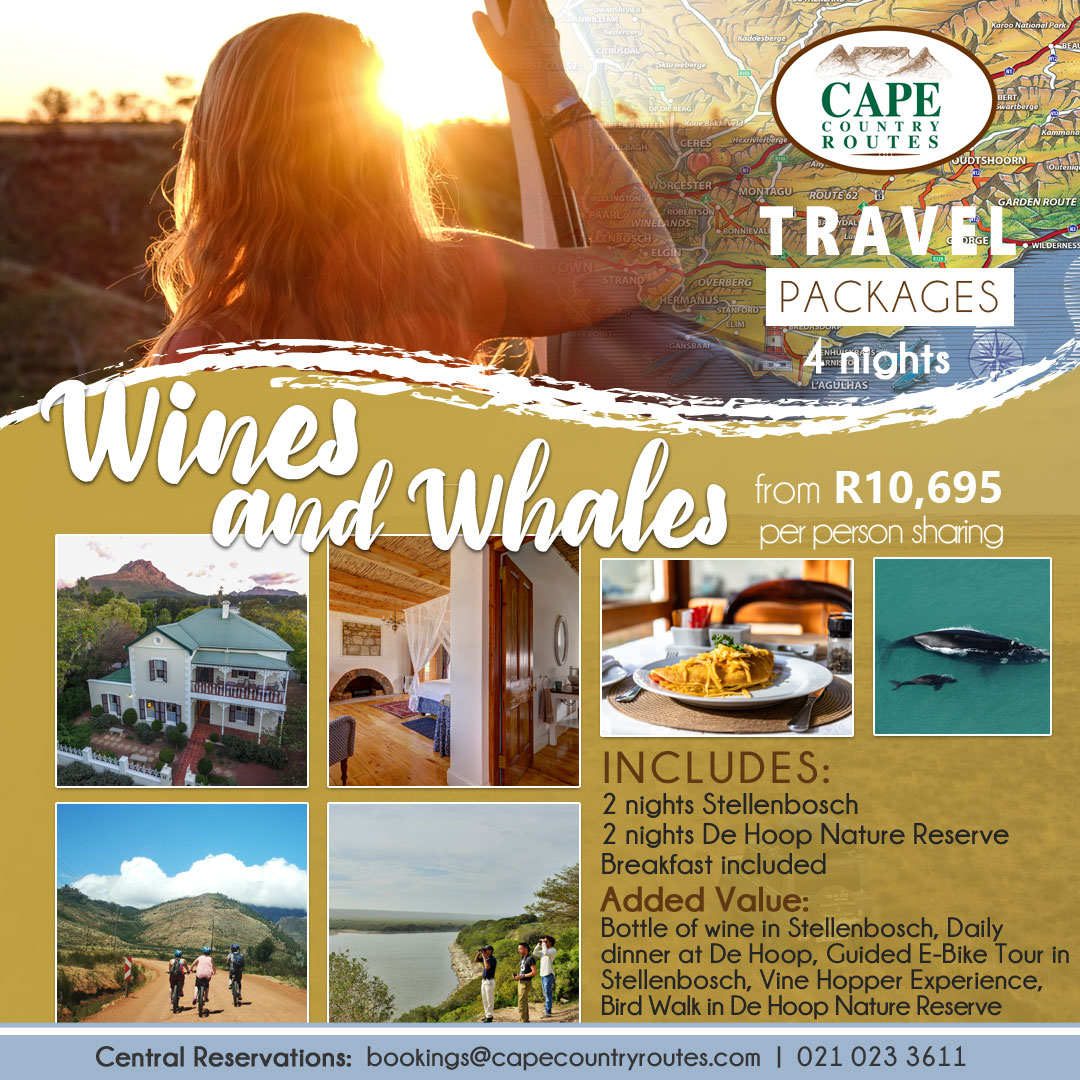 Package Includes:
• 2 Nights Evergreen (Bed & Breakfast)
• 2 Nights De Hoop (Dinner, Bed & Breakfast)
• 1 Guided E-Bike Tour with Adventure Shop in Stellenbosch
• Vine Hopper Experience
• Bird Walk in De Hoop Nature Reserve
Package Rates (per person):
• 15 Jan 2023 - 30 Apr 2023: R11,980
• 01 May 2023 - 30 Sep 2023: R10,695
• 01 Oct 2023 - 15 Dec 2023: R12,660
Package prices are per person sharing - please enquire about single occupancy rates.
Stellenbosch is a picturesque university town that is a blend of historical architecture, student life, epicurean delights and oak-lined avenues. Evergreen Manor & Spa is situated in the historic heart of Stellenbosch where an easy four-minute walk brings you to the centre of the town with many reputable restaurants, art galleries, museums and historical buildings.
The De Hoop Nature Reserve is a World Heritage site and one of the Western Cape's largest and most beautiful nature sanctuaries and the playground of the Southern Right whales. De Hoop Collection offers you plenty of things to do - whale-watching topping the list of course, day walks, scenic game drives, and top-quality wines from its wine cellar - in a silo.
• Packages are subject to availability
• Packages exclude items not specified such as items of personal nature, travel insurance, and gratuities
• Additional information available on request
• Terms and conditions apply
Extension nights can be quoted on.
Car rental with Tread Lite 4x4 (Jimny Rental) is available from R1,547.00 per day including unlimited mileage, insurance cover for two drivers (ZAR 10,000 excess deposit) and "Packed-For-You" equipment. Terms and conditions apply.
Payment and Cancellation Policy:
Deposit and Balance Payment:
• 25% deposit at the time of booking is required to confirm the booking. Balance payable 30 days prior to arrival
Cancellation:
• 0 - 7 days before the date of arrival - 100% cancellation fee
• 8 - 14 days before the date of arrival - 75% cancellation fee
• 15 - 21 days before the date of arrival - 50% cancellation fee
• 22 - 30 days before the date of arrival - 25% cancellation fee
• 31 days or more 5% cancellation fee
Refunds of deposits/prepayments for bookings are at the discretion of management and are dependent on the ability to re-sell rooms.
Contact De Hoop Collection for more information and to book.