Saturday, 4 August, 09:00 - 13:00
We are super excited to invite you to our July Open Day. Take a stroll through the nursery, ask all those questions that you've been dying to ask about the care of your plants. Choose from our wonderful assortment of orchids on sale. Pick up your potting mix and plant food. No Entrance Fee. Light refreshments will be on sale. C
Saturday, 4 August, 09:00 - 12:00
Can you feel it? Can you feel it.... dah dah ta dah .... there's a change in the air and it smells like Ssspring .... come and see what's ... on the slab... it's exciting and maybe a little frightening?
The Saturday Morning Market at The Stoep of the Stanford Hotel. @ 9 am till 12!!!
A little bit of this and a little bit of that! Don't miss out! You'll be sorry you did... ️
Saturday, 4 August, 09:30
Super Rugby Finals
Come and watch the Lions and enjoy a 200g burger with fries and a free beer for R105.
Saturday, 4 August, 09:00
Super Rugby Finals
Coffee, Breakfast, Beer and a rugby game...The Crusaders will host the Lions in the 2018 Super Rugby final! It's an early one for us in the West but none the less, an important match for the Lions and South African Rugby. Come join us and watch as the Lions chase their first Super Rugby title on the big screen.
Saturday, 4 August - Sunday, 5 August
Creative Self-Expression workshop with Tracy Algar
A 2-day intuitive art workshop that includes dealing with resistance to making art, getting into the creative flow, listening to your intuition and creating from a place of non-judgement. Create two intuitive mixed media paintings in two days. No art experience required.
Wednesday, 8 August, 09:00 - 12:00
Reduce your carbon footprint and get your fresh veggies at Graze Slow Food Cafe. Always seasonal, always fresh. Stay for coffee and breakfast.
Wednesday, 8 August 10:00 - 12:00
Lion Pawtea & Scones
Stanford Tourism and Business are supporting Panthera Africa's Lion Tea Pawty by serving tea and scones on Wednesday 8 August. All funds raised go to Panthera Africa. Pop into the Stanford Tourism Office on Wednesday morning and enjoy posh tea and scones, and your donation of R50 will go to Panthera Africa in its entirety. Please don't make the office staff eat all the creak scones themselves!
Wednesday, 8 August, and Thursday, 9 August 18:00 - 19:00
Wednesday & Thursday evenings from 18:00 - 19:00. R80 participation for a full month, 8 classes. The past weeks we grew from 21 to over 40 participants and we would love to grow more.
Thursday, 9 August, 08:00 - 11:00
In collaboration with the Grootbos Foundation.
Join us at Stanford community hall to celebrate Women's Day and get moving. A 5km Fun Run in and around Stanford village. Wear something pink to celebrate women everywhere. R50 registration fee. Spot prizes to be won.
Thursday, 9 August
Women's Day Special
50% off Educational Visits for all women on Women's Day. We would love to honour the women with this special offer. Pre-bookings only. Times: 10:00 or 15:00.
The big cats at Panthera Africa will honor you with their presence on our a 1,5 hour educational visit, and together with you and your loved ones, we will share the magic! Come and see brown lions, white lions, tigers, leopards and caracals.
Sunset Visits: 17:00 on Saturdays or by arrangement. Enrichment Visits: By arrangement.
Thursday, 9 August, 10:30 - 13:30
Fernkloof Nature Reserve, Hermanus
Join us for an introductory workshop and dive into the adventure of blending fragrances. Learn how to use indigenous and fynbos essential oils to create a unique fragrance. Cost: R750 includes coffee/tea and a mini DIY fragrance kit and 9 essential oils to take home.
Winter Specials - Lifestyle
Jain Reflexology Acupressure & Magnet Therapy
Mary_Lynne Grant
AUGUST = WOMEN'S MONTH
I am offering a special for women for the month of August.
1.5 hour treatment + 1 tub remedy depending on your needs R350 OR Without treatment, I am offering these 5 remedies
1.5 hour treatment without remedy = R200
Natural Solutions Herbal Capsules are organic, non radiated vegi caps. Lactose, pesticide and preservative free.
Rawbiotics for GUT health - R125
Bladder and Kidney Supplements - R180
Cellulite Eliminate - R180
Women's Rescue Remedy (for those who get PMT, bloating, pain, mood swings) - R180
Thyroid Supplements - R180
RAWBIOTICS: Total health begins in the gut. Rawbiotics GUT balances the function of the gastrointestinal tract and works to correct imbalances that lead to disorders such as IBS, bloating, acid reflux, diarrhoea and constipation as well as mentally with depression, anxiety and stress. Rawbiotics replenishes the good bacteria in the gut, which is where 70% of our immune system is produced.
Winter Specials - Food and Wine
The Wine Bar(n) @ Springfontein
Daily Specials:
Open daily from 11:00 - 21:00
Join us for our daily Specials:
Lamb Tjoppies on a bed of mash with farm fresh Veggies R120.
Goulash Soup with Malva pudding and homemade custard R70 or with a glass of wine R100. Looking forward to having you on the Farm! Team Springfontein.
Now open 7 days a week. From 10:00 - 16:00
We offer platters for two to share with two Glasses of our premium Sugarbush Sauvignon blanc: We use Local cheeses and Richard Bosman cold meats for all our platters. Cheese Platter @ R220; Cold Meat Platter @ R240; Lomond Platter @ R300.
We are also running a few good deals from the Tasting room; Buy 2 bottles of Rose and get 1 bottle free OR Buy 5 bottles of our classic range and get a bottle free.
Pets welcome too.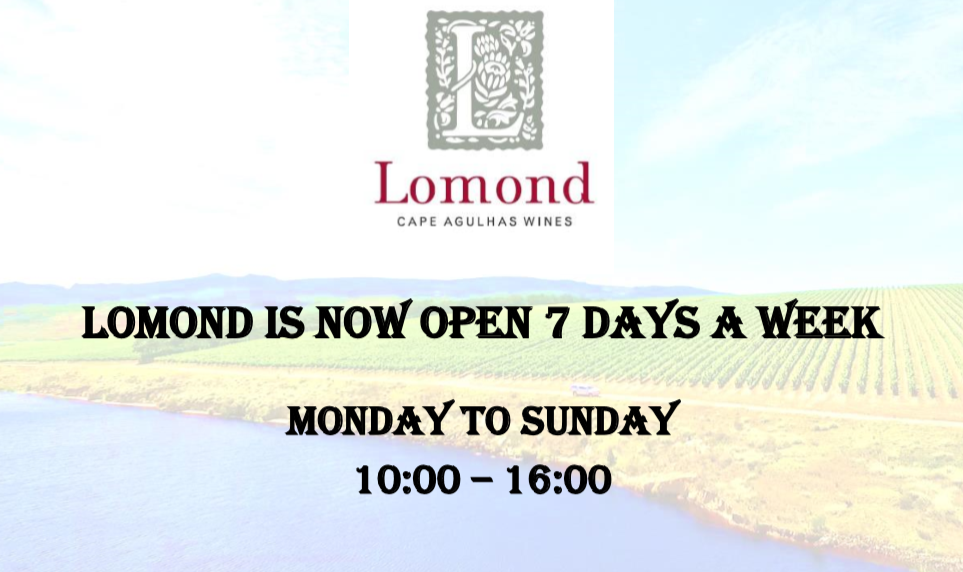 The Tasting Room @ Stanford Hills
Weekday Special: Monday - Friday
Winter Times: 08:30 - 17:00 Weekdays (Weekends 08:30 - 19:00)
We have welcomed back our weekday special, R90 for a meal inclusive of a glass of wine.
TGIF will be held on the second Friday of every month, Happy Hour from 17:00 - 19:00 with specials on selected drinks and food items. Sometimes we will have guest artists performing, keep an eye on our FB page for updates.
Manor House Restaurant and Stanford Valley Guest Farm
Women's Month Special
We're celebrating women this month, so come raise a glass to all the wonderful women in your life at Manor House, including yourself if you are one of the fabulous 3 710 295 643 women estimated to be on this planet. For the month of August, all Ladies joining us for lunch or dinner will be offered a complimentary glass of the delicious Lomond Rose.
Open for breakfast, lunch & dinner Thursday - Saturday.
Open for breakfast & lunch Sunday.
Winter Platter
'Winter vibes'
We are now serving a lovely Winter Platter to warm up the cockles in this icy weather. Monday – Saturday: 09:00 – 16:00 & Closed: Sundays.
A visit to Klein River Farmstead is a celebration of Cheese, Picnics and Family.