De Hoop Trail - Vlei to Whales
Introducing De Hoop Collection's NEW trail experience!
3 Nights | 4 Days | Approximately 38.5km
Explore the jewel of the Cape up close!
Walk and experience the natural and cultural history of the De Hoop Nature Reserve and Marine Protected Area with a qualified nature/marine guide. There are many natural wonders in the world but only a few with such awesome diversity - De Hoop, The Jewel of the Cape.
The "De Hoop Trail - Vlei to Whales" promises a memorable walking experience with up to +-38km covered over 4 days! Experience the wonder that is De Hoop Nature and Marine Reserve, first-hand and retreat into comfort every night at De Mond Villa alongside a spectacular Vlei rich in birdlife.
This is a catered and guided experience.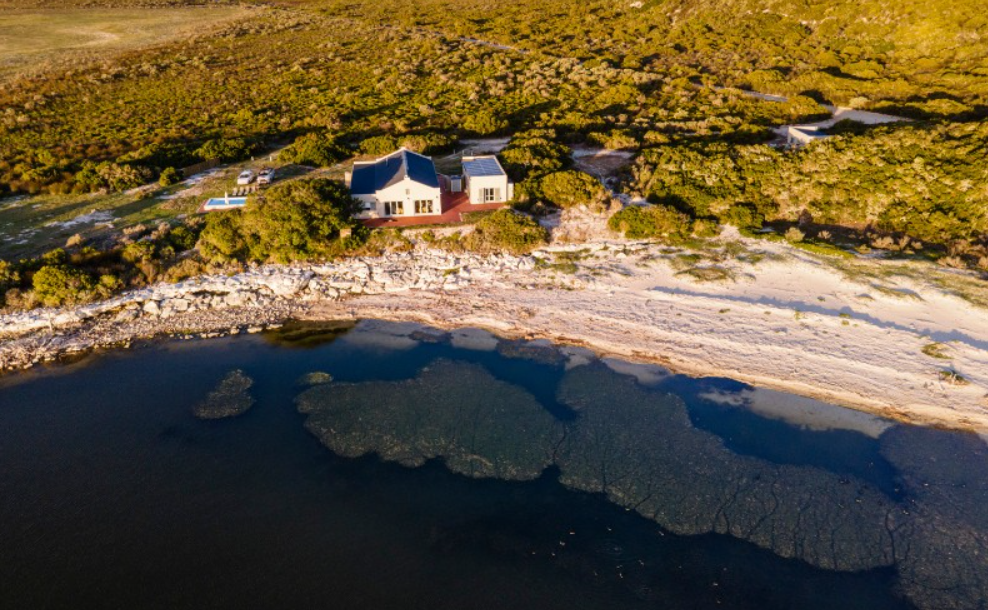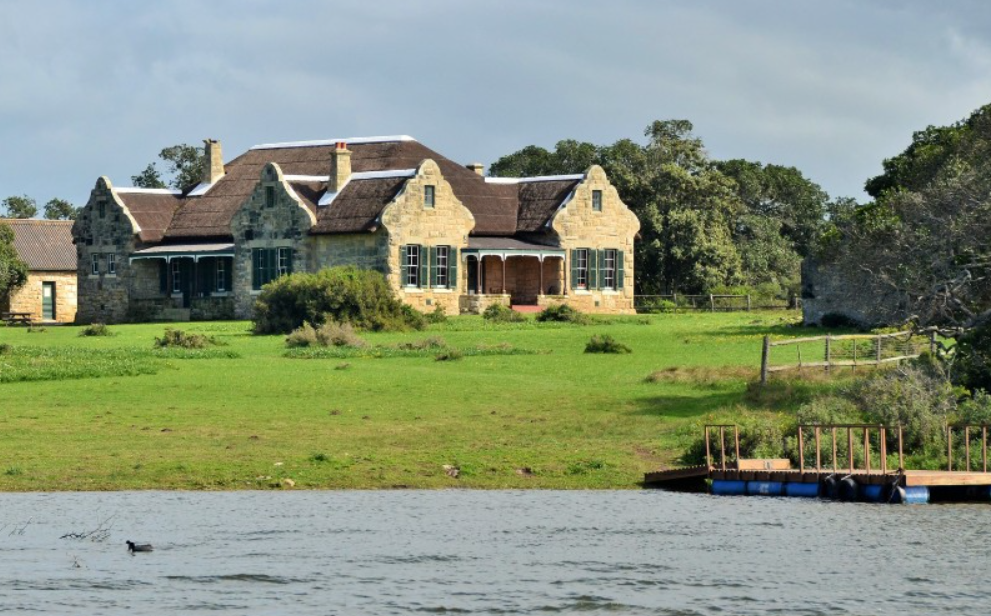 EXPLORE DETAILS OF THE TRAIL
Day 1:
Arrive promptly at the gate at 14:00 on Day 1, where you will be met by a qualified guide. After a short safety briefing, you will immediately start the adventure! The reserve is home to more than 1500 different plant species and this route takes you through a downhill fynbos paradise, called Flatrock for approximately 5.5/6.6km to Tierhoek. This area is rich with fynbos and Tierhoek offers gorgeous views of the vlei while enjoying some refreshments and snacks. From there, you will be transferred to De Mond Villa which is your accommodation for the duration of your stay.
A little dose of formalities follows once you reach your accommodation: check-in, familiarising yourself with your home for the duration of your stay. Enjoy the sunset over the vlei with a glass of Overberg wine - with a possible visit from the local Cape Clawless Otter family, before enjoying a delicious potjiekos dinner under the stars while your guide entertains you with the wonderful stories and history of De Hoop.
Distance - + 5.5/6.5 km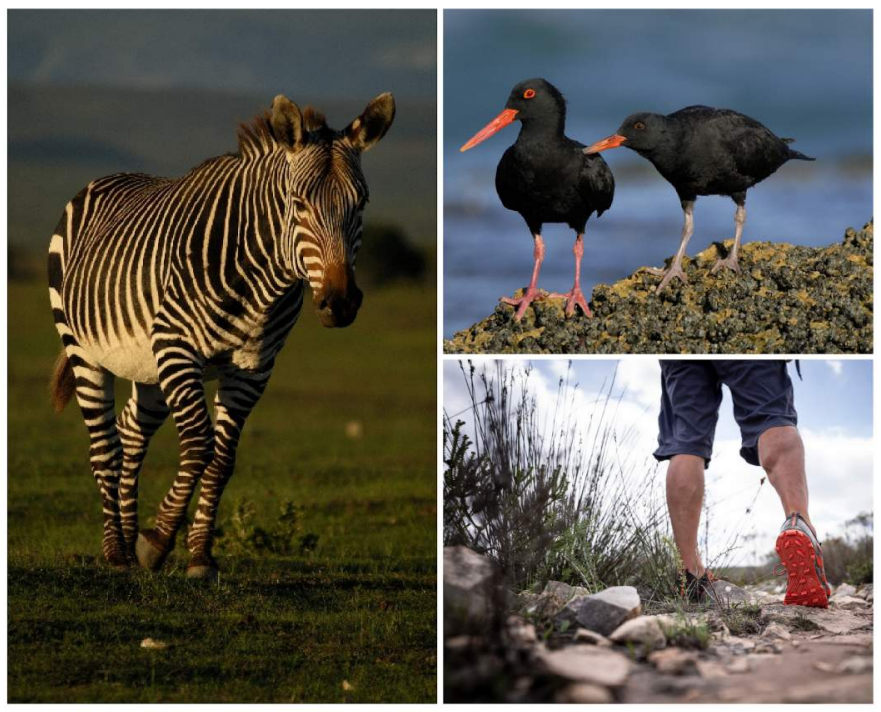 Day 2:
Day 2 is an early start. Enjoy freshly brewed coffee and homebaked rusks on the veranda while you breathe in the fresh morning air. Then put on your hiking boots for a 8km walk to Melkkamer, while watching flamingos and pelicans swoop overhead. Melkkamer is a grand homestead dating from the 1800s, where you have a delicious brunch. Don't get too comfortable though, because after brunch, take an Eco boat cruise with your guide to the Opstal area, where you will be taken on a 7km walk with the Cape Mountain Zebra, duiker, bushbuck, Eland, Bontebok and ostriches through the fynbos and plains - before you make your way back to your Villa. After snacks and drinks, cake and tea, you have the afternoon at leisure - a dip in the pool might be just the thing you need. Dinner will be a traditional South African braai paired with star stories while you gaze at the magnificent night skies.
Distance walked +-15km

Day 3:
Early bird catches the worm! After a light breakfast, Day 3 starts with a transfer to Koppie Alleen, a 70km stretch of marine-protected coastline. Here your guide will entertain you with the tales of the sea and its creatures. Keep your eyes peeled for the elusive octopus before you start walking over the dunes. After a quick coffee break, you will hike towards Wyoming - this is the last 7km of the popular Whale Trail. Be sure to take in the views and ocean breeze because after this, we will be hiking inland at Potberg. You will be transferred from Wyoming to view the endangered Cape Vultures - the Western Cape's last surviving colony of these amazing birds, a +2km return walk up to the viewing deck. After a delectable picnic lunch at Potberg, you will be transferred back to De Mond Villa for your last night. Enjoy a delicious 3-course dinner prepared by your chef.
Distance walked - + 9km
Day 4:
Farewell De Hoop on Day 4 after a delicious breakfast. You will be transferred to the Opstal to walk the trail to Tierhoek. Thereafter you will be transferred to your vehicle at the De Hoop gate!
Distance walked - + 8km
Total Distance walked - approximately 38.5km
Price + What You Need to Know
Rate: R12 900 per person (minimum of 4 people)*
Valid for 2023.
What you need to know:
• De Hoop Nature Reserve is approximately a 3-hour drive from Cape Town or George
• The De Hoop Trail - Vlei to Whales needs a minimum of four guests
• Guests should be reasonably fit to enjoy the experience
• Not suitable for children under 12 years of age
What is included:
• Three nights' accommodation at De Mond Villa or Melkkamer
• All meals and snacks - breakfasts, brunches, lunches, picnic, snacks, and dinners
• Local house wines, spirits and beers, and soft drinks
• Road transfers to and from de Mond Villa and within De Hoop
What is excluded:
• Transfers to and from De Hoop Nature Reserve
• R40 per person Cape Nature gate entrance and conservation fee paid on arrival at the gate
• Fully comprehensive travel insurance
• Gratuities to the lodge staff and guides
• Premium drinks not on the "house" list
For more information, contact De Hoop Collection.