2018 was a wonderful year at De Hoop, record-breaking whale numbers, fantastic guests, and the launch of The Shed - the new venue of our Fig Tree Restaurant. Couples tied the knot overlooking the vlei, families rediscovered the magic of quality time together outdoors, and athletes turned the natural surrounds into a high-performance sports ground with both mountain biking and trail running events.
To celebrate the year in review, we have put together a fun infographic with some more highlights for 2018 and the festive season - enjoy!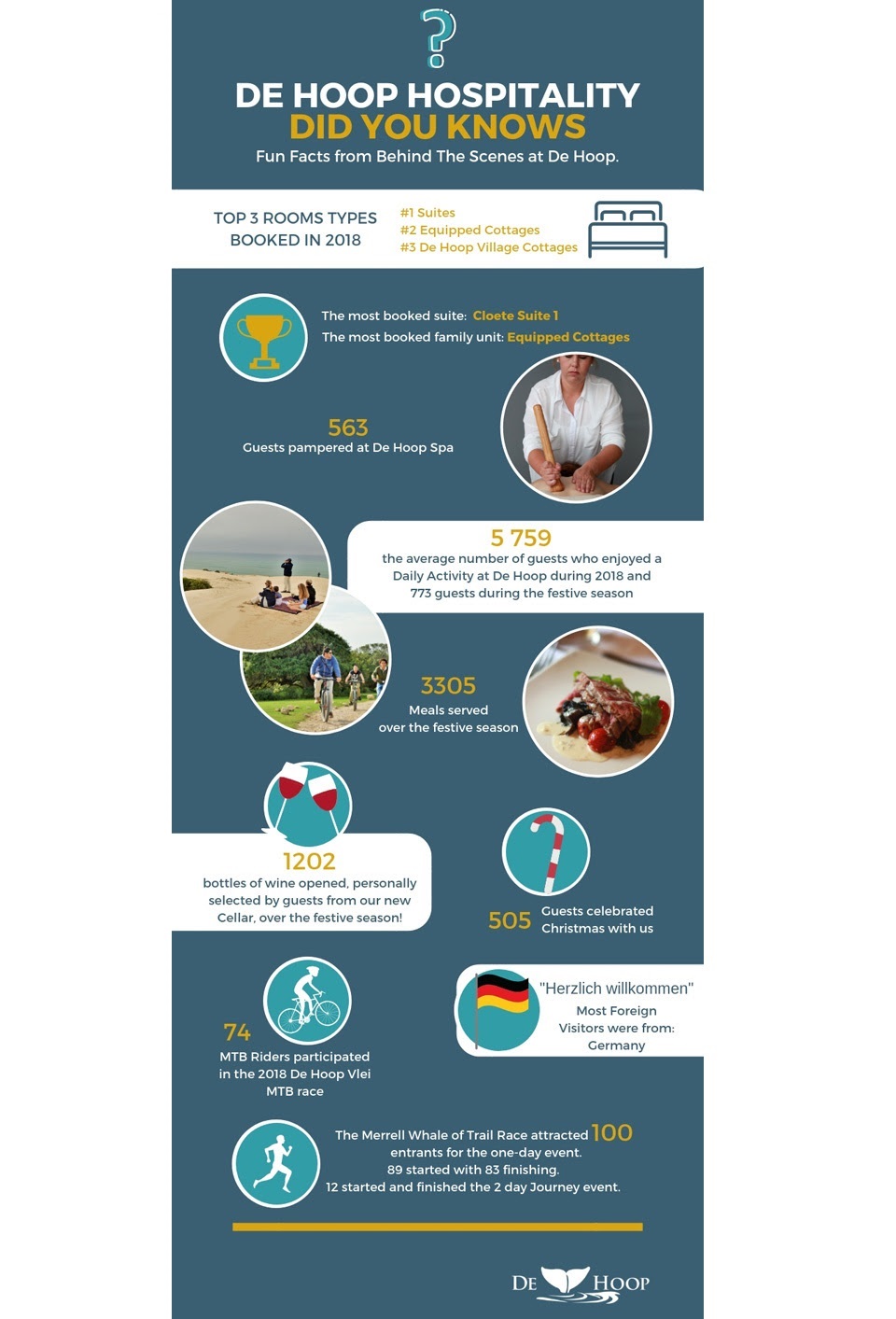 We wish you all the best for the year ahead and look forward to welcoming you to De Hoop soon!
PLAN YOUR NEXT VISIT
If events are your thing, join us for this 2019 must-dos, and we've added Easter just so you can get a booking for this popular long weekend early this year:
Easter Weekend 19 - 22 April
Yoga Spirit Retreat 16 - 19 May
School Holidays 21 June - 9 July
Wine, Whales & Music 26 - 28 July
Whale of Trail 2 - 4 August
De Hoop Vlei MTB 26 - 29 September
REVIEWS
We just love #GuestFeedback and here's one of our recent favourites.
"A GREAT PLACE JUST GOT BETTER.
This was our third visit to De Hoop. Since our last visit 3 years ago we found that the restaurant facilities were greatly improved but with the same good standard of food and service. This added to our overall enjoyment of the reserve. We love the freedom to walk around and see the plants, birds and animals that are around. This time we saw the elusive grey rhebok. We enjoyed the early morning bird watching and the trip on the Vlei."
- David BB (Trip Advisor)