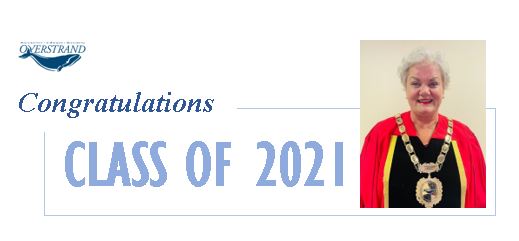 Mayor Congratulates Matric Class of 2021
Overstrand Executive Mayor, Dr Annelie Rabie, congratulates all our matriculants within the Overstrand area on their wonderful results in the 2021 National Senior Certificate examination as well as the Cambridge Advanced Subsidiary Level and International General Certificate of Education.
Their hard work really paid off for many of the learners and we celebrate with the top pupils as well as the individual achievements of every matriculant.
Hermanus High, Curro Hermanus, Nortchliff House College and Generation Schools boast a 100% pass rate. Gansbaai Academia received a 73,8% pass rate, Hawston Secondary achieved a pass rate of 75,8% and Qhayiya Secondary School in Zwelihle achieved a pass rate of 71.29%.
"We would also like to acknowledge all the teachers and family members who have put in hours of hard work throughout the year to mentor, support, and prepare learners and help them reach their full potential," she said.
Mayor Rabie encourages those who did not do well, not to lose hope and give up, but to give it another try or to explore other educational options within the system.
The mayor extends her best wishes to them all for their future endeavours and encourages them to hold the Overstrand name high.