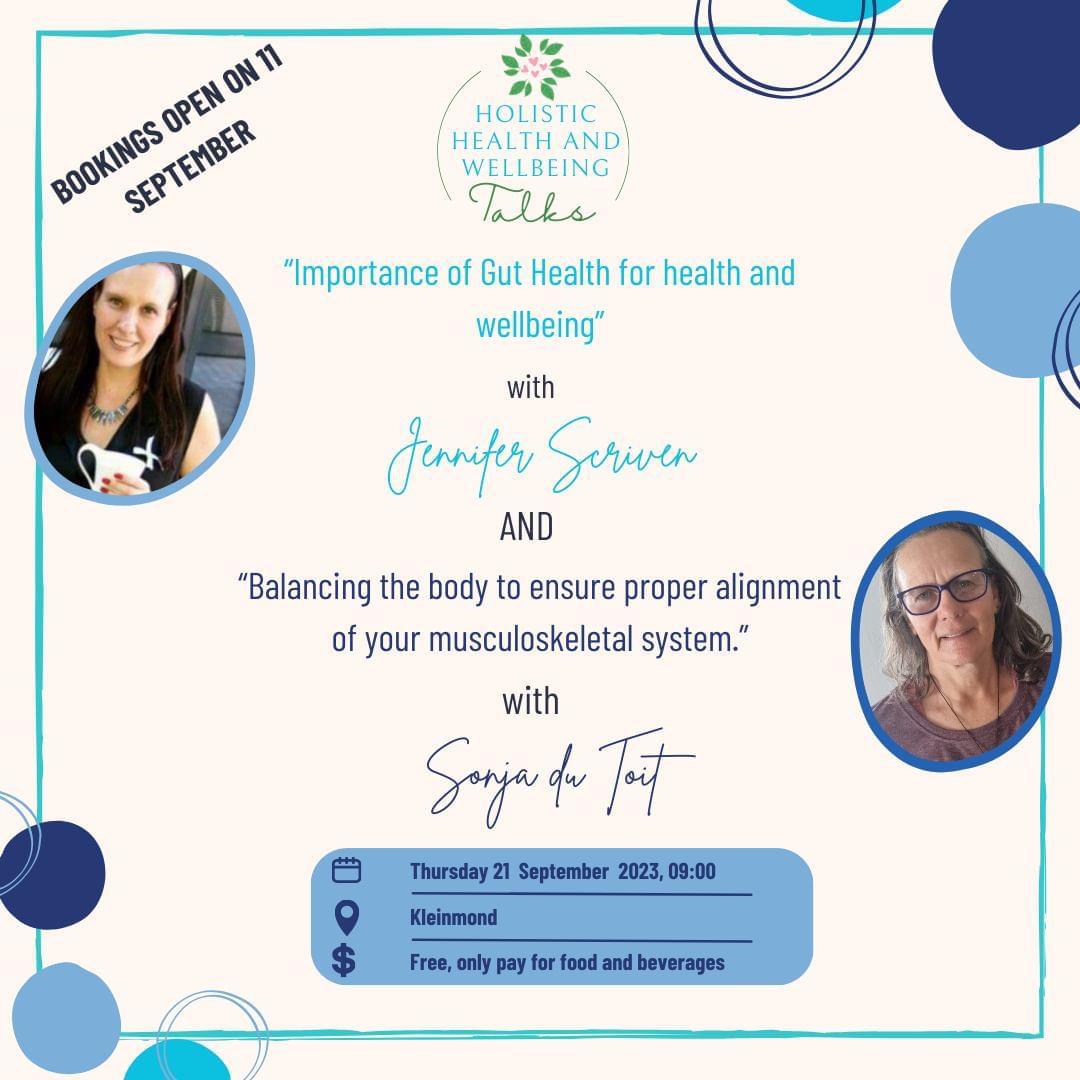 21 September 2023: Holistic Health and Wellbeing Talks
In our next holistic health and wellbeing talk on 21 September 2023 we will be having two for one! Two talks that can help you experience better health and physical well-being.
"IMPORTANCE OF GUT HEALTH FOR HEALTH AND WELLBEING" BY JENNIFER SCRIVEN
Jennifer's talk will focus on the gut microbiome and how a healthy lifestyle can improve your digestive health, immune function, mental health, and quality of life. Furthermore, she will give you tips on how to improve your gut health without spending a fortune. As well as discussing how to eat better for gut health, she will also discuss what foods to eat.
"BALANCING THE BODY TO ENSURE PROPER ALIGNMENT OF YOUR MUSCULOSKELETAL SYSTEM" BY SONJA DU TOIT
Our second speaker is Sonja du Toit, who will discuss how to balance your physical body using information from your shoes, posture, and muscle testing. She will demonstrate how the way one stands, walks, drives, sits at a computer, stands, walks, or drives, can have a significant impact on how easily one becomes injured or uneasy physically. She will also show you how to check if your body is out of alignment, and, if it is, what you can do.
Date: Thursday, 21 September 2023
Time: 09:00
Venue: Kleinmond
Cost: FREE (only pay for food and beverages)
Bookings will open for the public on the 11th of September 2023. Sign up to our emailing list and we'll send you the booking form on the 10th of September 2023! Join our mailing list here.
For more information or to book, contact Tahini Deli.