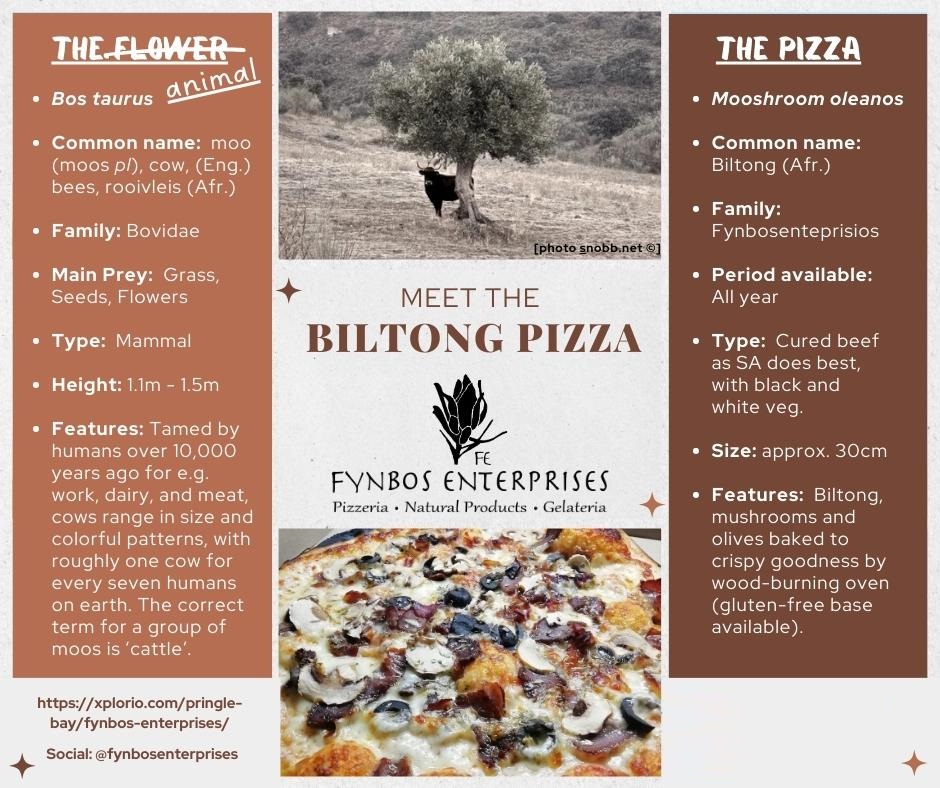 Meet the Biltong Pizza
Meet the Biltong pizza, named after the Bos taurus animal.
The Pizza
• Mooshroom Oleanos
• Common Name: Biltong (Afrikaans)
• Family: Fynbosenteprisios
• Period Available: All Year
• Type: Cured Beef as SA does best, with Black and White Veg
• Size: Approximately 30cm
• Features: Biltong, Mushrooms, and Olives, Wood-Fired (gluten-free base available)
The Animal
• Bos Taurus
• Common Name: Moo (Moos pl), Cow (English), Bees, Rooivleis (Afrikaans)
• Family: Bovidae
• Main Prey: Grass, Seeds, Flowers
• Type: Mammal
• Height: 1.1m - 1.5m
• Featured: Tamed by humans over 10,000 years ago for e.g., work, dairy, and meat, cows range in size and colourful patterns, with roughly one cow for every seven humans on earth. The correct term for a group of moos is 'cattle'.
Come try our Biltong pizza at Fynbos Enterprises!