The end is in sight...
The contractors started with the pergola yesterday and this gives us an idea of what our High Street will look like in a week or two - we can't wait!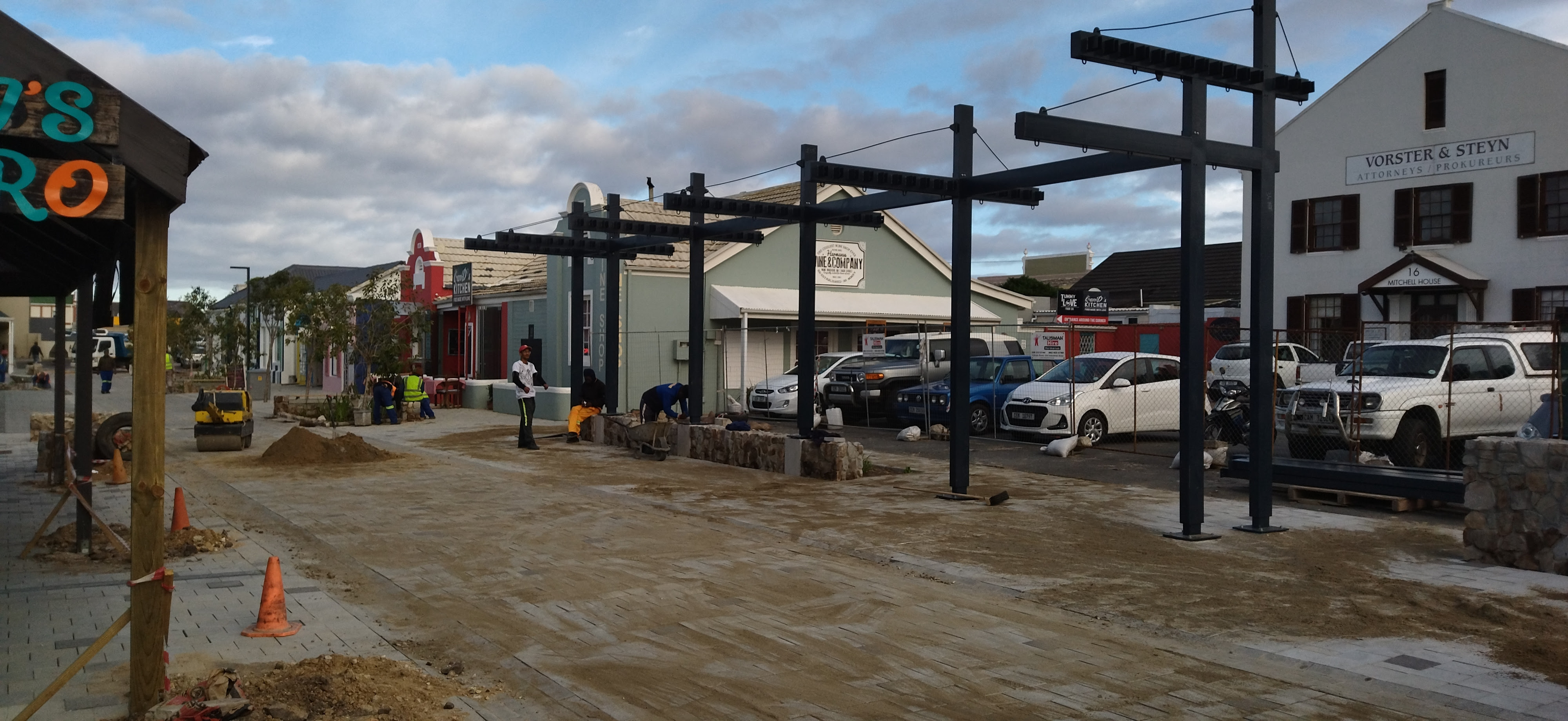 THIS WEEK'S TASTING
The grapes for the Perdeberg Dryland Chenin Blanc are harvested from a 35-year-old bushvine vineyard in the Paarl area. The soils are deep and strong in structure and without irrigation in this vineyard block, the vines rely completely on winter rainfall. This beautiful Chenin will be available to taste over the weekend...
Perdeberg Dryland Collection 'Courageous' Old Vines Chenin Blanc: The Dry Land Collection Wines are made from grapes of Dryland Vineyards, which showcase the uniqueness of the wines grown in this testing terroir. The wine is complex with ample fruit and structure. Made in a rich and ripe wooded style, this Chenin Blanc was fermented and matured in French oak barrels for 10 months. Together with the age-old traditions of Dry Land viticulture, it resulted in a very aromatic and richly textured wine, with characteristics typical to Chenin Blanc grown under these conditions.
TASTING NOTE: Citrus, pear, peach and pineapple notes are only some of the aromas evident in the aromatics of this wine. The palate boasts hints of citrus, litchi and vanilla, while the finish is crisp with a well-defined acidity.
A reminder of our website: www.wineandco.co.za/shop
Please note that our website does not show the complete range of wine that we have in stock, so please do contact us if you are looking for something not listed online, especially those that are 'allocation' only. We offer free delivery in Hermanus, and free shipping to major centres around South Africa for orders over R1500. Please contact us for international shipping rates.
COVID-19 shop hours (until further notice):
• Monday to Saturday: 10am - 6pm.
• Sunday and Public holidays: 10am - 4pm.
Thank you for your support - stay safe - see you soon!
About Us
Have you ever heard about a great wine but could never find a bottle for yourself (to share with friends, of course)? Well, the team at Wine & Company do all the hard work for you! We visit wine farms and attend tastings to find, taste, and then stock wine from the smaller Estates and independent winemakers who buy grapes and produce outstanding wine under their own labels – much the same as the French negociants have been doing for centuries. Given that these winemakers make wine in such small quantities, sometimes just a single barrel, their wine will never be found on the shelves of the major retailers, but only in specialist shops like Wine & Company on High Street, Hermanus.
In addition to the great selection of well-known wines and MCC's, we also stock local craft gin and beer, French Champagne, Belgian Ales as well as whisky and other spirits. Wine & Company (established in 1998 by Bartho Eksteen) has a well-earned reputation for stocking hard-to-find small-batch wines and we strive to continue this great tradition. If you purchase a bottle of wine from us and it is faulty we will gladly replace the bottle and return the faulty wine to the winemaker.
Feel free to contact Wine & Company if you need a particular wine and we will do our best to source it for you. We are also able to ship wine locally and to most countries so do ask about international shipping.