Wine and Co - we're open, again...
HAPPY NEW YEAR?
Is it too late to wish everyone a happy and healthy 2021, more than a month after the fact? Last year seems like a very long time ago, and with this past week being the first time we have been able to open our doors for the year, it only feels right to get the formalities out the way. We certainly hope this year will be better than last, in every way possible.
NEW RELEASES FROM MAANSCHIJN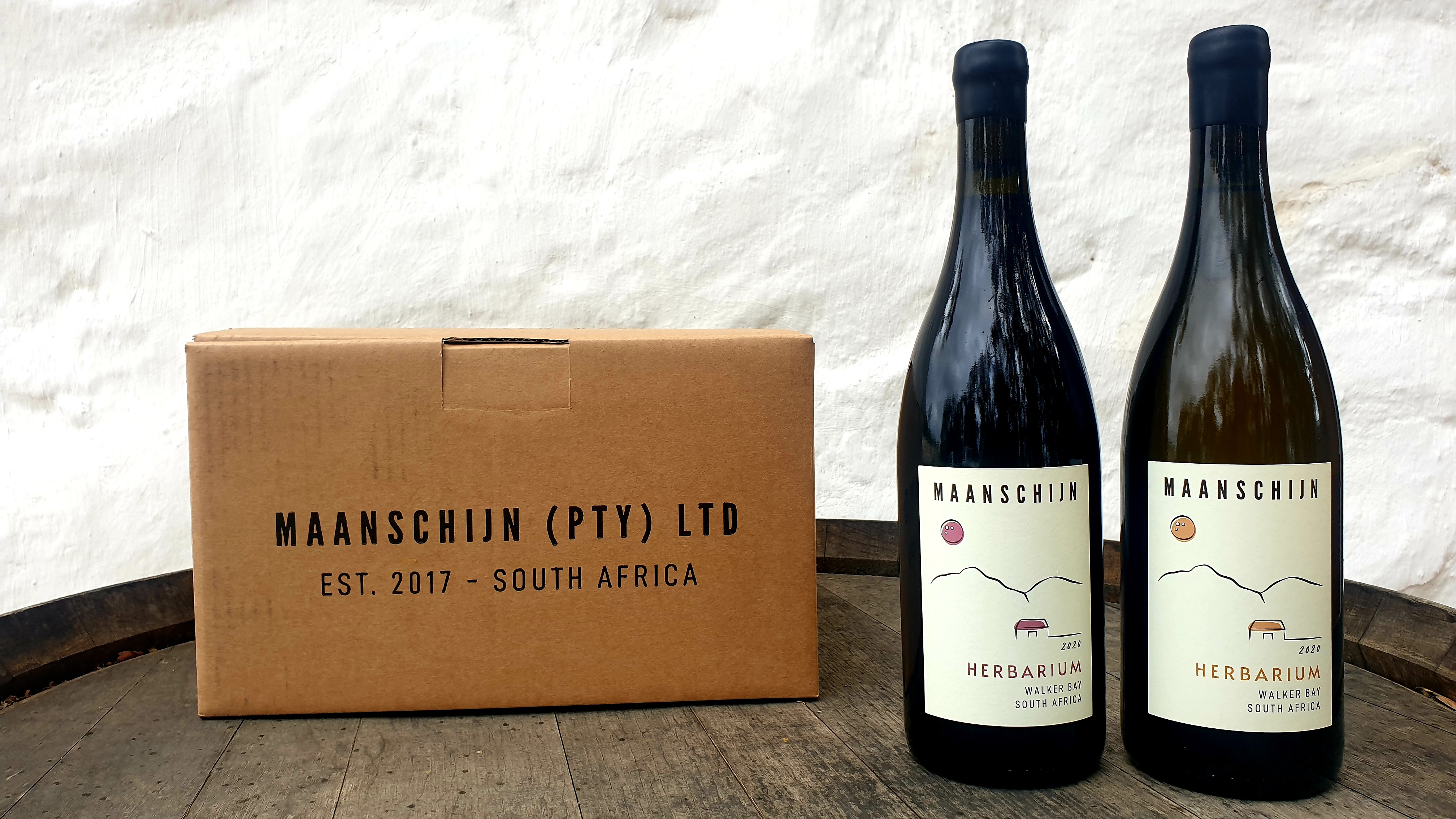 We are slowly re-stocking and the first of the new releases have just arrived from our local guys - Doug and Paul of Maanschijn.
The heritage building inside which Maanschijn crafts its wines has lived many lives. Previously used as a stable, it was also later inhabited by a Walker Bay local, Oom Sampie, who, within its walls, used to dry an assortment of indigenous flowers. The Herbarium range is a nod towards Oom Sampie and this wonderful activity.
The vineyards they source from are all located in the southern, cooler Walker Bay wine district, surrounded by the rich expanse of the Cape's fynbos kingdom.
Cape White blend: Chenin blanc, Verdelho and Sauvignon blanc. The fruit was pressed with a basket press, and the juice settled overnight, after which fermentation occurred spontaneously in aged French oak. Maturation lasted nine months, on lees. The wine was blended and bottled, by hand, without fining or filtration.
Cape Red blend: Pinotage, Mourvèdre and Syrah. The fruit was fermented separately, in whole bunches, for seven to ten days before being pressed with a basket press. Maturation lasted nine months in aged French oak. The wine was blended and bottled, by hand, without fining or filtration.
Thank you to everyone who purchased our vouchers! Please do not forget that although we are very fortunate to be able open and trade again, the families and children in the Valley are still struggling terribly. We will still donate 5% of the voucher value to the Hemel-en-Aarde Valley Pre-school, in addition to offering a 5% discount of the voucher value to in-store purchases.
A reminder of our website: www.wineandco.co.za/shop
Please note that our website does not show the complete range of wine that we have in stock, so please do contact us if you are looking for something not listed online, especially those that are 'allocation' only. We offer free shipping to major centres around South Africa for orders over R1500. Please contact us for international shipping rates.
COVID-19 shop hours (until further notice):
Monday to Thursday: 10am - 6pm.
Friday, Saturday, Sunday & Public Holidays: CLOSED.
Thank you for your support - stay safe - see you soon!
About Us
Have you ever heard about a great wine but could never find a bottle for yourself (to share with friends, of course)? Well, the team at Wine & Company do all the hard work for you! We visit wine farms and attend tastings to find, taste, and then stock wine from the smaller Estates and independent winemakers who buy grapes and produce outstanding wine under their own labels – much the same as the French negociants have been doing for centuries. Given that these winemakers make wine in such small quantities, sometimes just a single barrel, their wine will never be found on the shelves of the major retailers, but only in specialist shops like Wine & Company on High Street, Hermanus.
In addition to the great selection of well-known wines and MCC's, we also stock local craft gin and beer, French Champagne, La Trappe Trappist Ales as well as whisky and other spirits. Wine & Company (established in 1998 by Bartho Eksteen) has a well-earned reputation for stocking hard-to-find small-batch wines and we strive to continue this great tradition. If you purchase a bottle of wine from us and it is faulty or you are not satisfied with the quality, we will gladly replace the bottle and return the faulty wine to the winemaker.
Feel free to contact Wine & Company if you need a particular wine and we will do our best to source it for you. We are also able to ship wine locally and to most countries so do ask about international shipping.