Now in Stock: Scions of Sinai!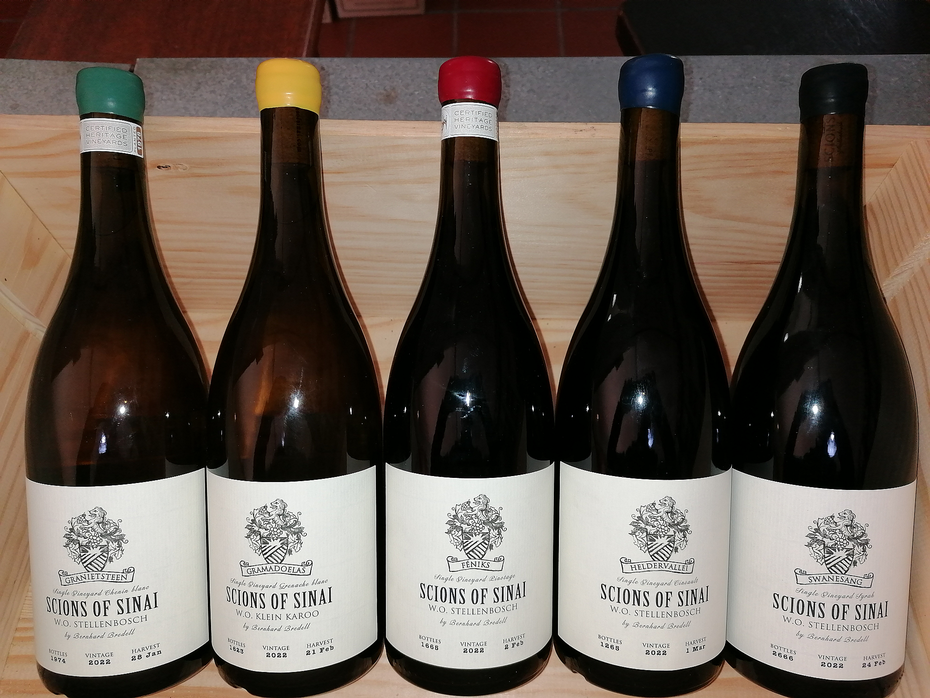 Since 2017 Bernhard Bredell has been making the Scions of Sinai range of wines, leasing some vineyards as well as buying in fruit, making sure no pesticides or herbicides are used. We are very happy to have his current releases on our shelves, and here are WineMag's Christian Eedes' tasting notes:
Scions of Sinai Granietsteen Chenin Blanc 2022: Grapes from a lower Helderberg vineyard planted in 1978. Expressive and exotic aromatics – a top note of jasmine before naartjie, yellow peach and mango. The palate has good fruit concentration and flavour intensity with moderate acidity and a pleasantly bitter finish – this has a succulence, even an opulence about it despite a modest alcohol of 12.35%. CE's rating: 94/100.
Scions of Sinai Gramadoelas Grenache Blanc 2022: Grapes from a Klein Karoo site with schist and shale soils 450m above sea level. This vintage is quite neutral, characterised more by its acidity and texture than intensity of aroma or flavour. A hint of flinty reduction before hints of pear, peach, talcum powder and floral perfume while the palate is light, fresh and pithy. Alc: 12.43%. CE's rating: 91/100.
Scions of Sinai Rocinante 2022: Roughly equal parts of Chenin Blanc, Grenache Blanc and Roussanne, the former from Stellenbosch and the latter two from Voor Paardeberg – all grapes picked on the same day. Top notes of potpourri and herbs before citrus, peach and a little bee's wax. Good depth of fruit, punchy acidity and an intensely savoury finish. Nicely textured with layers of flavour, this has plenty of interest. Alc: 12.71%. CE's rating: 93/100.
Scions of Sinai Heldervallei Cinsault 2022: Grapes from a Helderberg vineyard planted in 1988. Partial whole-bunch fermentation. Abundantly perfumed nose with notes of black cherry, herbs and rose plus some earthiness while the palate has a dense core of fruit, bright acidity and firm but not astringent tannins. This has plenty of verve and ends wonderfully dry. Alc: 12.94%. CE's rating: 93/100.
Scions of Sinai Féniks Pinotage 2022: From a Helderberg vineyard planted in 1976. Partial wholebunch fermentation (slightly less than 2021). Heady aromatics of cherry, plum, fynbos and floral perfume on the nose before a palate that has profuse fruit, bright acidity and fine tannins. Juicy and vibrant on entry but ends dry. Alc: 12.7%. CE's rating: 92/100.
Scions of Sinai Swanesang Syrah 2022: Grapes from a Helderberg bushvine vineyard planted in 1999 by Bredell's grandfather. 90% whole-bunch fermented. Matured for 11 months, 90% in concrete and 10% in older 400-litre barrels. Quite pronounced tar-like reduction on the nose before red and blackberries, violets and pepper. The palate has excellent fruit purity, lively acidity and powdery tannins. Direct without being too linear, refined and harmonious. But for that reduction, this might have rated even higher… CE's rating: 95/100.
Parking at Wine & Co
There should always be an empty parking space in the corner next to our shop, but if not please feel free to stop directly in front of our shop while you are with us - this will save you time driving around looking for a parking space.
We are open every day of the year!
- Monday to Saturday: 9am - 6pm.
- Sunday + Public holidays: 10am - 4pm.
About Us
Have you ever heard about a great wine but could never find a bottle for yourself (to share with friends, of course)? Well, the team at Wine & Company do all the hard work for you! We visit wine farms and attend tastings to find, taste, and then stock wine from the smaller Estates and independent winemakers who buy grapes and produce outstanding wine under their own labels – much the same as the French negociants have been doing for centuries. Given that these winemakers make wine in such small quantities, sometimes just a single barrel, their wine will never be found on the shelves of the major retailers, but only in specialist shops like Wine & Company on High Street, Hermanus.
In addition to the great selection of well-known wines and MCC's, we also stock local craft gin and beer, French Champagne, Belgian Ales as well as whisky and other spirits. Wine & Company (established in 1998 by Bartho Eksteen) has a well-earned reputation for stocking hard-to-find small-batch wines and we strive to continue this great tradition. If you purchase a bottle of wine from us and it is faulty we will gladly replace the bottle and return the faulty wine to the winemaker.
Feel free to contact Wine & Company if you need a particular wine and we will do our best to source it for you. We are also able to ship wine locally and to most countries so do ask about international shipping.
Shop Online!
Please note that our website does not show the complete range of wine that we have in stock, so please do contact us if you are looking for something not listed online, especially those that are 'allocation' only.
We offer free delivery in and around Hermanus, and free shipping to major centres around South Africa for orders over R1600. Please contact us for international shipping rates.
A reminder of our website: www.wineandco.co.za/shop or scan the Wine and Co QR code to go directly to our shop: