Thursday, 16 August, 18:30 - 21:30
Thirsty Thursday - Strummers
It's a Strummers Thirsty Thursday this week! Come and enjoy local talent performing at Stanford RePUBlic. This week is a bit special as young muso extraordinaire, Felicity is doing her Stanford Strummers swan song (so to speak) with her last performance before moving on to new adventures in the US. As per normal pizzas and soups will be available to keep the hunger monsters at bay whiles gluhwien and a fully stocked pub will make sure you are warm and happy.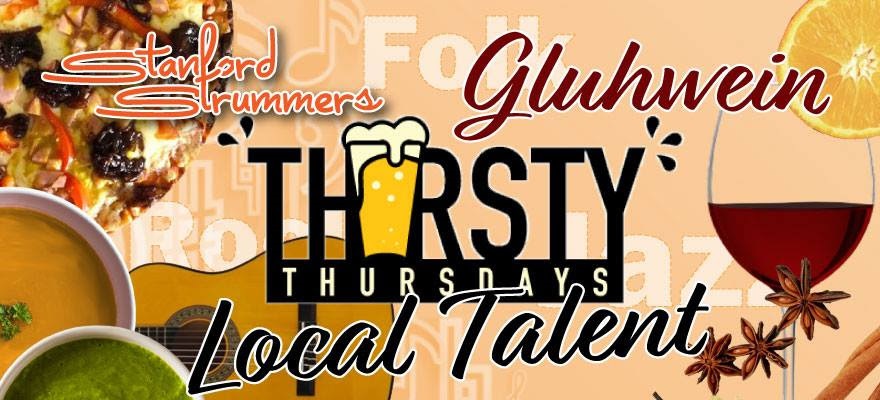 Thursday, 16 August - Sunday, 19 August
Breath & Horses - Transformational Retreat
This wonderful all-inclusive retreat includes accommodation (shared rooms) and all delicious organic meals. The retreat has been co-created with absolute enthusiasm and love. Transformational Breath® coach Josie will join us from Holland to join Kirsten and her catalyst co-facilitators, the horses, and medicine woman and artist Shelley. The team is completed with Superman/chef Gerd and equestrian professional/nurse practitioner Eva.
20 August for a Forest and Sea outing to Platbos indigenous forest and De Kelders coastal nature reserve.
Friday, 16 August, book your appointment
Free 30 minute conversations with attorneys: Alcock & Associates
Alcock & Associates is visiting Stanford this weekend and will be available on Friday for free consultations. ½ hour free consultation at a Stanford venue of your choice. Ask the questions that weigh on your mind, and tap into a legal mind for advice on estates, wills, trusts and anything else.
Saturday, 18 August, 09:00 - 12:00
Can you feel it? Can you feel it.... dah dah ta dah .... there's a change in the air and it smells like Ssspring .... come and see what's ... on the slab... it's exciting and maybe a little frightening?
The Saturday Morning Market at The Stoep of the Stanford Hotel. @ 9 am till 12!!!
A little bit of this and a little bit of that! Don't miss out! You'll be sorry you did ... ️
Saturday, 18 August,10:00 - 12:00
Museum Open
The Museum will be open from 10 to noon on Saturday.
Saturday, 18 August
Rugby Championship
Rugby Championship starts this Sat with All Blacks v Aus at 11.45 then the BOKS v Argentina at 17.00. Come and watch, and enjoy log fires, great beer and wine. Plus we are brewing this Saturday and Sunday, so enjoy the aromas of the brew.
Monday, 20 August - Tuesday, 21 August
Art Marketing Workshop
Artists, learn how to create an engaging online presence, get on top of social media, and represent yourself. This is a two-day workshop.
Wednesday, 22 August - Sunday, 26 August, lunch and dinner
SPECIAL TRUFFLE WEEK
6 courses featuring South African Perigord Truffle #SouthAfricanTruffle at R780 pp including wine. Booking essential.
Wednesday, 22 August, 09:00 - 12:00
Reduce your carbon footprint and get your fresh veggies at Graze Slow Food Cafe. Always seasonal, always fresh. Stay for coffee and breakfast.
Wednesday, 22 August, and Thursday, 23 August 18:00 - 19:00
Wednesday&Thursday evenings from 18:00 - 19:00. R80 participation for a full month, 8 classes. The past weeks we grew from 21 to over 40 participants and we would love to grow more.
Jain Reflexology Acupressure & Magnet Therapy
Mary_Lynne Grant
AUGUST = WOMEN'S MONTH
I am offering a special for women for the month of August.
1.5 hour treatment + 1 tub remedy depending on your needs R350 OR without treatment, I am offering these 5 remedies
1.5 hour treatment without remedy = R200
Natural Solutions Herbal Capsules are organic, non radiated vegi caps. Lactose, pesticide and preservative free.
Rawbiotics for GUT health - R125
Bladder and Kidney Supplements - R180
Cellulite Eliminate - R180
Women's Rescue Remedy (for those who get PMT, bloating, pain, mood swings) - R180
Thyroid Supplements - R180
RAWBIOTICS: Total health begins in the gut. Rawbiotics GUT balances the function of the gastrointestinal tract and works to correct imbalances that lead to disorders such as IBS, bloating, acid reflux, diarrhoea and constipation as well as mentally with depression, anxiety and stress. Rawbiotics replenishes the good bacteria in the gut, which is where 70% of our immune system is produced.
Winter Specials - Food and Wine
The Wine Bar(n) @ Springfontein
Daily Specials
Open daily from 11:00 - 21:00
Join us for our daily specials:
Lamb Tjoppies on a bed of mash with farm fresh Veggies R120
Goulash Soup with Malva pudding and homemade custard R70 or with a glass of wine R100. Looking forward to having you on the Farm! Team Springfontein.
Celebrating Women for the month of August
We're celebrating women this month, so come raise a glass to all the wonderful women in your life at Manor House... For the month of August, all ladies joining us for lunch or dinner will be offered a complimentary glass of delicious Lomond Rose.
Lomond Wine Estate
Now open 7 days a week. From 10:00 - 16:00
We offer platters for two to share with two Glasses of our premium Sugarbush Sauvignon blanc: We use Local cheeses and Richard Bosman cold meats for all our platters. Cheese Platter @ R220; Cold Meat Platter @ R240; Lomond Platter @ R300.
We also running a few good deals from the Tasting room; Buy 2 bottles of Rose and get 1 bottle free OR Buy 5 bottles of our classic range and get a bottle free.
Pets welcome too.
The Tasting Room @ Stanford Hills
Weekday Special: Monday - Friday
Winter Times: 08:30 - 17:00 Weekdays
Stanford Hills Midweek Lunch Specials:
Monday to Friday: A special dish of the day, created by Chef Jana, including a glass of Stanford Hills wine for only R90!
Stanford Hills is open SEVEN days a week, 8.30am - 5 pm. Don't forget to come and see our new wine shop, free wine tastings in August. Some fantastic new vintages in stock, as well as our newly released barrel fermented Chardonnay.
Manor House Restaurant and Stanford Valley Guest Farm
Women's Month Special
We're celebrating women this month, so come raise a glass to all the wonderful women in your life at Manor House, including yourself if you are one of the fabulous 3 710 295 643 women estimated to be on this planet. For the month of August, all Ladies joining us for lunch or dinner will be offered a complimentary glass of the delicious Lomond Rose.
Open for breakfast, lunch & dinner Thursday – Saturday
Open for breakfast & lunch Sunday
Winter Platter
'Winter vibes'
We are now serving a lovely Winter Platter to warm up the cockles in this icy weather. Monday - Saturday: 09:00 - 16:00 & Closed: Sundays
A visit to Klein River Farmstead is a celebration of Cheese, Picnics and Family.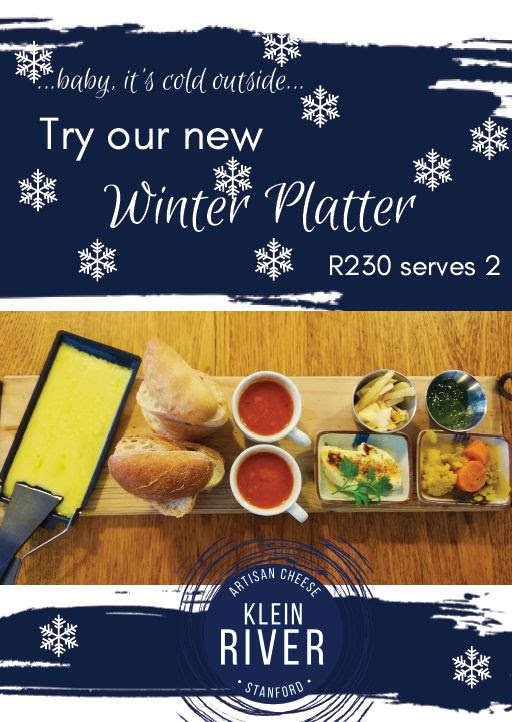 Ou Meul Bakkery & Café Stanford
Breakfast & Burgers
Every day specials
Amazing Breakfast Special until 11:45
Delicious Half Price Burgers from 14:00