Wine and Co - Mullineux, Zamboni and Kleine Zalze...
New in stock: Mullineux Single Terroir
Since starting their wine journey together in the Swartland in 2007, Chris and Andrea Mullineux have made the headlines a few times - receiving thirty 5-star ratings from Platter's, as well as being awarded Platter's Winery of the Year 4 times in 2014, 2016, 2019 and 2020. If this doesn't prove their winemaking talent, Andrea was named Wine Enthusiast's 2016 International Winemaker of the Year, and, also in 2016, Chris & Andrea were Tim Atkin's South African Winemakers of the Year. Pretty amazing! Their vintage releases are one of the most anticipated of the year, and we are proud to have them on our shelves, in very small amounts.
Tasting notes and ratings for the Mullineux Single Terroir wines are from Christian Eedes (WineMag):
Mullineux Granite Chenin Blanc 2020: Grapes from a 1976 vineyard on the Paardeberg. Pear, peach, citrus and fynbos plus a hint of reduction on the nose. The palate is lean in structure but deep in flavour – well delineated fruit to go with a great line of acidity and a saline finish. Precise and harmonious. CE's rating: 96/100.
Mullineux Schist Roundstone Chenin Blanc 2020: From own vineyards on the Kasteelberg – first vintage since 2014. The nose shows lemon and naartjie plus some leesy complexity. The palate is rich but balanced with impressive depth of flavour and nicely integrated acidity. There's a initially a certain breadth and thickness of texture to this wine, although the finish is long and savoury. CE's rating: 95/100.
Mullineux Iron Chenin Blanc 2020: Maiden release, grapes from vineyards outside Malmesbury. Some gun smoke-like reduction before citrus, white peach and herbs on the nose. The palate is rich and round – dense fruit offset by tangy acidity, the finish again nicely savoury. The most forceful wine of the trio. CE's rating: 94/100.
Mullineux Granite Syrah 2019: From a vineyard planted in the late 1980s on the Paardeberg. 100% whole-bunch fermentation. Archetypal aromatics of red berries, fynbos, cured meat and white pepper while the palate is medium bodied and wonderfully balanced – good fruit definition, moderate acidity and fine tannins. CE's rating: 95/100.
Mullineux Schist Roundstone Syrah 2019: From own vineyards on the Kasteelberg. 100% whole-bunch fermentation. Alluring aromatics of red and black berries, fynbos, black pepper and just a little flinty reduction. The palate is wonderfully pure and energetic – great fruit expression to go with snappy acidity and tannins that are firm but not astringent, the finish long and super-dry. CE's rating: 97/100.
Mullineux Iron Syrah 2019: From vineyards outside Malmesbury. Red and black berries, intense spice and some earthiness. The palate is full-bodied, richly flavoured and smooth textured. It sits quite broad in the mouth, the tannins providing a powdery sensation. As ever, the most opulent of the three. CE's rating: 94/100.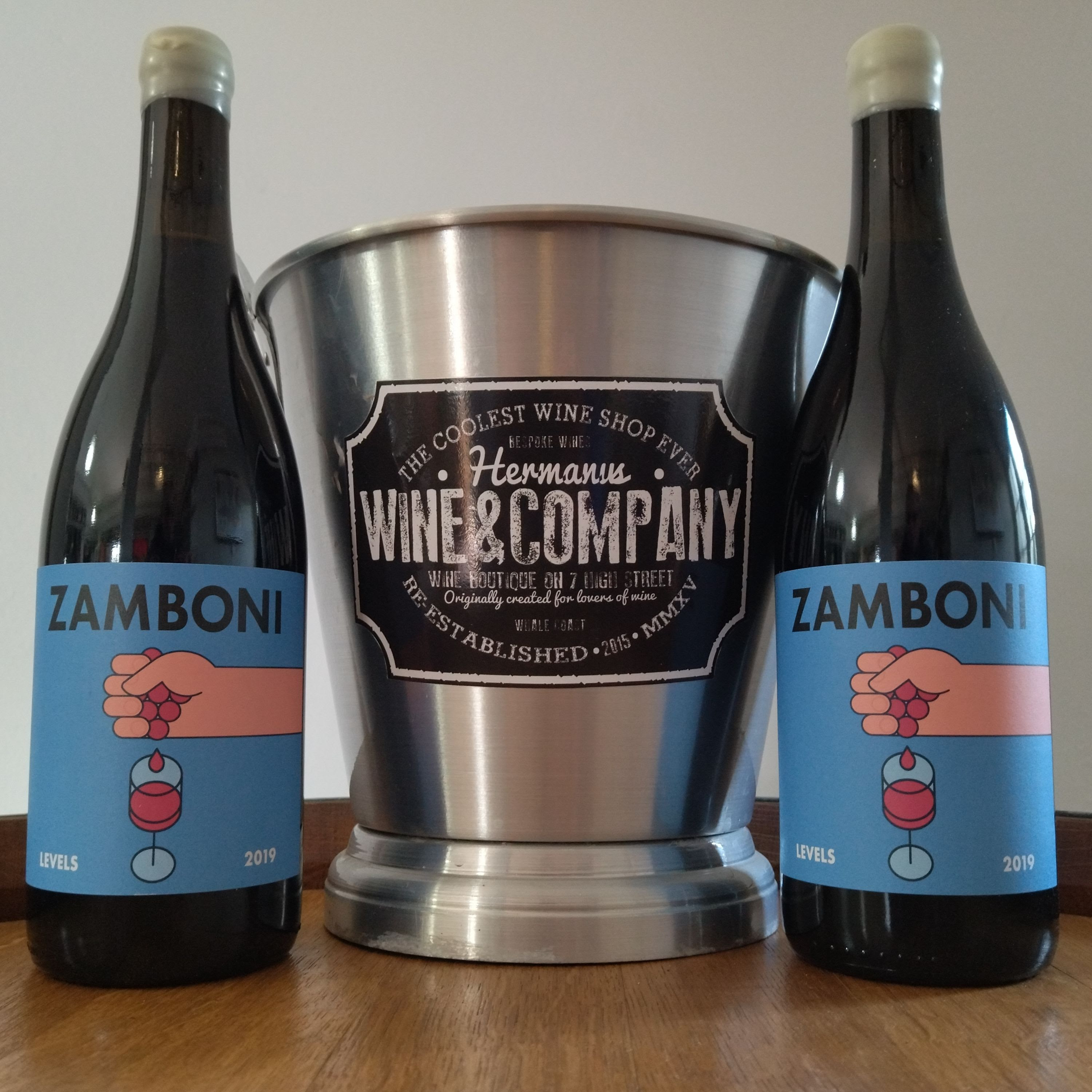 It would seem the fruit doesn't fall far from the tree. In this case it is JZ (Jay-Zee) Mullineux, 12-year old son of Chris and Andrea who made his own wine under the 'Zamboni' label in their cellar - Zamboni being his middle name and Andrea's maiden name. There may have been some guidance and instruction from his talented parents, but if this is how he starts out, then this young man is one to watch.
Zamboni '2019 Levels' is a blend of equal parts Syrah, Grenache and Cinsault from the Kasteelberg. According to JZ, the wine was 100% whole cluster fermented with natural yeast and spent 11 months in a 4th-full 225 litre barrel. Just one barrel produced, and 100% made by JZ Mullineux. You saw it here first!
Saturday | Sunday Weekend tasting: Kleine Zalze, just outside Stellenbosch, has been family-owned by the Basson family since 1996 and in 2020 was named Top Performing Winery of the Year by Platter's. This weekend we will be tasting their Vineyard Selection Shiraz, about which the winemaker says, "a generous wine that is packed, both on the bouquet and palate, with ripe red fruit that is beautifully balanced with a hint of fynbos. Subtle and juicy tannins give the wine appeal both on its own or with food, where it would be a great accompaniment to a roast leg of lamb. With careful cellaring this wine could be enjoyed now or over the next 10 years."
COVID-19 RULES:
Just a reminder that we have an ON/OFF Consumption Liquor License that allows us to be open for tastings over weekends during the newly-imposed Level 3 COVID-19 restrictions.
This means that we are open every day of the week, and will still be able to have our weekend tastings. Please note that you ARE able to purchase for local (Hermanus) delivery which will take place after closing. Any other deliveries (national or international) will be arranged for next week.
We are open 10am - 6pm Monday to Friday, and 10am - 4pm on Saturday, Sunday and Public Holidays.
A reminder of our website: www.wineandco.co.za/shop
Please note that our website does not show the complete range of wine that we have in stock, so please do contact us if you are looking for something not listed online, especially those that are 'allocation' only. We offer free delivery in Hermanus, and free shipping to major centres around South Africa for orders over R1500. Please contact us for international shipping rates.
COVID-19 shop hours (until further notice):
- Monday to Friday: 10am - 6pm.
- Saturday + Sunday + Public holidays: 10am - 4pm.
About Us
Have you ever heard about a great wine but could never find a bottle for yourself (to share with friends, of course)? Well, the team at Wine & Company do all the hard work for you! We visit wine farms and attend tastings to find, taste, and then stock wine from the smaller Estates and independent winemakers who buy grapes and produce outstanding wine under their own labels – much the same as the French negociants have been doing for centuries. Given that these winemakers make wine in such small quantities, sometimes just a single barrel, their wine will never be found on the shelves of the major retailers, but only in specialist shops like Wine & Company on High Street, Hermanus.
In addition to the great selection of well-known wines and MCC's, we also stock local craft gin and beer, French Champagne, Belgian Ales as well as whisky and other spirits. Wine & Company (established in 1998 by Bartho Eksteen) has a well-earned reputation for stocking hard-to-find small-batch wines and we strive to continue this great tradition. If you purchase a bottle of wine from us and it is faulty we will gladly replace the bottle and return the faulty wine to the winemaker.
Feel free to contact Wine & Company if you need a particular wine and we will do our best to source it for you. We are also able to ship wine locally and to most countries so do ask about international shipping.
Thank you for your support - stay safe - see you soon!