The Hermanus Whale Crier is one of the main attractions during the whale season in Hermanus – this unique character alerts people to the whereabouts of the southern right whales in the bay by blowing on his kelp horn along the cliff tops.
Modelled on the town criers of the UK, the whale crier was created 20 years ago to attract attention to the Hermanus whale season and he has subsequently become one of the most photographed tourism icons in the country!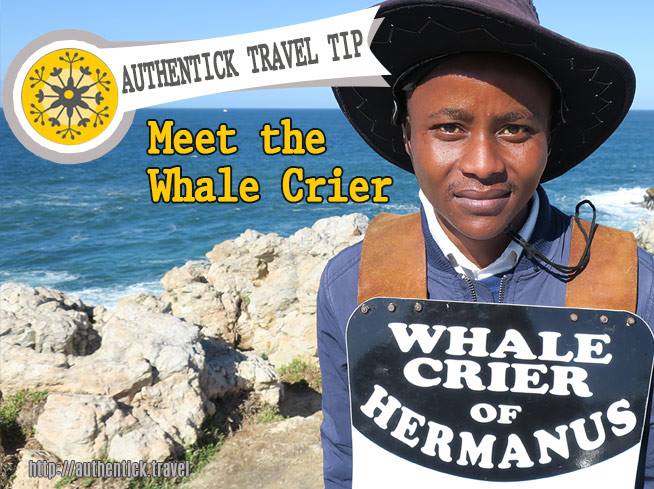 Image courtesy of Authentick Travel
Dressed in a white shirt and black pants with a jaunty "whale tail" hat, the Hermanus Whale Crier tells visitors where to find and see the whales every day during the whale watching season. He parades along the cliff path with a sandwich board indicating the most important whale watching spots and blows his kelp horn when whales are seen.
His whale watching hot-line is 078 115 9214 – call to check on the weather and where the whales are during the season from June to the end of November. If this number is busy, contact the Tourism Information kiosk on Market Square in Hermanus on +27 28 313 1602.
This innovative marketing character travels to tourism marketing shows around the world and has appeared in most major television channels and newspapers from National Geographic, Sky News and CNN to the Katmandu daily paper and the New York Times. The Hermanus Whale Crier was even invited to the annual Topsham Town Crier's Festival in the UK in 1996 and in turn has hosted the top Town Crier of the UK in Hermanus.