Roar out from Panthera Africa: Support our fundraising auction and help the big cats!
Dear Friend!
A huge roaring thank you to those who gave so generously for our new Rescue & Recovery Zone. We started fundraising in June and we were overwhelmed by the generosity and kindness of our supporters and friends.
The R&R Zone will cost approximately R140,000 to construct and so far we have raised R90,000. In order to get us to our final goal we are asking you, our friends and supporters, to bid on goods and services on our fundraising auction online.
As we enter the festive season of giving, we are announcing a truly unique and meaningful way to buy that special gift for someone you love. And, in doing so, you can help us build a Rescue and Recovery Zone for the big cats! We are launching an ONLINE ART, ACCOMMODATION & ACTIVITY AUCTION in aid of Panthera Africa. Place your bid before the 1st December!
A Rescue and Recovery Zone, with a small night pen attached to it, has become an urgent necessity. This will give us a secure space right here at Panthera Africa for recovery after operations and check-ups – until our cats have the all clear from our vet before being released back into their spacious, permanent enclosures.
Orphaned wild animals like caracals and other small wild cats will also benefit, since they can stay there temporarily until they're strong enough to be released into the wild.
But there's an additional, urgent need for the Rescue and Recovery Zone that will speak to your heart as it does to ours ... to provide an immediate place of safety for animals who are in life-threatening situations.
You see, we sometimes receive pleas for help with animals in dire need – sometimes to get animals out of danger – until a permanent home at another sanctuary can be found ... or we create an additional home here at Panthera Africa.
Your gift helps to give big cats a stress-free place to receive veterinary treatments and be monitored post-operatively ... and it means we'll be able to help big cats in emergencies and bring them to safety.
A huge roaring thank you from the whole pride!
Cat and Lizaene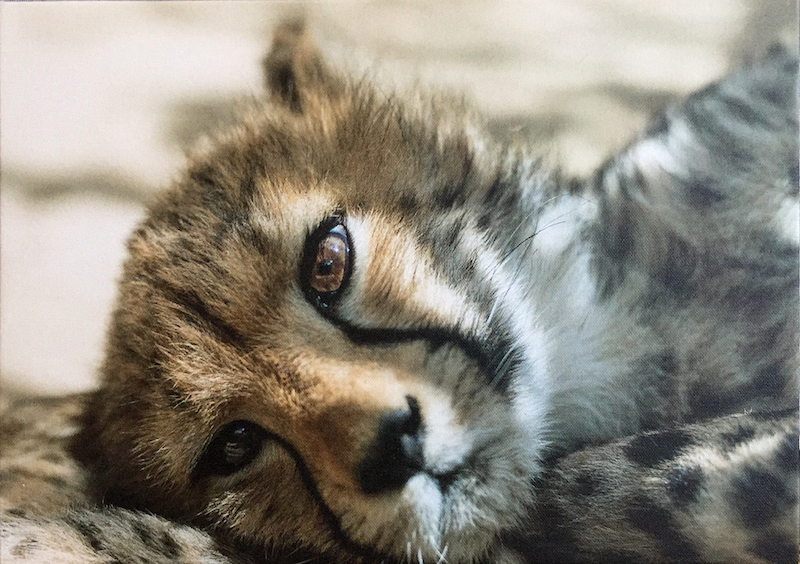 Alpha and Cora joins our pride.
We welcomed two very special ladies to the Panthera Africa pride in October - lionesses Alpha and Cora!
These two beautiful queens are settling into their new space beautifully. They will reside in our new Born Free Rescue Section for the rest of their lives.
We are proud and humbled to embark on this partnership with Born Free Foundation and are blessed beyond measure to be entrusted with the care of these magnificent lionesses. We have fallen in love with them already!
Thank you British Airways Holidays for your generosity and commitment to making this rescue a reality. Alpha, Cora and the rest of the Panthera Africa pride are forever grateful!
To see more about Alpha and Cora's journey to us, please see the video link below!
Karlos and Ivana joins our pride.
Our beautiful, brave cubs, Karlos and Ivana, are doing so well in their new home with us! We see them growing stronger and more confident everyday, and their new terrain and extra space is helping to improve their balance and coordination. The best part is they get to play, explore and just be lions all day, every day!
But their story is a difficult one to watch. They had a very tough start to life. We have decided to include it here because we need people to understand what is really happening in the captive lion breeding industry.
A huge thank you to the NSPCA for rescuing the cubs, and to Dr Peter Caldwell from Old Chapel Vet Clinic. If it wasn't for them, the cubs would not have had a second chance in life.
The cubs still have a long way to go to a full recovery. They are receiving multiple supplements, get fed twice a day, and plenty of enrichment to stimulate them physically. We see the progress daily, and we will continue to hope and pray for a full recovery.
Galaxy enjoys his first enrichment!
New Conscious Walk!
We are excited to announce a brand-new visit at Panthera Africa! Experience a magical walk through the Panthera Africa kingdom where the stories of the animals will guide, inspire, and give you a deeper understanding into life's many experiences. Through the animals' personal guidance you are shown the peace and wisdom that lies within each and every one of us.
Cathrine, the co-founder and director, is your host on this special journey and will share personal animal stories, as well as delve deeper into the conscious and energetic work the animals are doing for and with the project. A beautiful guided mediation will be shared with you, and as the big cats bring out their powerful presence you will be inspired to open your hearts to love.
When: by arrangement
Where: Panthera Africa
Duration: 3 hours
Cost: R990 per person
Only 15 places available for this experience so book now to avoid disappointment. Minimum amount of people: 4.
Only for people 16 years and older.
Pre-bookings essential!
Bring your camera, a jacket for cold weather/wind, and a notebook and pen.
Inspired to share in our dream and make a difference? We believe in unity there is strength, and together we create change for a brighter tomorrow! We welcome everyone to join us and take action together!