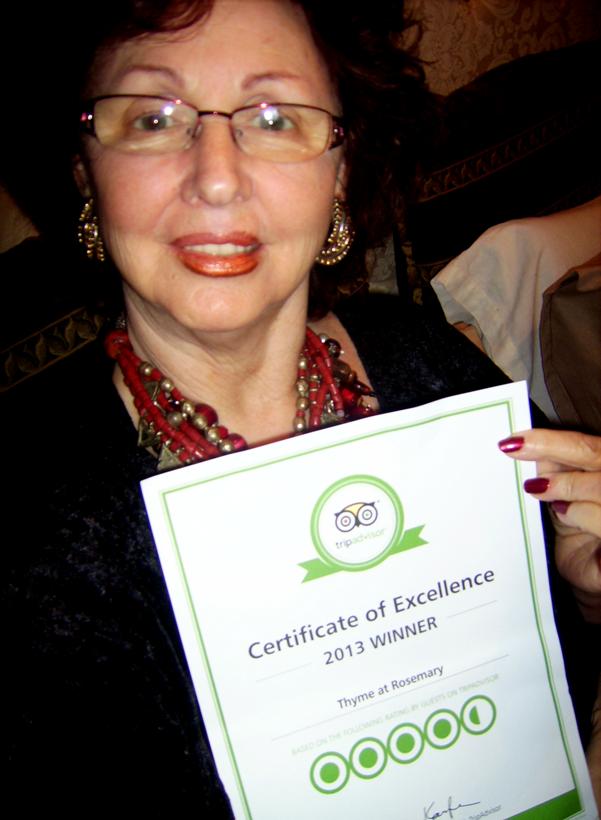 Rosemary van Theme at Rosemary met haar Certificate of Excellence van TripAdvisor
White Shark Adventures van Piet Smal en Andries Nowers spog daarmee dat hulle twee agtereenvolgende jare (2012 en 2013) met TripAdvisor se gewilde Internasionale Certificate of Excellence Certficate vereer is. Hulle was ook wenners in die 2012 Imvelo Responsibility Tourism Awards in die kategorie Most Empowered Tourism Business.

White Shark Adventures bedryf hul besigheid met hulle haaibesigtigings-boot, Nemo en was in 2011 ook in die nuus met hulle unieke haaihok wat op 22 Maart 2011 in ge-bruik geneem is.
Nog 'n trotse ontvanger van 'n 2013 Certificate of Excellence Certficate van TripAdvisor, is Rosemary van Thyme at Rosemary. Rosemary sê sy is trots op haar restaurant en perso-neellede oor dié prestasie.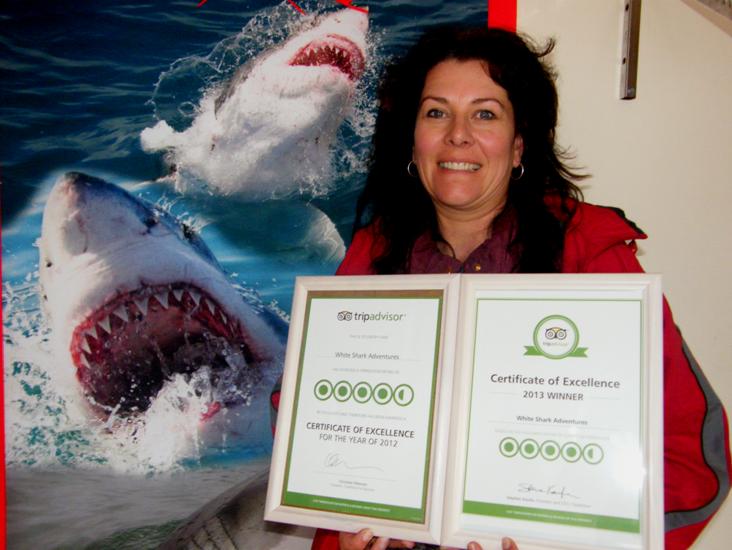 Madelein Swart van White Shark Adventures met 2012 en 2013 se Certificates of Excellence van TripAdvisor
Die gebou wat tans haar restaurant is, het sy aanvanklik as "Back Packers"-verblyf bedryf. Later het sy met 'n Teetuin-bedryf daar begin en nog later die restaurant-gedeelte bygebring. Met verwysing na etlike besighede wat hierdie toekenning, asook ander toekennings, al ontvang het, kan Gansbaai goed voel oor puik dienslewering. TripAdvisor roem daarop dat hulle deur die krag van terugvoer deur reisigers wêreldwyd die grootse reis-webtuiste ter wêreld geword het. Toeriste wêreldwyd stuur hul kommentaar, positief en negatief, aan TripAdvisor. Hierdie sertifikaat word dan uitgereik wanneer 'n punt van 4 of hoër uit 'n moontlike 5 punte aan 'n besigheid toegeken word.
Hardus Botha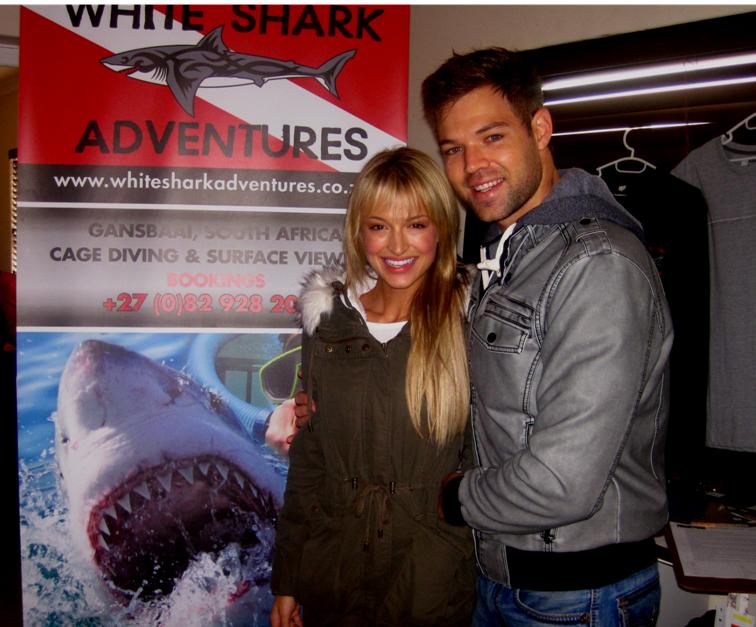 White Shark Adventures van Piet Smal en Andries Nowers was bevoorreg op Mej Suid-Afrika 2012, Melinda Bam en Mnr Suid-Afrika 2011, Adriaan Bergh gedurende April vanjaar met hulle Nemo haaibesigtigingsboot op 'n haaibesigtigingsrit te neem