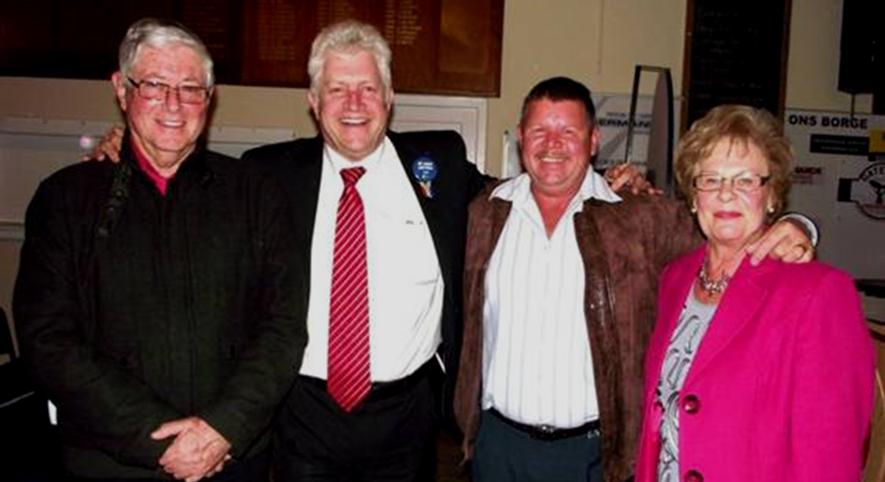 Minister Alan Winde with the Presidents of the Hermanus and Gansbaai Chambers Mervyn Milner and Fanie Bothma and Overstrand Mayor Nicolette Botha-Guthrie
Minister Alan Winde (Minister van Finansies, Ekonomiese Ontwikkeling & Toerisme) het Hermanus Sakekamer onlangs besoek. Gansbaai Sakekamer was ook teenwoordig om na hom te luister en veral ook omdat die Sakekamer graag met hom 'n afspraak wil vasmaak om 'n aantal sake te bespreek.

Min. Winde het 'n baie goeie toespraak gehou. Hy het eers agtergrond gegee om die breë prentjie in te kleur. Daarna het hy op spesifieke sake gefokus. Wat duidelik deurgekom het, is sy ingesteldheid om besighede te ondersteun. Hy het gesê "ek werk vir julle" en hy dra ook 'n lapelwapen wat sê dat hy tot ons diens is. Owerheidsinstellings moet nie dit vir besighede moeilik maak nie, maar juis hulle taak vergemaklik & "red tape" uitskakel. Hy beklemtoon dat dit besighede is wat werk skep, geld genereer, belastings & heffings betaal en vooruitgang bring. Hy het op heelwat sake gewys wat moontlik tot ons voordeel kan strek. Dit sluit sake in soos: 'n SEZ stig, 'n IDZ daarstel, Akwakultuur bevorder, stig van 'n "Broadband Barn" vir tegnologie bevordering, stig van 'n "Incubator", vrystel van grond vir benutting deur besighede, ens. Hier moet Gansbaai sorg dat ons 'n deel van die koek kry. Dit sal egter beteken dat ons insette moet doen en met sy Departement gesprekke voer. Hy soek goed gefundeerde planne & voorleggings waarmee hy kan werk. Op die einde gaan alles oor preoriteite en hy moet die hulpbronne en fondse tot sy beskikking so allokeer dat die beste geleenthede eerste ontgin word. As ons dus minderwaardige voorstelle op die tafel sit, sal ander partye voorkeur kry. As ons net terug sit en wag dat dinge gebeur, sal ons niks kry nie.

Gansbaai kan trots voel dat die Minister in sy toespraak vir Hermanus se sakemense gewys het op Gansbaai Sakekamer se "Works & Skils" program wat reeds twee keer baie suksesvol afgehandel is. Ons is tans besig om dit die derde keer te implimenteer. Toe Min. Winde dit bekendgestel het, het Gansbaai Sakekamer die inisiatief geneem om dit te implementeer. Omdat Hermanus nie wou deelneem nie, het ons selfs Hermanus se allokasie benut tot voordeel van Gansbaai se besighede. Die Minister het in sy toespraak eintlik vir Hermanus uitgedaag om ook betrokke te raak want hulle besighede is besig om die direkte maandelikse finansiële voordele te verloor.

Min. Winde het Gansbaai Sakekamer uitgenooi om hom te kontak - hy is gewillig om met ons te gesels al het hy 'n baie besige program. Tans is ons reeds besig om via die Burgemeester so 'n afspraak te reël. Hopenlik sal dit binnekort realiseer. Daar is 'n aantal sake wat ons graag direk met hom wil bespreek. Ons moet vir Gansbaai beding sodat ons sakesektor die voordele kan kry - sakemense moet betrokke raak anders gaan die geleenthede verlore en dan kla ons maar net verder oor die moeilike tye wat ons beleef.