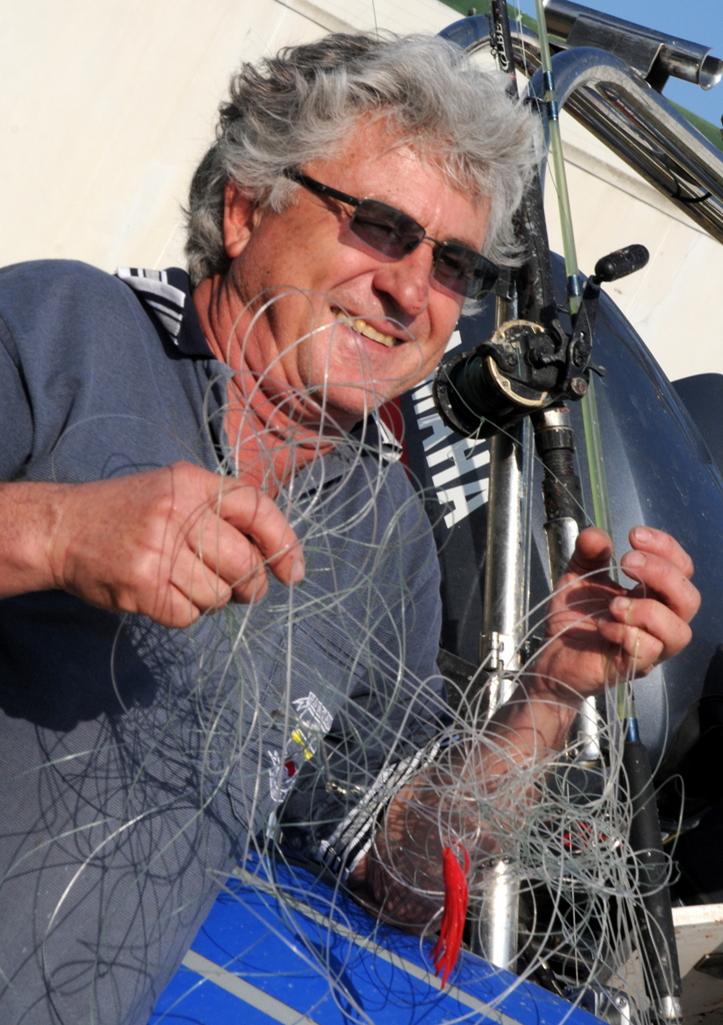 Johan Burmeister het met 'n kraaines gespog. Foto: Jane Bailey
Hierdie week net 'n kort verslaggie en dis snoek wat dit veroorsaak. So lank al is die verwagting dat die snoek sy verskyning behóórt te maak dat dit soort van afgesaag begin klink. Saterdag egter het die weer saamgespeel en die manne wat besluit het om by Dassiegat te gaan probeer het die regte beslissing gemaak. Dis waar die snoek behoorlik gesig gewys het en einde ten laaste kan 'n man met 'n oop gemoed sê, "die snoek is hier!".

Van die bootklub se manne het baie goed gevaar en gemaai onder die snoek. En dis ordentlike, mooi visse. Nou nie dat daar 'n oorvloed van bote by Dassiegat was nie, al is daar die vorige paar dae wel vis daar gekry. Wat gebeur het was dat die snoek blykbaar eers laterig begin byt het en sommige ouens teen hierdie tyd ander vangplek gaan soek het. Aaslyne, dollies en "spinners" het almal gewerk en vir 'n ruk is daar gebaljaar onder die snoek.

Daar is ook 'n paar mooi makriel gevang (Kleinbaai se kant) en die wat nie op hierdie plekke was nie het ordentlike roman en PW's ingebring. Heelwat hotties is ook gevang.

Die weer vorentoe lyk glad nie sleg nie en indien alles so belowend bly gaan dit onnodig word om Hermanus toe te ry vir die snoek. Dis bietjie laat, maar dankie tog! Groete, Seemeeu

Nog vertalings: Jig heads, light spinning tackle - loodkoppe, (waaronder lepelkoptipes), Lead head jigs with soft plastics - loodkoppe met sagte plastiekkunsaas, Lures for trolling and jigging - kunsaas vir sleep en wip, Boat gaff - bootgaffel, Scoop net - skepnet, Shank - hoeksteel.