Dit gaan lekker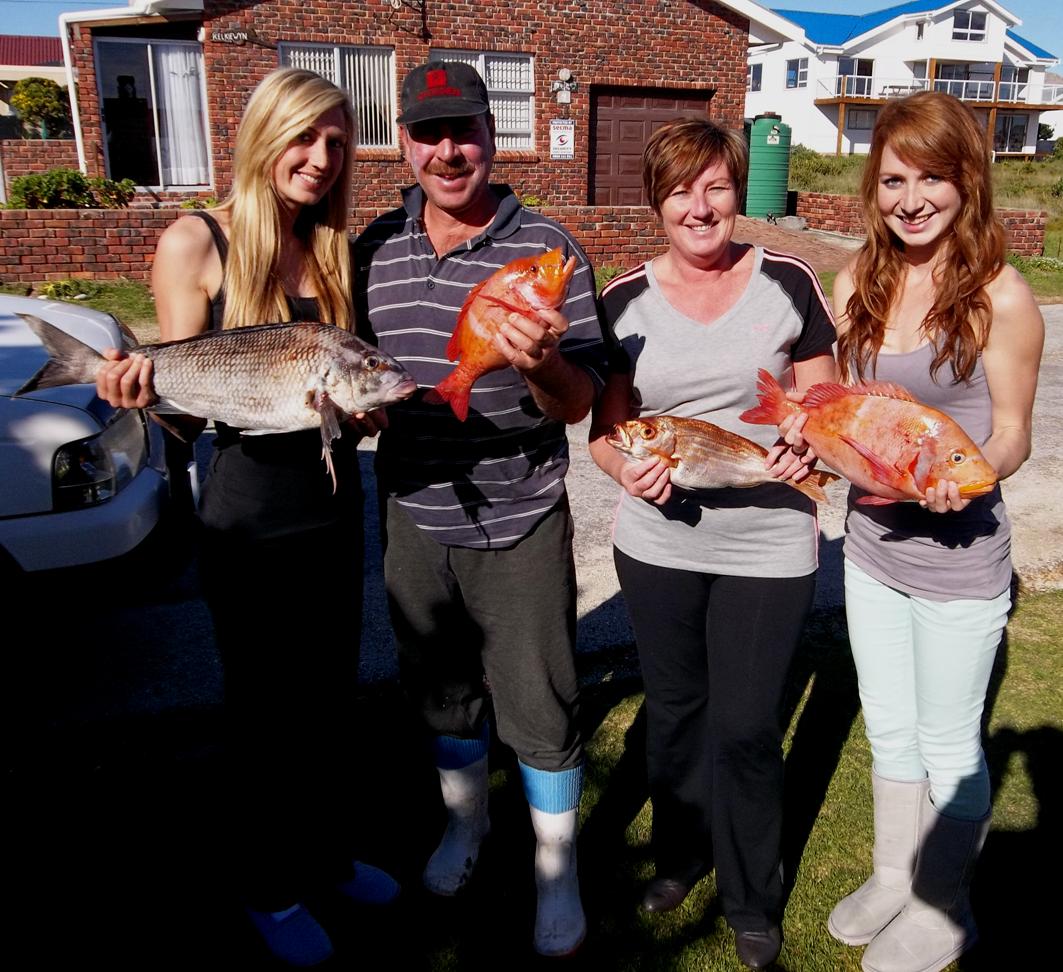 Links staan Rochelle Lawson met die uitsonderlike banksteenbras, dan pa Lanny, ma Annemarie en dan dogter Rouxjeanne, wat almal help vis vashou.
Laas week was die weer wisselvallig, maar teen Vrydag het die wind so gaan lê dat die manne die snoek by Dassiegat kon gaan vang en dit het heel goed gegaan en groot snoeke is aan boord gebring. Meeste van hierdie vis was, verbasend genoeg, in goeie kondisie en die ouens wat geweet het hoe om te maak, het nie probleme gehad om te maai onder hulle nie. Met die skoonmaak kon jy agterkom dat die snoek se pense sommer goed gevul was en dis moontlik die rede waarom hulle so skelm en traag gebyt het. Saterdag was weer 'n baie mooi dag met die wind wat die oggend so half koud in jou nek geblaas het. Later het die windjie gaan lê en was dit nie 'n mooi dag op see nie!

Donderdag en Vrydag het die bote aan die Kleinbaaikant 'n paar mooi geelbekke uitgebring en heelwat makriel is ook gevang. Die vis het egter diep gelê en die wat dit nie so ver in wou waag nie, het net gehoor van hierdie visse. 'n Uitsonderlike vangs was gewees 'n banksteenbras (hy lyk soos 'n witsteenbras maar is swarterig) en is later deur 'n buitestander as sulks uitgeken. Net duskant die Haaibank is mooi vangste silwervis en roman gemaak.

'n Waarskuwing aan boothengelaars -- pas op vir die penhaai. Daar is in die laaste tyd nogal baie van hulle gevang. Die haai wat baie soos die vaalhaai lyk word dadelik uitgeken aan die uitsonderlike helderblou oë. Die gevaar bestaan in die baie skerp penne wat so half agter die vinne versteek is en indien versigtigheid nie aan die dag gelê word nie is daar groot probleme. Let asb. op. Baie groete, Seemeeu

Die voorlaaste paar vertalings:
Live bait plugs, 17 cm floating baits - lewende aasproppe, en 17cm-dryfaas,
Elf can be caught on spinners, but pilchards with a red float and bite trace give excellent results - elf kan met lepels gevang word maar sardyn met 'n rooi dobber aan 'n aaslyn lewer uitstekende resultate,
Tackle - gerei,
Tracer line - stroplyn,
Surface baits - oppervlakase.