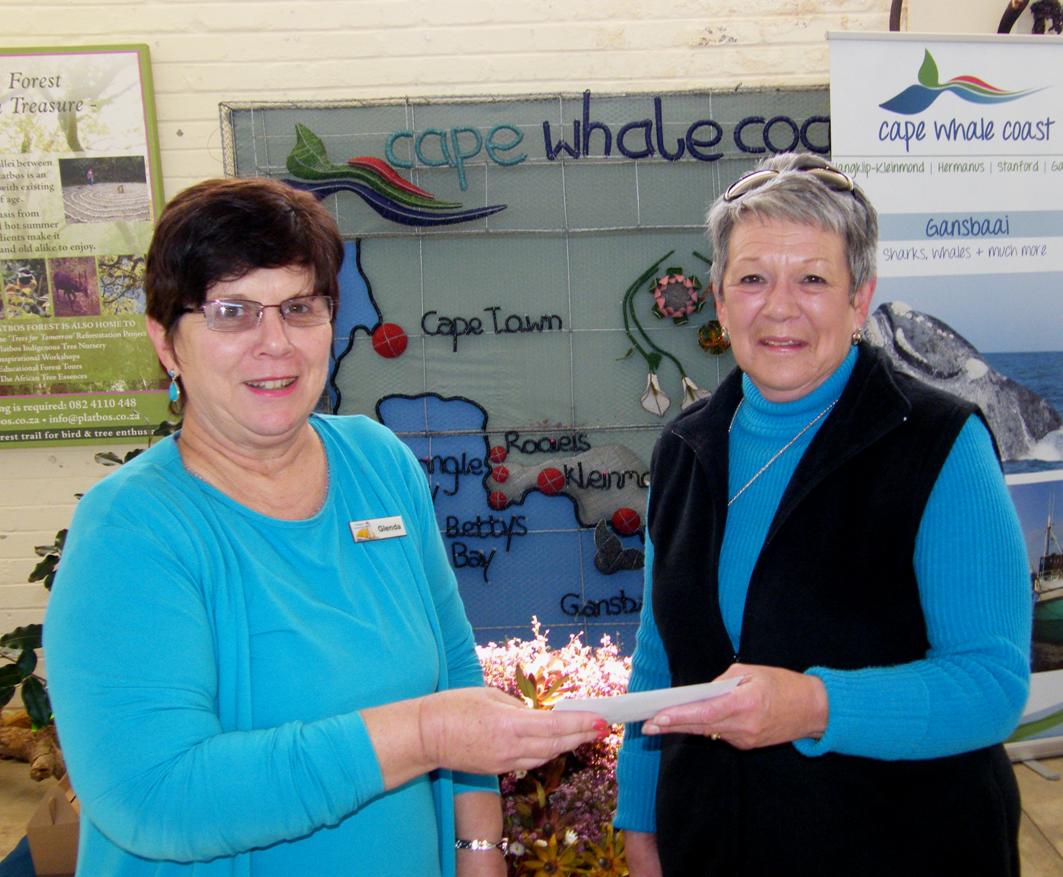 Glenda Kitley (links) oorhandig Gansbaai Traumakamer se Feestjek aan Lucille Mangiagalli
Die Winter Fynbos- & Musiekfees se organiseerders sê "Groot Dankie & Thank You" aan alle medewerkers, borge en besoekers wat tot die sukses van die Feesnaweek bygedra het. "As usual it gives me great pleasure to say thank you to those who supported the Festival with donations, discounts, sponsorships, vouchers, prizes and not to be underestimated the moral support," said Glenda Kitley, Manager: Gansbaai Tourism Bureau.

"First of all the main sponsor once again Cape Whale coast (Overstrand Municipality) for financial contribution and assistance with the marketing. Also a great thank you to Gansbaai Academia - all those involved including but not limited to Mr Wilson, Mr Koekemoer, Elsa Breytenbach, Mrs Helene Segal and Tourism learners, Mrs Carla Gouws and learners. Also a great thank you to Mr Kat Myburgh, Gansbaai Municipality for his indispensable support in this regard.

A great thank you to (alphabetically): Build-it, Chickenland, Committee and staff of Gansbaai Tourism, Computer Something, Fish Lady, Flower Valley, Gansbaai Coastal Cuisine, Gansbaai Courant, Gansbaai Gamers, Gansbaai Lions Club (use of can for gate), Gansbaai OK Foods, Gansbaai Party Hire, Gansbaai Superspar, Gansbaai Wimpy, Haus Giotto, Hermanus Liquors, Ivanhoe Sea Safaris, Johnny Walker (Bales), Lekkerbek (Piet Zaaiman), Leon Carstens & Joe Bezuidenhout (sound system), Lighthouse Tavern, Mtsopi Tours Masakhane, Nells B&B, Overberg Agri (Stanford), Overberg Scaffolding, Protea Flora, Studio Jo Signs, Tertia Hendricks and White Shark Guesthouse.

"Then to those who were responsible for building the display, the presentation of the Lady from Nature and those who came to identify the species." Glenda also mentioned that the Festival benefited local organisations. The proceeds from the tea garden as well as the dinner went to Gansbaai Academia. The school also received great exposure as an excellent high school.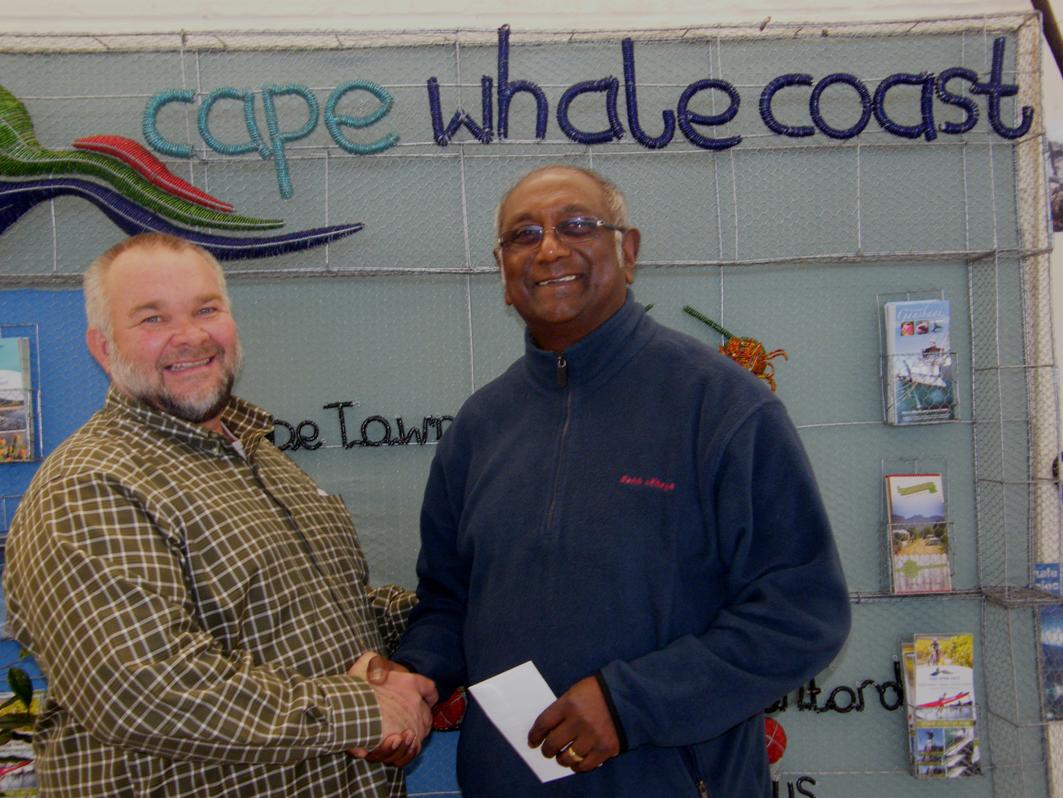 Ds Dennis Naidoo (regs) oorhandig S.H.A.R.E. (Sopkombuis) se Feestjek aan past Frikkie Zeelie
The proceeds from the Church Service collection was donated to the Trauma centre and S.H.A.R.E. (Soup kitchen). Gansbaai Gamers manned the gates and received a donation towards their equipment. Opportunity was given to local crafters to have stalls and also to fynbos organizations to display their products. Aletta Groenewald van Gansbaai Toerisme Buro het alle boere opreg bedank vir hulle wonderlike samewerking met die verskaffing van die enorme hoeveelheid blomme en fynbos wat gratis beskikbaar gestel is. Die gedugte Fynbosspan, waarvan sommige lede hierdie week hard werk aan Gansbaai se Fynbosuitstalling tydens die komende Cape Floral Kingdom Expo in Bredasdorp vanaf 29 Augustus tot 1 September, sal in die volgende uitgawe bedank word. Vanuit die geledere van Gansbaai Academia het die voorsitter van die Beheerraad, Ernst Nieuwoudt, die volgende bedankings (alfabeties) voorgehou: B & M Tuindienste, Belmont Cash &Carry, Boetie Otto, Die Mark, Dyer Island Conservation Trust, Gansbaai Marine, Gansbaai OK Foods, Jannas Pancake House, Marietjies, Scoops Ice Cream Parlour, Seastar Lodge en Usave. "Dan ook baie dankie aan al die ouers en onderwysers wat gehelp het en aan diegene wat donasies gegee het," sê Ernst.

Kennis kan nou reeds geneem word dat die 2de been van die Fees van die Ganse op 21 September, na Saterdag, 7 Desember uitgestel is en sal met die aanskakeling van Gansbaai se Kersliggies die Vrydagaand saamval. Dit geld nie vir Herberg-aan-See se basaar en die "Groet die Grotman"-vertoning nie, wat wel sal voortgaan.

Hardus Botha