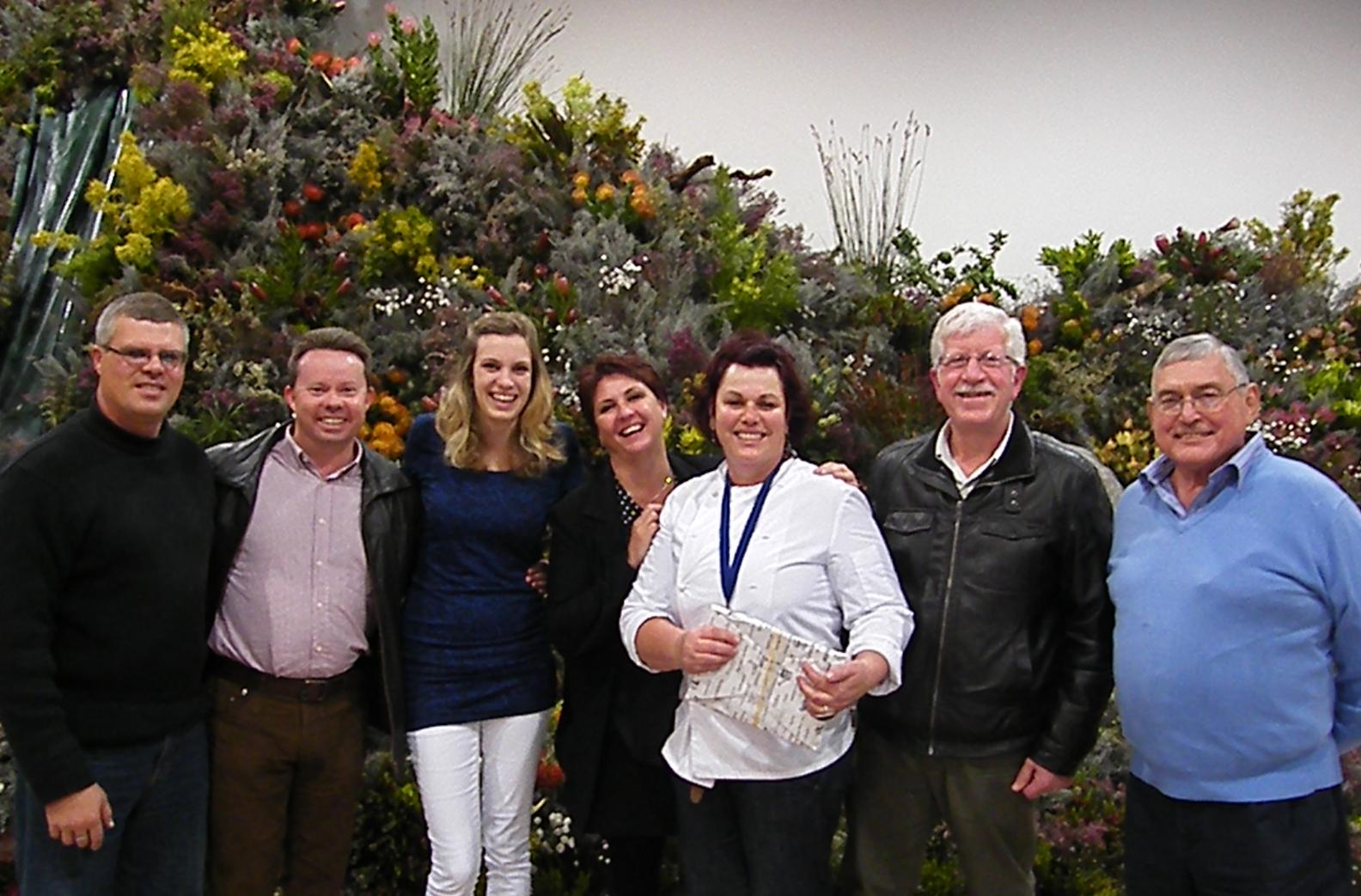 Die oorhandigers en ontvangers van blyke van waardering, met vlnr Jacques van Heerden, Awie Marais, Annemarie de Boer, Liesel Kok, Helene Segal, Johan Pieterse en Helmie de Vries
Die Wynproe-aand op Vrydag, 9 Augustus "tussen die Fynbos" was 'n unieke, maar ook 'n baie spesiale aand - en dit nogal op Vrouedag. "Almal sal saamstem dat die Fynbosspan wat vir hierdie unieke Fynbosuitstalling verantwoordelik was, 'n spesiale dankie en applous verdien," het voorsitter Helmie de Vries gesê. Daarna het Helmie die aanbieders, Liesel Kok (Bemarker) en Annemarie de Boer (Skakelbeampte) aan die woord gestel. Slanghoek Kelder is in 'n sprokiesvallei tussen die Slanghoekberge geleë, sowat 4km vanaf die Goudini Spa. "Ons Merlot is net die regte inspirasie vir Vrouedag - bestel 'n Merlot en die vroue sál beïndruk wees!" Die wyne wat geproe en beoordeel is, is: witwyne - Chenin Blanc, Sauvignon Blanc en Chadonnay; rooiwyne - Camerca, Merlot en Shiraz; soetwyne - Cape Ruby en Red Muskadel. Hierdie wyne het op een na almal 'n sterk silwer tot goud as beoordeling ontvang. Die wynproe is met hulle Crème De Chenin afgesluit en is summier met 'n sterk goud beoordeel. Die uitstekende 3-gang maaltyd ten bate van Gansbaai Academia, is smaakvol en met sorg deur die skool se Toerisme-leerders onder leiding van Helene Segal voorberei en bedien. Hulle is Amelia Kaptein, Christina Armando, Elouise Titus, Lelanie Pietersen en Shereney Snyman. Vir die eerste keer is die gaste ook met vermaak vanuit die boonste rakke verras. Manie Groenwald en sy span boeremusiek-makers, Bertie le Roux, Chris Meyer, Flippie Groenewald, Rialet Groenewald en Willie de Villiers se bydrae tot groot feestelikheid, verdien spesiale erkenning. Jacques van Heerden, Awie Marais en Johan Pieterse het die gebruiklike blyke van waardering aan Annemarie de Boer en Liesel Kok van Slanghoek Wynkelder en Helene Segal van Gansbaai Academia te oorhandig.

Vir navrae rakende Gansbaai Wynproegilde kan Helmie by 028-388-0708 of 082-577-6920 geskakel word, of stuur 'n e-pos aan hom by info@franskraalbandb.co.za.
Hardus Botha