NEWS: Stranded in Gansbaai

The talk of the town this week includes two beachings. The rough weather of the past week and weekend, took its toll and we are sad to report the following: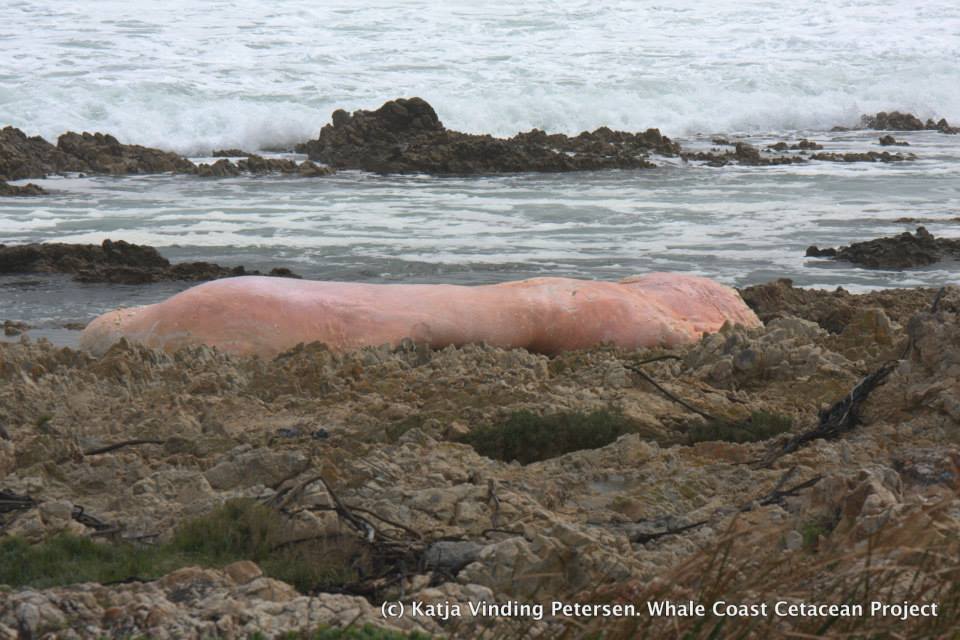 A local Cetacean Conservation group was notified of the beaching of a Whale carcass on Sunday morning. A few distressed residents phoned the group after they noticed the large body washed up close to the Gansbaai harbour. Three of the people involved with the Whale Coast Cetacean Project went to have a look at the body.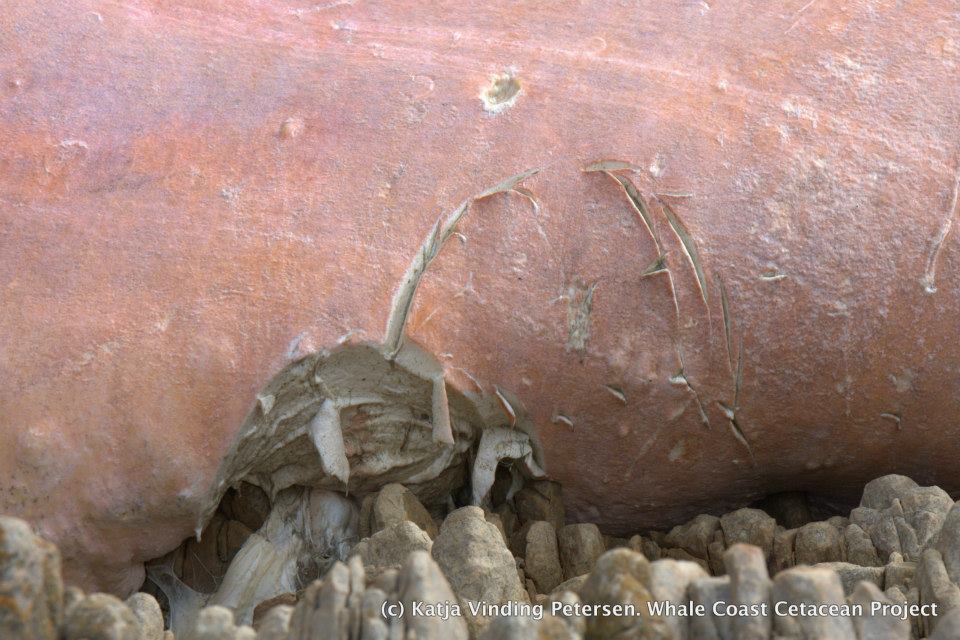 The carcass of the Whale had lost most of its colour and had lost its tail which indicated that the body had been floating out at sea for quite some time. There were shark bite marks on the body and besides the bad condition of the body, it was deduced that it was a Southern Right Whale. The cause of death along with total length and age of the animal were not able to be determined. The municipality will be taking care of the removal of the carcass.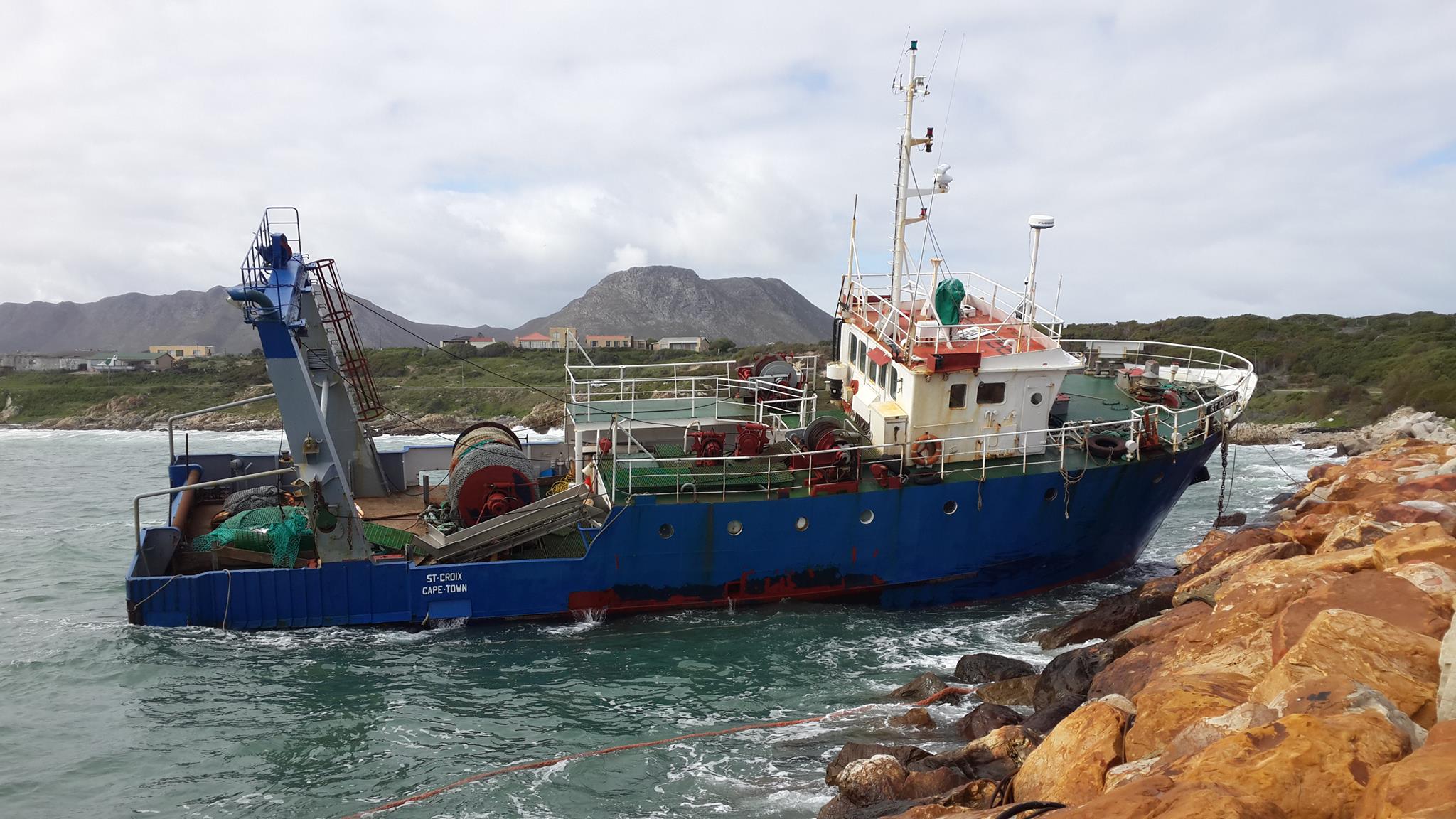 The second stranding, is a fishing boat that got detached during the bad weather of the past week. The boat finally got washed out just outside of the Gansbaai harbour on Saturday.
Photos courtesy of Whale Coast Cetacean Project & Lloyd Koppel

THIS WEEK'S FEATURED SPECIALS:
OK Foods Gansbaai
Weekly Specials
Expires: August 27, 2013
Special: Have a look at our Weekly Specials!
White Shark Adventures
Winter Shark Cage Diving Special
Expires: November 30, 2013
Special: Winter Special with White Shark Adventures. Only R1050pp!
Cliff Lodge
Expires: August 31, 2013
Special: Autumn and winter in the Western Cape truely is the 'green season' – fewer people, beautiful landscapes, whales, sharks and great deals on accommodation.
Farm 215 - Nature Retreat & Fynbos Reserve
Expires: October 01, 2013
Farm 215 is having a winter weekend special for R1000 per person sharing per night for a Fynbos Suite and R800 per person sharing per night for a Homestead Room including...
Grootbos Private Nature Reserve
Last Minute Special - From R 1650 pps
Expires: October 31, 2013
Do you need a break from your hectic day to day life? Looking for last minute luxury accommodation in Paradise? Then take advantage of our Last Minute Accommodation Special
Saxon Lodge
Shark & Stay
Expires: November 30, 2013
I night's accommodation PLUS 1 shark cage dive for R 1600.00 per person sharing OR I night's accommodation PLUS 1 shark dive cage for R 1760.00 per single person.
Gansbaai Lodge & Backpackers
Free accommodation if we book your shark dive activity @ R1000
Expires: November 30, 2013
This special also includes a breakfast & lunch!
Sea Rose Self Catering
Book a Shark Dive and get FREE Accommodation
Expires: December 31, 2013
Book your Shark Cage Diving Experience with Sea Rose Self-Catering for R1450 and stay for Free. You save R250!
Saxon Lodge
Expires: December 31, 2013
Discounted rates (up to 40% off standard rates) apply for walk-in guests after 14H00 daily.
Sea Rose Self Catering
Last Minute Accommodation from R200 per person
Expires: December 31, 2013
Book your accommodation at Sea Rose 24 hours in advance and get our last minute rate of R200 per person.
de kelders PRIVATE house
Expires: June 13, 2014
Book through Gansbaai Explore and get the best deal!
INSPIRATIONAL QUOTE FOR THE WEEK:

"We must not allow the clock and the calendar to blind us to the fact that each moment of life is a miracle and a mystery" H.G. Wells