Wine and Co - Single Vineyards and the Weskus...
New in stock: David & Nadia
Husband and wife team David (viticulture and oenology) and Nadia (soil science and viticulture) have just released their latest vintages, and they say, "Wine is all about natural balance, purity and freshness. We believe that these qualities can only be rightfully expressed when the soil and vineyards are respected. Our focus is on different soil types, different mountain terrain and mainly bush vines. In the cellar, we have a minimal intervention approach and only add a little sulphur. It's about the soil and vineyards after all." Tasting notes by Christian Eedes (WineMag).
Hoë-Steen Chenin Blanc 2020: The vineyard was planted in 1968 west of Malmesbury towards Darling, in deep iron and clay rich soils, south facing and hence late ripening – it tends to be the richest of the trio. The nose of the 2020 shows overtones of flowers and herbs before citrus, peach and some flinty reduction. The palate is dense but not weighty with fresh acidity and a pithy finish. Alc: 13%. CE's raring: 95/100.
Skaliekop Chenin Blanc 2020: The vineyard was planted in 1985 in shallow shale soils on the Paardeberg, unusual in that the mountain predominantly consists of granite. The 2020 has an ephemeral quality about it – elusive notes of lime, fynbos and herbs on the nose while the palate is light-bodied with great energy and a super-dry finish. Lean, delicate and thrilling to drink. CE's rating: 96/100.
Plat'bos Chenin Blanc 2020: This vineyard, on decomposed granite, is adjacent to Skaliekop but is slightly older having been in planted in 1981. Bewitching aromatics of flowers and herbs before pear, peach and citrus while the palate shows great focus and tension, electric acidity playing off against perfectly delineated fruit, the finish long and dry. CE's rating: 98/100.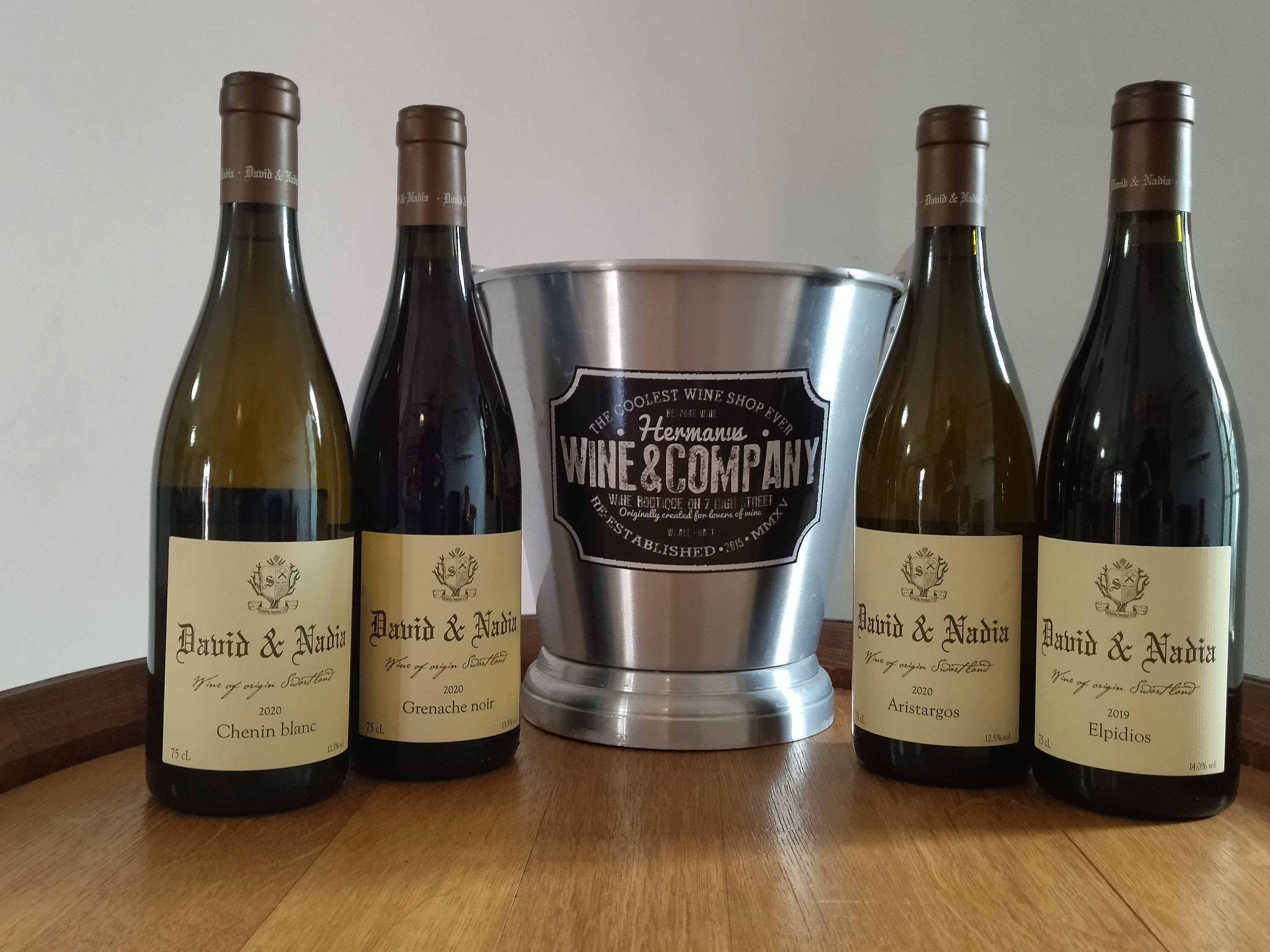 David & Nadia Aristargos 2020: 49% Chenin Blanc, 10% Roussanne, 9% Semillon, 8% Marsanne, 7% Clairette Blanche, 6% Viognier, 5% Verdelho, 4% Grenache Blanc and, for the first time, 2% Colombard – nine varieties drawn from 17 different vineyards and involving 23 pickings. The nose shows a hint of reduction before stone fruit, dried herbs, a little waxy character, earth and spice while the palate has great depth and texture for a wine with an alcohol of just 12.5%. Layers of flavour, nicely integrated acidity and a gently savoury finish. CE's rating: 95/100.
David & Nadia Chenin Blanc 2020: This wine, incorporating grapes from seven separate vineyards on various soils with planting dates ranging from 1968 to 1985, just gets more and more refined. The nose shows pear, peach and citrus to go with potpourri and a touch of flinty reduction. The palate, meanwhile, is pure and concentrated with lively acidity and a saline finish. Each component part combining seamlessly, the end-result is a wine of particular poise and luminosity. CE's rating: 96/100.
David & Nadia Grenache Noir 2020: Now incorporating four vineyards, the core still from the Paardeberg. 60% whole-bunch fermentation while maturation lasted 12 months, half in concrete and half in older 500-litre barrels. Charming aromatics of red cherry, plums, musk, fynbos, white pepper and a little undergrowth. The palate is not quite as light and fleeting as previous vintages and that much the better for it – good depth of fruit, snappy acidity and fine tannins, the finish gently savoury. CE's rating: 94/100.
David & Nadia Elpidios 2019: 38% Grenache Noir, 36% Syrah, 10% Pinotage, 9% Carignan and 7% Cinsaut – an unusual blend with unusual aromatics and flavours. An exotic mélange of red and black berries, earth, olive, incense and even a touch of mint on the nose while the palate is rich and full with moderate acidity and smooth tannins. Loads of flavour, the finish super-savoury. CE's rating: 92/100.
Tasting the Weskus!
Friday | Saturday | Sunday Weekend tasting: Teubes Family Wines is a small family-owned organic estate and organic grape supplier on the Olifants River, near Vredendal. This 3-generation winemaking team has a few ranges, so join us this week when we taste their premium Teubes Sauvignon Blanc and also the Malkopbaai Sauvignon Blanc which is made for every day enjoyment!
COVID-19 RULES:
Just a reminder that we have an ON/OFF Consumption Liquor License that allows us to be open for tastings over weekends during the newly-imposed Level 3 COVID-19 restrictions.
This means that we are open every day of the week, and will still be able to have our weekend tastings. Please note that you ARE able to purchase for local (Hermanus) delivery which will take place after closing. Any other deliveries (national or international) will be arranged for next week.
We are open 10am - 6pm Monday to Thursday, and 10am - 4pm on Friday, Saturday, Sunday and Public Holidays.
A reminder of our website: www.wineandco.co.za/shop
Please note that our website does not show the complete range of wine that we have in stock, so please do contact us if you are looking for something not listed online, especially those that are 'allocation' only. We offer free delivery in Hermanus, and free shipping to major centres around South Africa for orders over R1500. Please contact us for international shipping rates.
COVID-19 shop hours (until further notice):
Monday to Thursday: 10am - 6pm.
Friday + Saturday + Sunday + Public holidays: 10am - 4pm.
About Us
Have you ever heard about a great wine but could never find a bottle for yourself (to share with friends, of course)? Well, the team at Wine & Company do all the hard work for you! We visit wine farms and attend tastings to find, taste, and then stock wine from the smaller Estates and independent winemakers who buy grapes and produce outstanding wine under their own labels – much the same as the French negociants have been doing for centuries. Given that these winemakers make wine in such small quantities, sometimes just a single barrel, their wine will never be found on the shelves of the major retailers, but only in specialist shops like Wine & Company on High Street, Hermanus.
In addition to the great selection of well-known wines and MCC's, we also stock local craft gin and beer, French Champagne, Belgian Ales as well as whisky and other spirits. Wine & Company (established in 1998 by Bartho Eksteen) has a well-earned reputation for stocking hard-to-find small-batch wines and we strive to continue this great tradition. If you purchase a bottle of wine from us and it is faulty we will gladly replace the bottle and return the faulty wine to the winemaker.
Feel free to contact Wine & Company if you need a particular wine and we will do our best to source it for you. We are also able to ship wine locally and to most countries so do ask about international shipping.
Thank you for your support - stay safe - see you soon!