NEVER SAY NEVER: ZENZI RESCUED AFTER MANY BLUSTERY MONTHS
Stanford Animal Welfare Society (SAWS) is walking on air. The little road-running dog, Zenzi, who was criss-crossing the R43 between Hermanus and Stanford and scavenging for morsels of left-over meals of road workers for more than five months, has been rescued.
A farmer along the road alerted SAWS chairperson Malcolm Bury to the plight of the dark brown stray at the beginning of the winter. This led to considerable consultation and strategising with farmers and Dr Sherry van Dalsen of Bergview Veterinary Clinic before the rescue project was set in motion.
Enter Casper Biningu, a worker on one of the farms adjacent to the R43, who knew where Zenzi sought refuge in a myrtle bush when the weather was foul. Casper, who lives in Stanford South, cycles to the farm where he works daily. He offered to put food down near the doggy's shelter twice a day.
Feeding Zenzi started on 7 June. Casper sometimes saw Zenzi and she would wag her tail. But when he tried to approach her, she scampered off.
Malcolm subsequently made the SAWS catch cage available and it was set up in the myrtle bush. It proved to be too small. Chicken or beef to lure her into the cage … "Aw, no thanks, not in that claustrophobic space …".
Dr Sherry then offered to search for a bigger cage. After a month-long search, a cage of a size to catch a rooikat was located at BARC.
A second obstacle cropped up: The road section under construction had been built to the base level and no vehicles were allowed on it for three weeks. Driving on the surface under construction was the only way to get to Zenzi's shelter.
Throughout all the delays, Casper continued to feed Zenzi.
Keith Hunter, site agent for Tzandeboo Construction (involved as structures subcontractor in the Hermanus - Stanford road construction) became aware of the rescue project. He offered to transport the big cage on his construction vehicle to her shelter.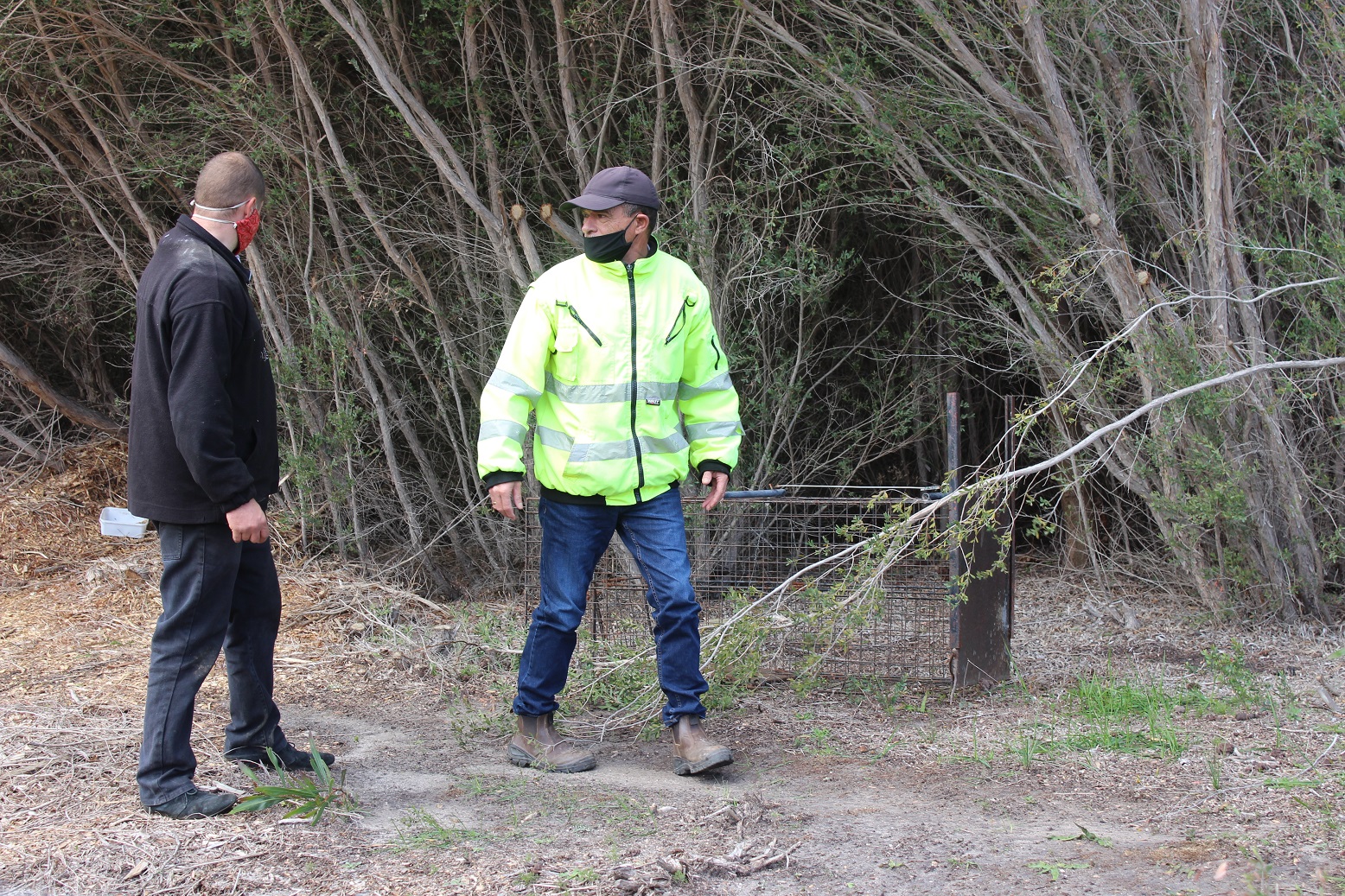 Keith Hunter and Theo Robbertse setting up the cage trap.
When the go-ahead for the second capture attempt was given, the cage was transported from Gansbaai and, as Dr Sherry advised, camouflaged with twigs and leaves.
Again, delectable food was put down in the cage. It remained untouched for a week. Casper checked mornings and afternoons and Keith - who drives past that spot at least ten times a day - looked carefully every time to see whether the trap door was up or down.
And then one morning - three months to the day of rescue project commencement - a call from Keith came through: "Gotcha!".
Keith and some of his staff loaded the robust little creature into the cage and took her to Malcolm's Syringa Country Kennels.
Zenzi rescued: it took three long months.
Zenzi will spend some time at Syringa to acclimatise to a new way of life.
Keith has offered to adopt her when the time is right. His staff has named her Zenzi and made her their mascot. A well-doer has donated a comfy dog bed for her.
"She is doing very well and basking in that exceptional care Malcolm is so well-known for". - Nelly Roodt
Please help Stanford Animal Welfare Society (SAWS) continue its work helping animals in need of care.
Bank Details:
Stanford Animal Welfare Society
Nedbank Hermanus
Current ac. 147 003 1264
Code 198765