As the month of February approached on our calendars, there may be a small flutter that starts in our hearts as a vision of pink hearts and red roses comes to mind. For the time of Valentine's cards, heart-shaped candies and romantic dinners is finally here. And although the cuddles and cards are oh so lovely, it is not the only love to celebrate during this time!
Love comes in many shapes and sizes and during this month of love we aim to include all those close to our hearts - friends, family, colleagues, partners and pets alike! And what better way to show your appreciation than by spending quality time with those who mean the most to you. And if you're looking for a quiet, yet enticing getaway then why not head to Stanford in the Overberg for the weekend?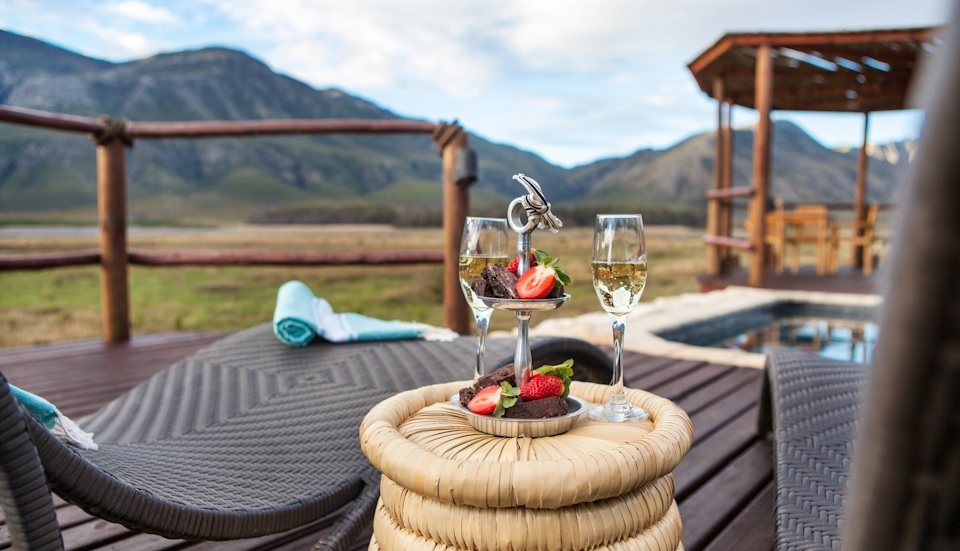 Take in the stunning views and ambience at MOSAIC Lagoon Lodge
First on the list of things to decide on is where to stay which will depend on your travelling companions. Stanford and its selection of unique lodgings cater for all group sizes and a variety of tastes. For the early rising travellers you can find beautiful B&Bs with large gardens and breakfast already taken care of. Nature-lovers can savour the tranquillity of lodges and wooden cabins located on the water's edge with panoramic views and braai facilities. Couples looking for a more intimate retreat can choose from an abundance of cosy cottages to spend their time enjoying a glass of wine in front of a roaring fire or cuddled up with a good book or movie. There are also some delightful pet-friendly accommodations to make even four-legged family members feel loved.



Share a great stay with your furry, four-legged family members at Sixpence Cottage
For the ones with a sweet, well more accurately savoury, tooth can treat their friends and families to some of the Overberg's best local products. Home to the recently appointed 21st Wine Route of South Africa, Stanford boasts a handful of award-winning wine estates with their own prestigious restaurants. Here you can enjoy palatable vintages paired with just the right meal prepared with local ingredients to complement them. And of course, no visit to the village is complete without stopping by Klein River Cheese. Located just outside of town you'll find this gloriously green patch of heaven where free-range farm animals, children and turophiles come together. Treat your loved ones (and yourself) to a delectable picnic and remember to stop by the shop/deli for nibbles to take home with you.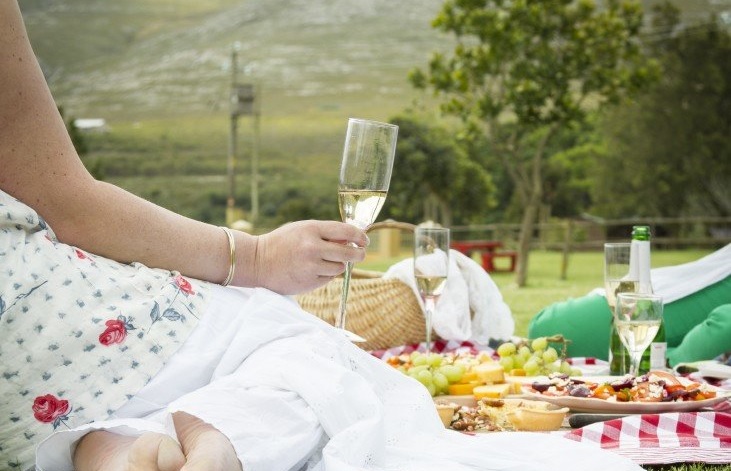 Treat the whole family to a delectable picnic at Klein River Cheese
Even though February is about caring, tender moments, it doesn't mean you can't get a little bit adventurous. Why not combine your passion for your loved ones and nature all into one and get lost in nature. The diverse landscapes of the Overberg and especially Stanford takes you from soft sandy beaches to open farmlands to hills of blooming fynbos and more. Immerse yourself in these landscapes on horseback, via guided quad bike tours or lacing up those hiking boots and digging in your heels. Learning about the importance of the rich biodiversity of the area is vital and is a great outing for the kids – definitely make a turn at Panthera Africa for a roaring experience!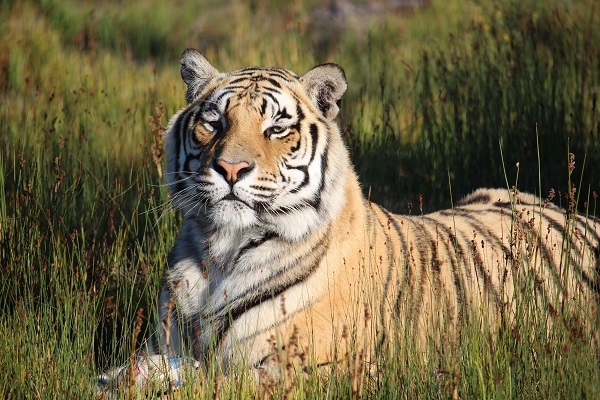 Share your love for nature with an educational tour at Panthera Africa
Another great way of combining two loves is with a little bit of retail therapy… hear us out! Treasure-seekers get to delve into the stocked shelves of antique stores to find that one item that will forever take its place on their mantelpiece while keen-observers get to find that special gift that will melt their partner's hearts and ladies can find that unique accessory to look perfect for that special dinner. Browsing the aisles of the curious little shops in Stanford will produce unique trinkets and gifts to remember your special time by. Also be sure to pop by one (or all) of the weekly markets taking place for more interesting finds and the freshest local products as well as gossip in town.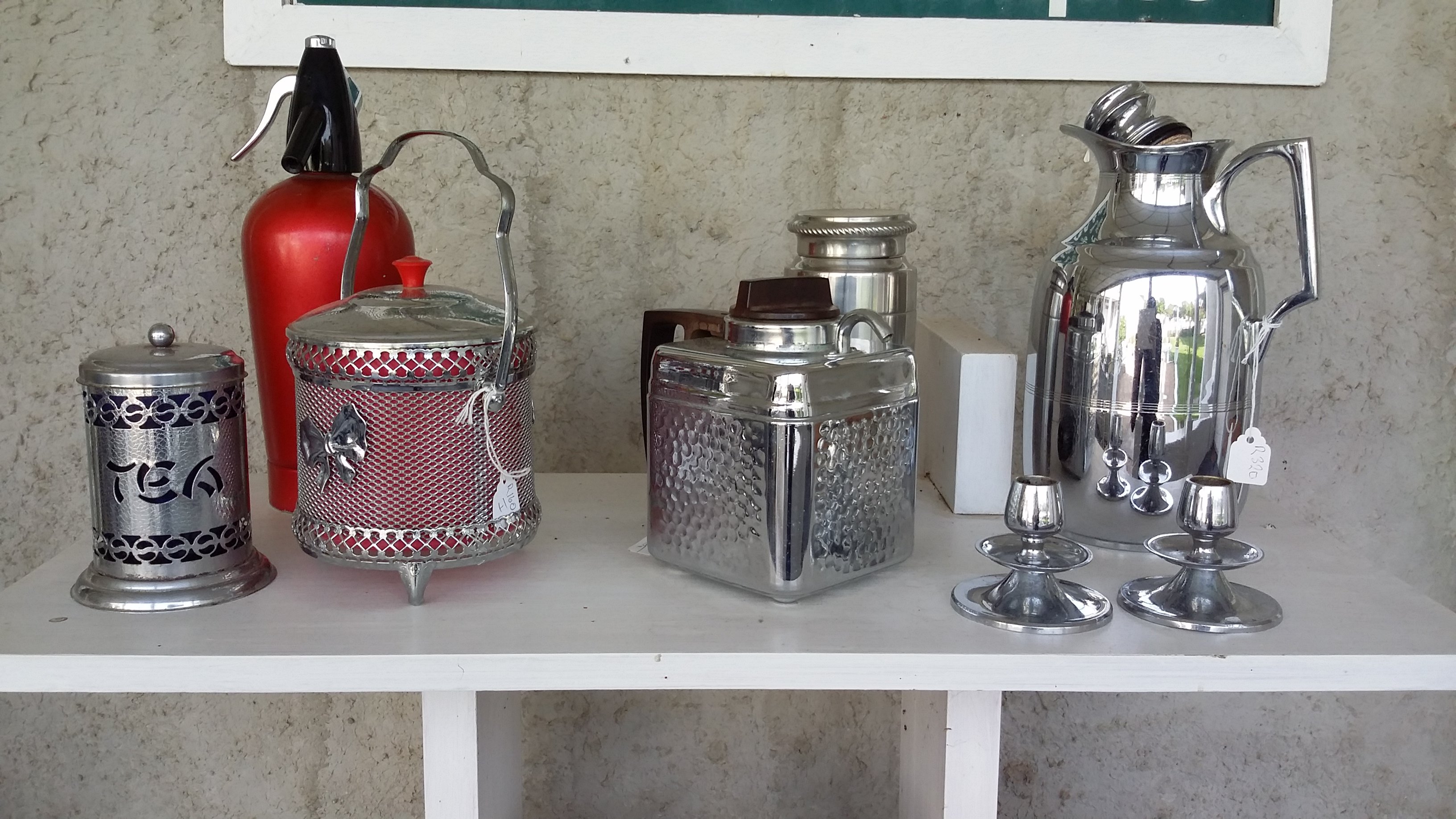 Find all sorts of treasures and trinkets at Sir Robert Stanford's Home of Collectables and Books
Those heading out with a group of friends can join the cool cats at the river. The very popular Klein River can be found at the end of King Street and meanders from its origin in the mountains all the way to the Klein River Lagoon where it finally joins the ocean. The River provides the perfect spot to cool down in after a balmy day exploring and you'll often see folks paddling their way around the riverbend in kayaks and canoes. But the best way to celebrate all that it has to offer is with a (sunset) river cruise. Join one of the river cruises at sunset to enjoy the easy ebb and flow of the tannin-rich waters, watch indigenous birds build their nests in the reeds all while being towed behind the boat on massive tubes and enjoying a cold beverage. Some of the cruises include snacks or even a lekker braai - what better way to end the day in South Africa.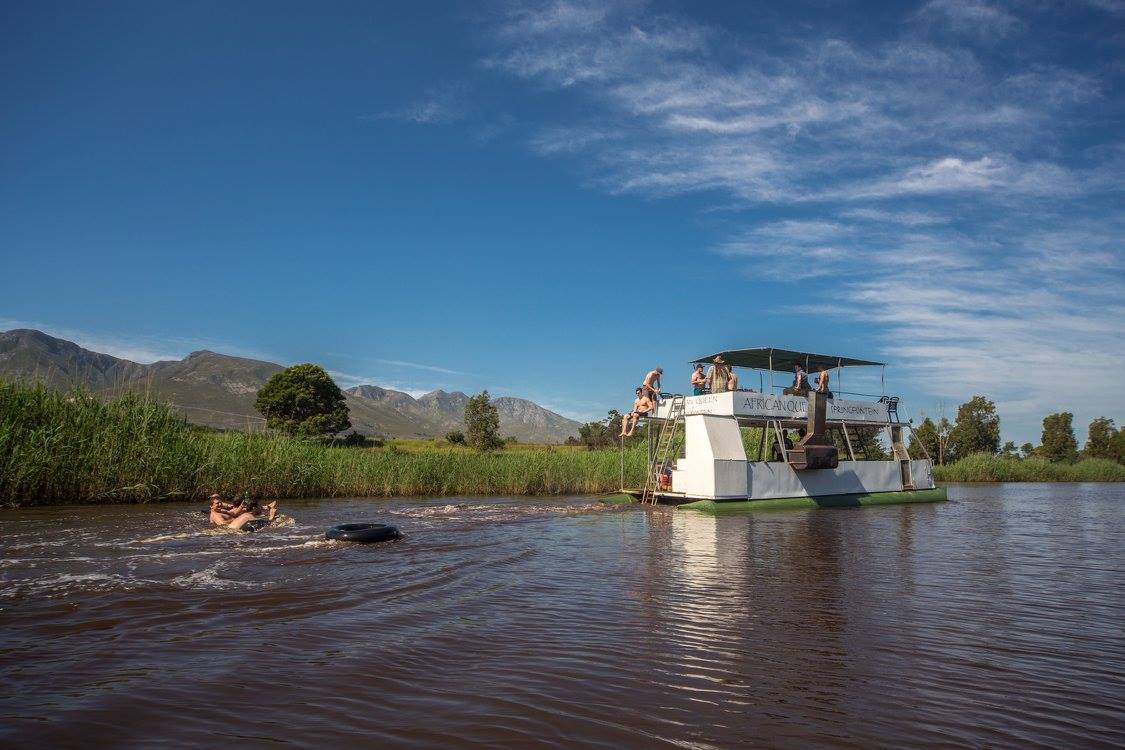 Enjoy some quality time with firnds on a leisurely cruise down the Klein River with African Queen River Cruises
So let's make this February something special – whether you spend it with friends or families, colleagues or cousins, pets or partners. Enjoy a quiet getaway in the Overberg with the ones that mean the most to you. Go all out this month and share the love with all!