Thursday, 9 August, 08:00 - 11:00
Women's Day Fun Run
Stanford Community Hall
In collaboration with the Grootbos Foundation
Join us at Stanford community hall to celebrate Women's Day and get moving. A 5km Fun Run in and around Stanford village. Wear something pink to celebrate women everywhere. R50 registration fee. Spot prizes to be won.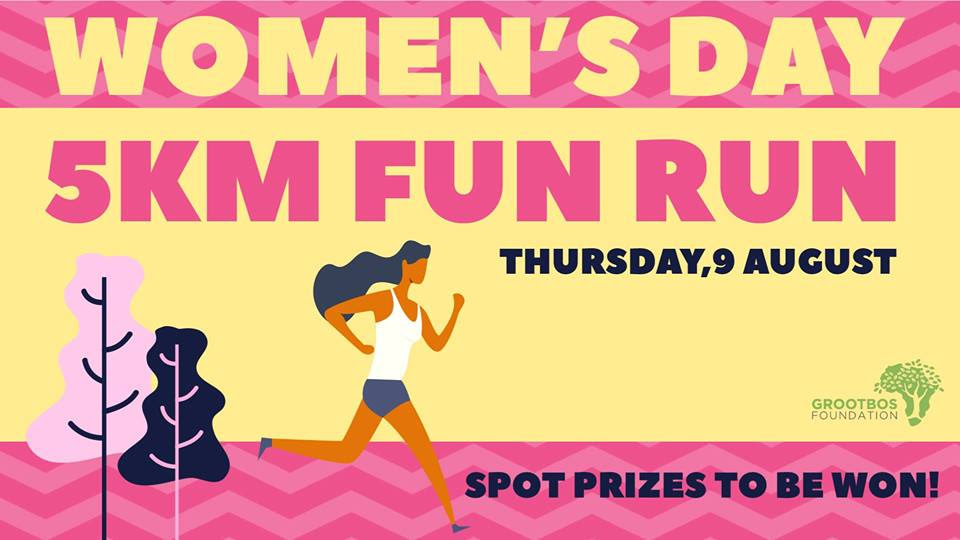 Thursday, 9 August - Sunday, 12 August
Women's Day Special
Take a selfie wearing your PINK during the race - tag Zesty Lemon & come enjoy your free Cupcake At Zesty Lemon Restaurant after the Race - Sir Robert Stanford Estate.
Thursday, 9 August - Sunday, 12 August
Women's Day Special
'Enchanted' featuring 'A few of my favourite things' will be giving away a gift to all ladies who purchase something in our shop over the Women's day weekend..Thursday - Sunday. Thank you for all your support...we look forward to sharing with you. Shop next to Spar. Michelle 082 689 0355
Thursday, 9 August
Women's Day Special
Panthera Africa Big Cat Sanctuary
50% off Educational Visits for all women on Women's Day. We would love to honour the women with this special offer. Pre-bookings only. Times: 10:00 or 15:00.
The big cats at Panthera Africa will honour you with their presence on our a 1,5-hour educational visit, and together with you and your loved ones, we will share the magic! Come and see brown lions, white lions, tigers, leopards and caracals. The easiest is to book online: https://secure.activitybridge.com/search?supplierid=50589 where you can choose your preferred date and time, and add all the loved ones joining you!
Sunset Visits: 17:00 on Saturdays or by arrangement. Enrichment Visits: By arrangement.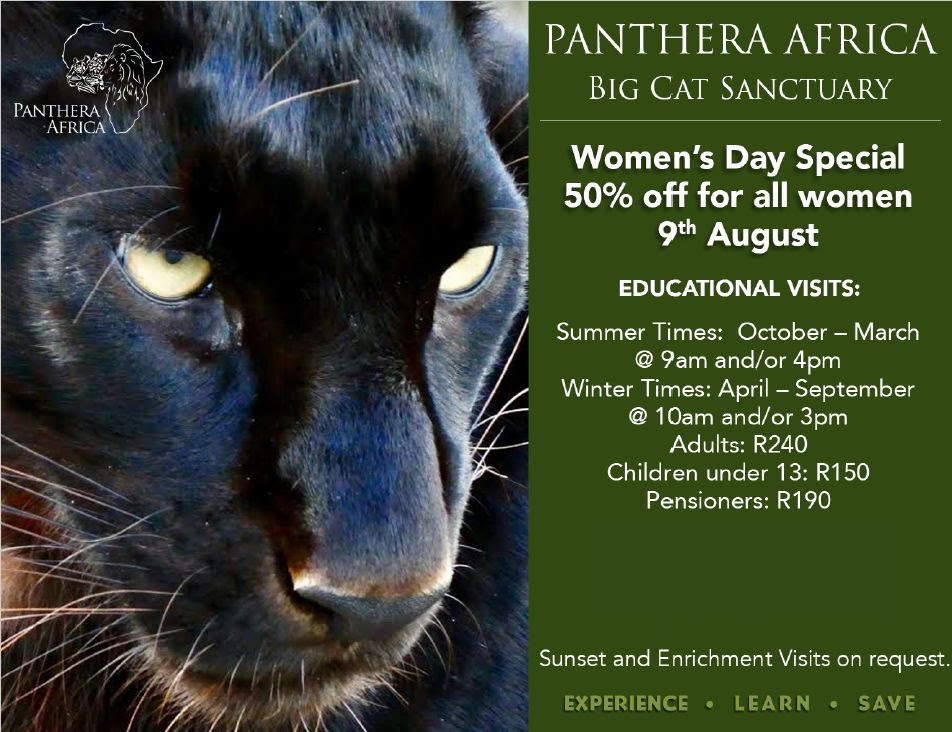 Thursday, 9 August
Women's Day Special
Walker Bay Estate: Home to Birkenhead Brewery & Walker Bay wines
A free Carafe of wine to all the beautiful ladies with their meal. If you making this a long weekend, come and join us for lunch and enjoy the views of the Klein River mountains. Remember that we are open 7 days a week for tastings and lunch.
Thursday, 9 August, 10:30 - 13:30
Perfume Workshop
Fernkloof Nature Reserve, Hermanus
Join us for an introductory workshop and dive into the adventure of blending fragrances. Learn how to use indigenous and fynbos essential oils to create a unique fragrance. Cost: R750 includes coffee/tea and a mini DIY fragrance kit and 9 essential oils to take home.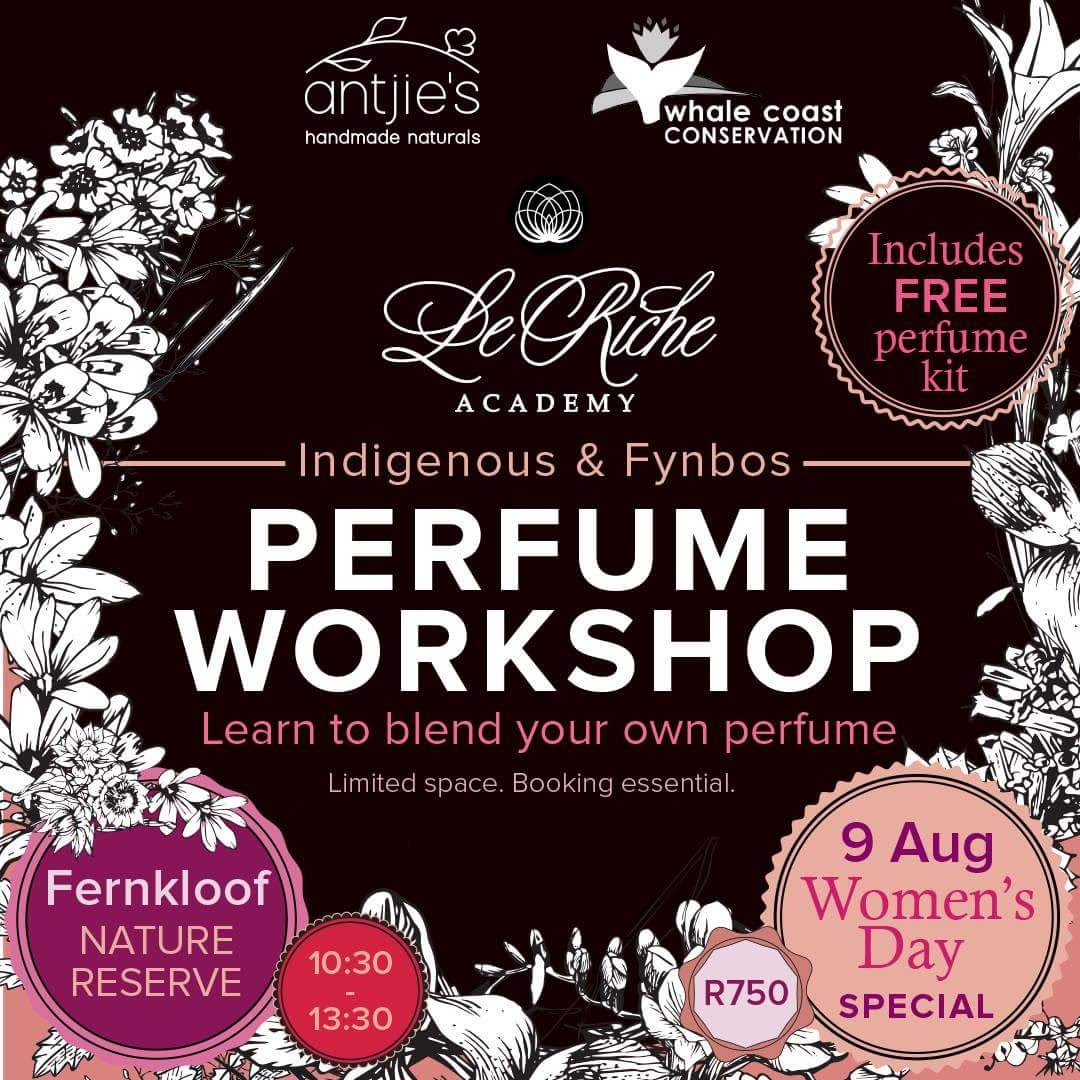 Thursday, 9 August, 17:30 - 22:30
Ladies Night-007 Cocktail Party
Put on the red lipstick, Bond girls and come join our Ladies Night 007 Cocktail party at Stanford RePUBlic! 9 August is Women's Day and we invite all you fun, fearless females to come, have unconstrained conversations about other people, drink cocktails, and flick a heel on the dance floor. Snack platters will be available.
Friday, 10 August, 18:30
Lion Pawty Fundraiser
Join us in our Big Lion PAWty Fundraiser at Stanford Hills to raise money for our majestic and beautiful lions. R300 per person includes a lovely 3-course dinner with 6 wine tastings. There will be live music by Mike and Jono, a raffle and a silent auction. It will be an evening of relaxed fun. Limited space available so book now.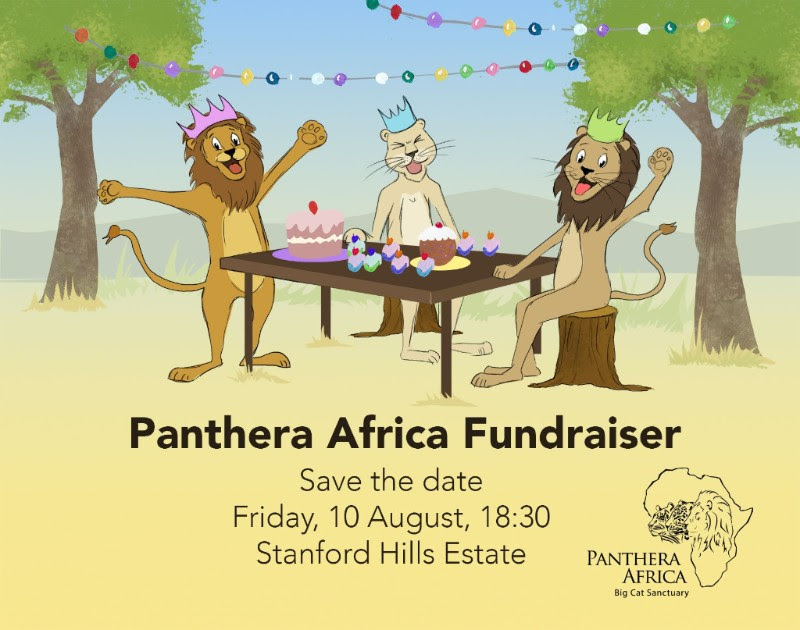 Saturday, 11 August, 09:00
Pancake Sales
The ladies of the Community Church will again be baking their delicious pancakes on the library stoep on Saturday. Come and get yours before they sell out!
Saturday, 11 August, 09:00 - 12:00
Can you feel it? Can you feel it.... dah dah ta dah .... there's a change in the air and it smells like Ssspring .... come and see what's ... on the slab... it's exciting and maybe a little frightening?
The Saturday Morning Market at The Stoep of the Stanford Hotel. @ 9am till 12!!!
A little bit of this and a little bit of that! Don't miss out! You'll be sorry you did ...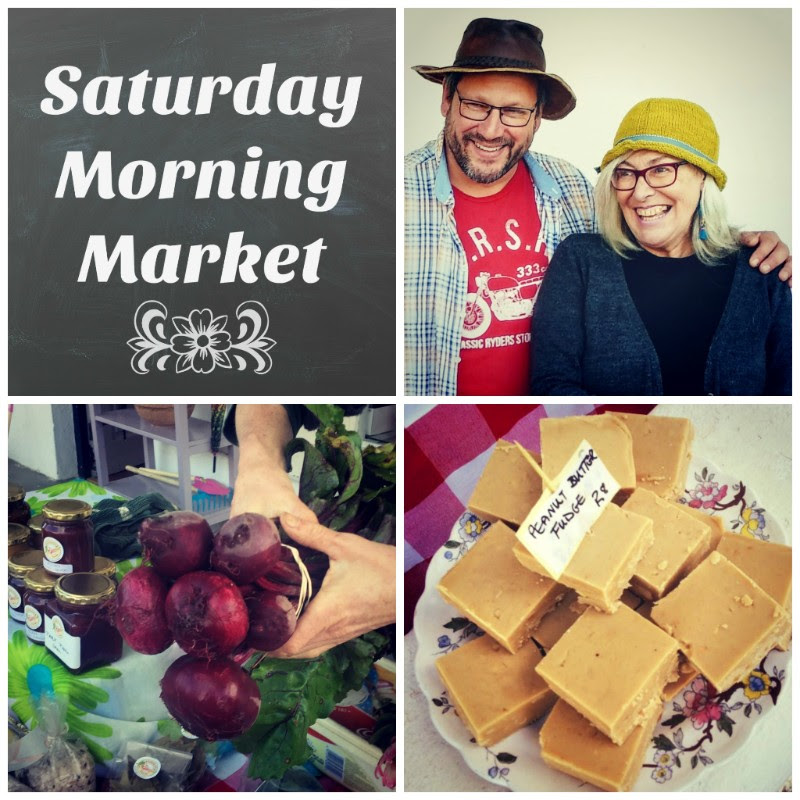 Saturday, 11 August, 10:00 - 12:00
Museum Open
The Museum will be open from 10 to noon on Saturday.
Saturday, 11 August, 12:00 - 14:00
Free Lomond Wine Tasting
Stanford Harvest will be hosting as Lomond winery join us to present a complete FREE wine tasting to all people who walk into the restaurant. Join us to taste the true art of the most Southern Tip of Africa Wine. Also Stanford Harvest will serve the 1 KG Prawns Special on the same day. BONUS. Bookings 083 409 8126
Saturday, 11 August, 19:00 - 22:00
The Brothers Remedy
The Brothers Remedy (TBR) began as the duo from the well established show band Crimson House, who found themselves touring and performing in realms different to that of the big 6 piece show band. Nick Becker and Riaan Smit use multiple instruments and loop tricks to create their massive sound, including but not limited to saxophone, Harmonica, Guitar, Bass and percussion. Nick and Riaan met in the Circus, where Riaan was the ringmaster and Nick the mad Sax performer and the rest is History.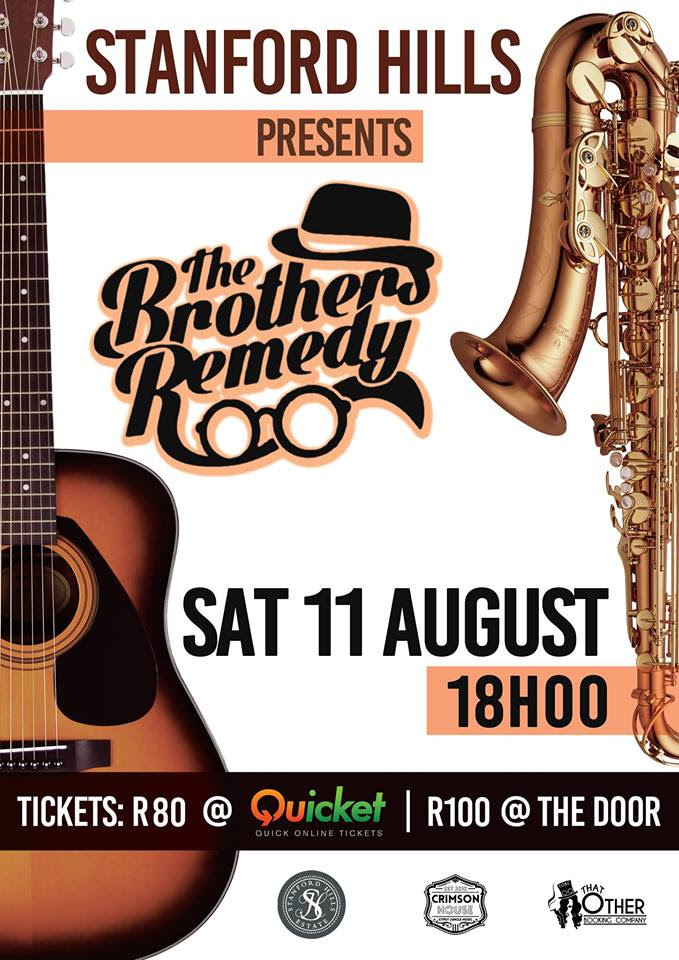 Monday, 13 August, 13:15
Stanford Animal Welfare Society ANNUAL GENERAL MEETING
Stanford Hotel, Queen Victoria St. ( opposite Graze )
Wednesday, 15 August, 09:00 - 12:00
Graze Farmers Market
Reduce your carbon footprint and get your fresh veggies at Graze Slow Food Cafe. Always seasonal, always fresh. Stay for coffee and breakfast. T
Wednesday, 15 August, and Thursday, 16 August 18:00 - 19:00
Aerobics
Wednesday & Thursday evenings from 18:00 - 19:00. R80 participation for full month, 8 classes. The past weeks we grew from 21 to over 40 participants and we would love to grow more.
Jain Reflexology Acupressure & Magnet Therapy
Mary_Lynne Grant
AUGUST = WOMEN'S MONTH
I am offering a special for women for the month of August.
1.5 hour treatment + 1 tub remedy depending on your needs R350 OR Without treatment, I am offering these 5 remedies
1.5 hour treatment without remedy = R200
Natural Solutions Herbal Capsules are organic, non radiated veggie caps. Lactose, pesticide and preservative free.
Rawbiotics for GUT health - R125
Bladder and Kidney Supplements - R180
Cellulite Eliminate - R180
Women's Rescue Remedy (for those who get PMT, bloating, pain, mood swings) - R180
Thyroid Supplements - R180
RAWBIOTICS: Total health begins in the gut. Rawbiotics GUT balances the function of the gastrointestinal tract and works to correct imbalances that lead to disorders such as IBS, bloating, acid reflux, diarrhoea and constipation as well as mentally with depression, anxiety and stress. Rawbiotics replenishes the good bacteria in the gut, which is where 70% of our immune system is produced.
The Wine Bar(n) @ Springfontein
Daily Specials
Open daily from 11:00 - 21:00
Join us for our daily specials:
Lamb Tjoppies on a bed of mash with farm fresh Veggies R120.
Goulash Soup with Malva pudding and homemade custard R70 or with a glass of wine R100. Looking forward to having you on the Farm!