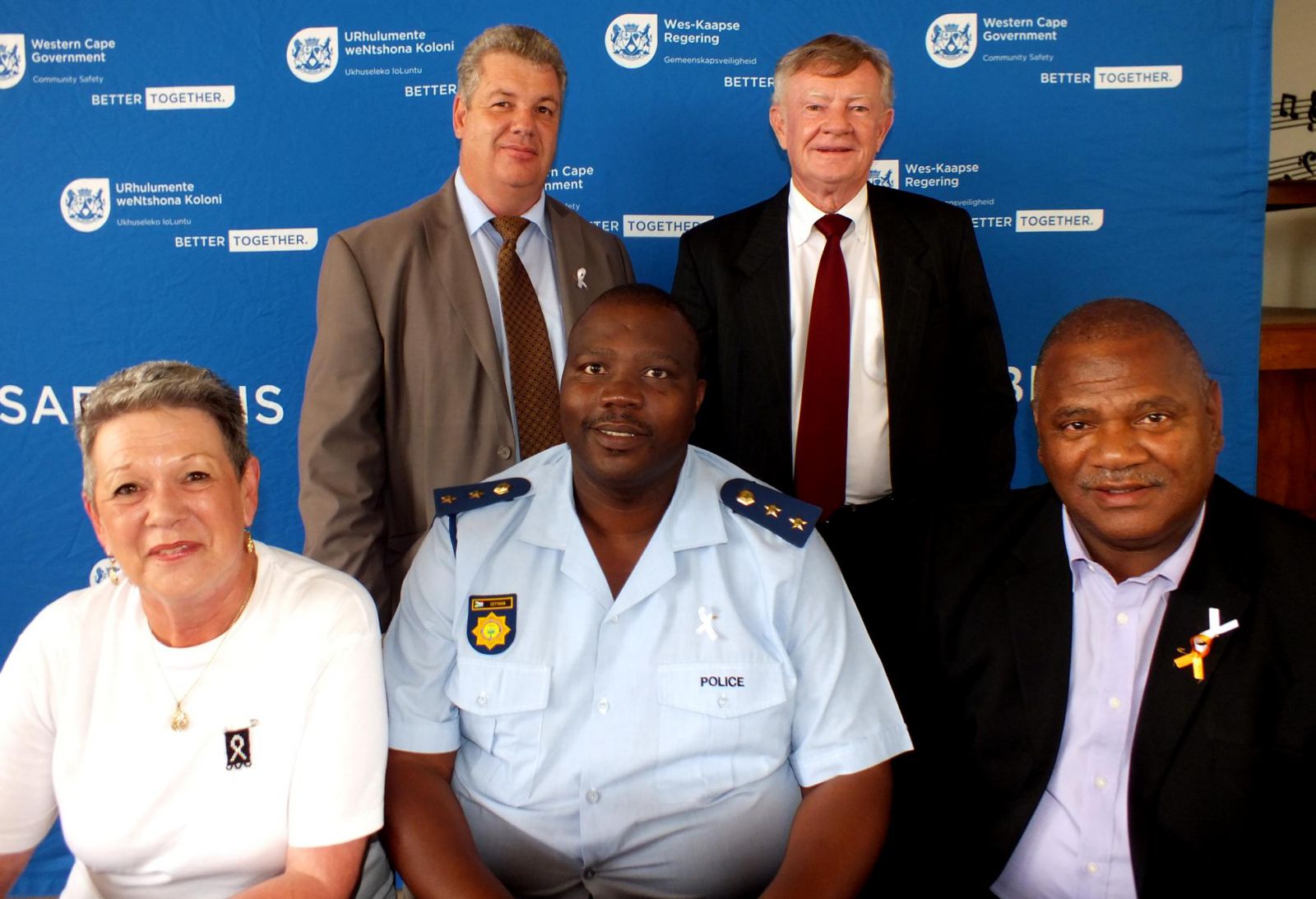 Voor vlnr is Lucille Mangiagalli, kol PV Cetyana en die Wes-Kaapse Minister van Gemeenskapsveiligheid, min Dan Plato. Agter vlnr is sp-kapt Danie Rautenbach, waarnemende stasiebevelvoerder van Gansbaai SAPD en rdh Pieter Scholtz, Overstrandse Onderburgemeester.
Die Wes-Kaapse Minister van Gemeenskapsveiligheid, min Dan Plato, het etlike toehoorders, insluitend enkele hooggeplaasdes, op Dinsdag, 26 November in die Pretoriussaal toegespreek. Hierdie besoek van hom en sy personeel vorm deel van 'n reeks besoeke in die Wes-Kaap en handel oor die 16 Dae Veldtog teen geweld teenoor vroue en kinders vanaf 25 November tot 10 Desember. Die voorsitter van Hermanus Community Police Cluster Board, Lucille Mangiagalli, het die verwelkoming behartig, met spesiale verwysing na onder andere kol PV Cetyana, Hermanus Cluster Commander, sp-kapt Danie Rautenbach, waarnemende Stasiebevelvoerder van Gansbaai SAPD, Overstrandse Onderburgemeester, rdh Pieter Scholtz en andere.

Min Plato se inleidende woorde was as volg: "The Western Cape Government believes that safety starts in your home and within your own family. This is the message that I am bringing to our communities as we know that domestic violence is often not reported. I am telling everyone at the public meetings hosted by the Western Cape Department of Community Safety, that if anyone is being abused, or if they know of anyone being abused, they must contact the Western Cape Government's Department of Social Development immediately." Hy het ook daarna verwys dat Gemeenskapsveiligheid, veral ten opsigte van vroue en kinders, is alle gemeenskapslede, families en gesinne se verantwoordelikheid. "Hierdie tipe geweld vind nie oop en bloot plaas nie, dit vind stilweg en in huise plaas waar mense te bang is om daaroor te praat.

"Ek doen 'n ernstige beroep op almal om op te staan en te praat, die tyd van stilbly is verby," het hy gesê. "While this campaign might only come around once a year, my department promotes this message at public meetings throughout the year and highlights the services available to our women and children. Our women and children have a right to be safe and treated with respect and care. Partners and family members must take care of each other. Only when we have peace in our homes, can we have peace in our communities. Parents must also take responsibility for their children. You must know where your children are at all times." Kontakbesonderhede vir die aanmelding van geweld teen vroue en kinders is: Dept Maatskaplike Dienste by 0800-220-250, sms die woord INFO na 35-395, Stop Geslagsgeweld Helplyn by 0800-150-150, SAPD by 08600-10-111 en die Kinder Helplyn by 0800-55-555.
Hardus Botha

Selfs 'n groepie kleingoed het skaam-skaam, maar later groot-oog, na minister Dan Plato gesit en luister