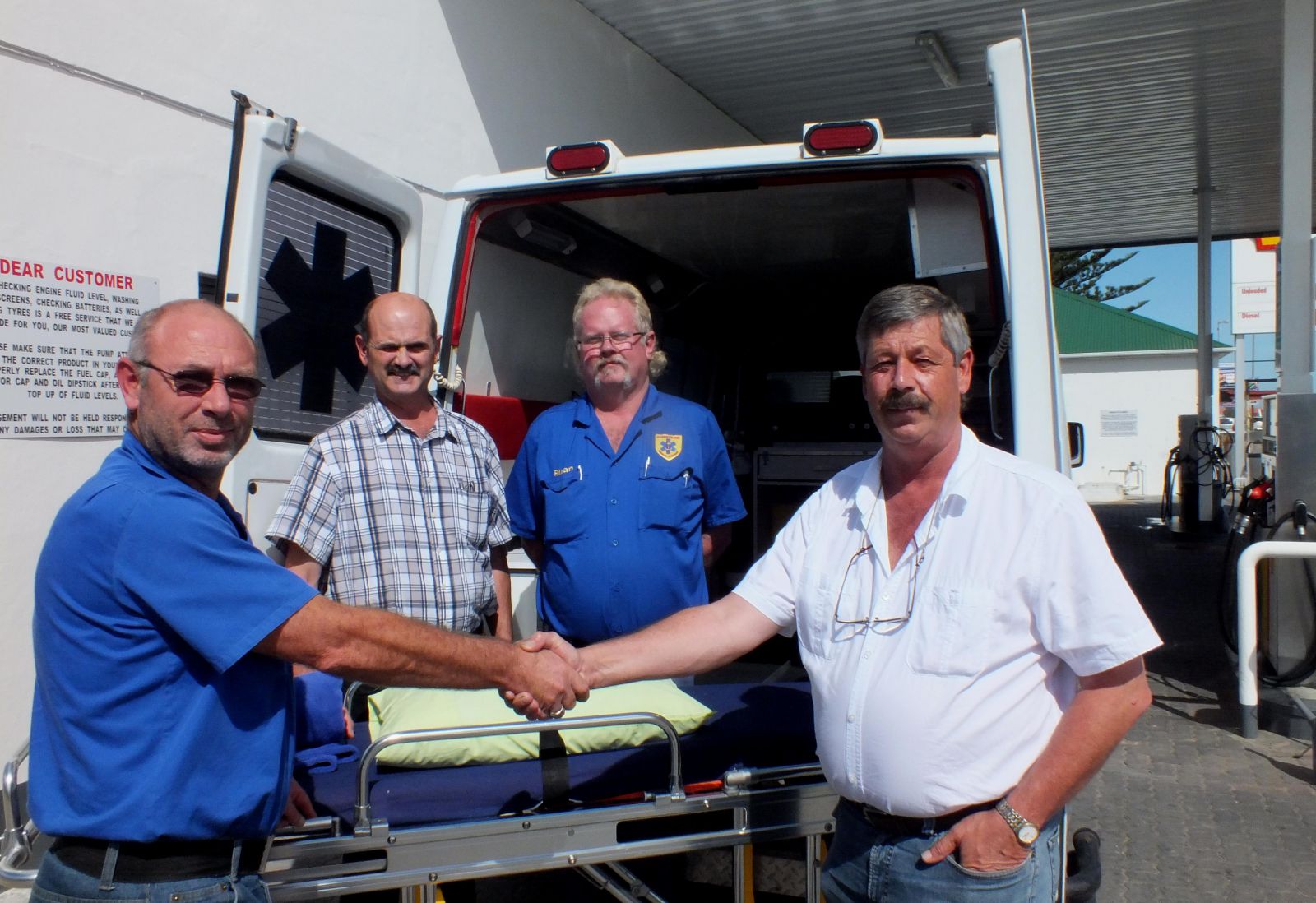 Voor vlnr voor die ambulansbed is Cassie Carstens en Attie Louw, met agter vlnr Schalk Strauss en Riaan Buys tydens die oorhandiging van die ambulansbed deur Attie aan Overstrand Medical Response
Overstrand Medical Response (ORM) se dankbaarheid het onlangs hoog geloop met die oorhandiging van 'n nuwe ambulansbed aan hulle. Die duursame bed is deur Attie Louw, eienaar van Gansbaai Vulstasies, as 'n welwillendheidsgebaar aan ORM geskenk. "Dit is goed om iets op hierdie wyse in die gemeenskap terug te ploeg," het Attie gesê. Die Bestuurder van Gansbaai Vulstasies, Schalk Strauss, was ook tydens die oorhandiging aan Cassie Carstens en Riaan Buys van ORM teenwoordig.

"Met die aankoop van Ambulans 2 (Jopie) wat deur Piet en Jonine Louw van Louw Vervoer in die Paarl geskenk is, het die behoefte ontstaan vir die aankoop van 'n tweede bed," sê Riaan. "Attie Louw van Gansbaai Vulstasies het goedgunstiglik as borg vir die bed opgetree, met groot dankbaarheid van ons kant af." Riaan sê OMR het amptelik op 1 Julie 2009 in Gansbaai begin, wat 'n klein begin met net twee reaksie-voertuie was. Binne drie maande het OMR, met die hulp van Gansbaai Lionsklub (met President Boats van Staden) en die Lionsklub van Nuweland, die "False Bay Volunteers" se ou ambulans, wat te Valsbaai Hospitaal in Vishoek gestasioneer was, aan OMR beskikbaar gestel.

Na 12 maande moes hierdie ambulans onttrek word as gevolg van die ouderdom daarvan. Ná die afsterwe van Cassie Carstens se moeder op 8 Mei 2011, het Andries Carstens Ambulans 1 (Billene) aan OMR geskenk. "Die bed van die ou Lionsklub ambulans, wat deur OMR aangekoop is, is na Ambulans 1 oorgedra," sê Riaan. Die name van die twee ambulanse is op interessante wyses toegeken: Ambulans 1 is gedoop as "Billene", vernoem na Cassie se oorlede moeder, en Ambulans 2 is as "Jopie" gedoop, vernoem na Jonine en Piet Louw wat ook beteken "God will multiply".

Overstrand Medical Response kan by 078-699-6995 (Cassie Carstens) of 083-881-3631 (Riaan Buys) gekontak word, of stuur 'n e-pos vir navrae aan hulle by overstrandmedics@gmail.com.
Hardus Botha