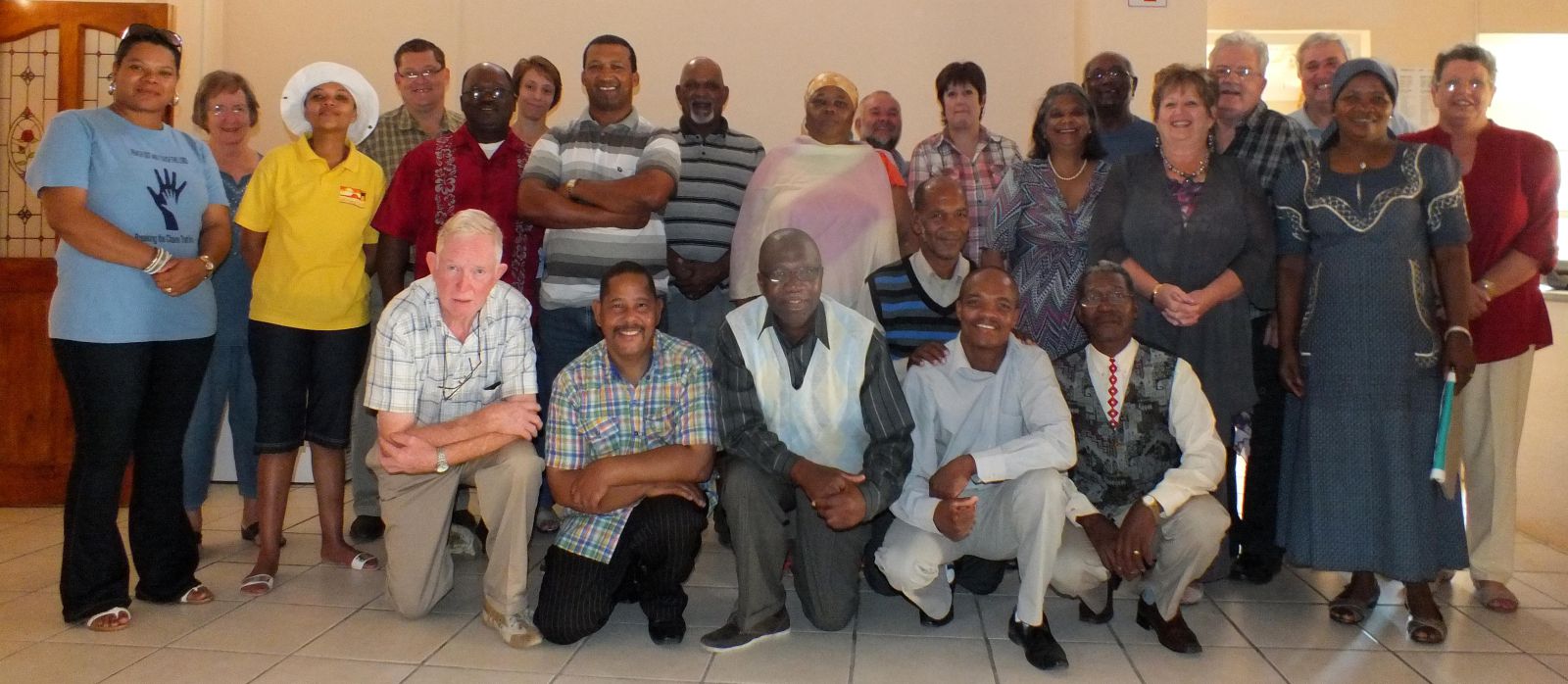 Die groot groep verteenwoordigers wat die onlangs Fraternal-ontbyt in die Gansbaai AGS-saal bygewoon het
Gansbaai Ministers Fraternal het onlangs, onder leiding van die voorsitter, ds Dennis Naidoo, 'n gesellige ontbytoggend geniet. Die geselligheid is goed bygewoon en die onderlinge samesyn het spontaan verloop. Die doel van die byeenkoms was om onderling tussen verskeie kerkgroepe te verkeer, maar ds Naidoo het net 'n kort film oor Elim Home vertoon. Die doel daarvan was om Elim Home se omstandighede en werksaamhede onder almal se aandag te bring. Die Tehuis is lankal reeds in Gansbaai ook bedrywig. Met die hulp van Gansbaai Fraternal en die samewerking van kerke, is 'n huis agter Gansbaai Superspar gekoop om 'n meer permanente basis vir die Tehuis te vestig. Fraternallede sal later besluit op watter wyse daar in die projek ingekoop kan word. Die huis is tans onderhewig aan herstelwerk en Gansbaai Courant sal mettertyd volledig daaroor berig. Daarna is daar gesellig om die ontbyttafel verkeer en kon die lede vanuit verskeie denominansies ontspanne verkeer en saamkuier.

Die goeie samewerking tussen Gansbaai se onderskeie kerke het nog 'n stap verder gegaan met die huur van 'n perseel oorkant Gansbaai Superspar se ingang wat tot alle kerke vir fondsinsamelings-projekte se beskikking is. Elim Home is in 1963 as 'n gewone woning deur die Morawiese Kerk gestig. Die Tehuis se 56 personeellede bied tans versorging aan 50 inwoners met ernstige intellektueel- en liggaamlik gestremde persone, wat gekwalifiseerde en kundige personeel verg, ingesluit 'n 24-uur versorgingsdiens. Ondanks enorme finansiële verpligtinge om hierdie diens te kan lewer, staan hulle nie "bakhand" en wag vir hulp nie.
Verskeie selfversorgende projekte word op groot skaal aangepak, asook fondsinsamelingsprojekte waar daar hard gewerk word. Vir navrae en/of ondersteuning kan Elim Home by 028-482-1988 geskakel word, of stuur 'n e-pos aan hulle by elimhome@zsd.co.za. Gansbaai Fraternal vergader elke laaste Donderdag van die maand om 18:00 uur vir samesprekings.
Navrae rakende Gansbaai Ministers Fraternal kan aan ds Dennis Naidoo by 028-384-1720 of 083-228-6815 gerig word, of stuur 'n e-pos aan hom by dnaidoo2@telkomsa.net.
Hardus Botha