Die suidewind het gesorg vir 'n omgekrapte see en boonop is dit nie die beste van hengelwinde nie. Gelukkig het die wind tog van rigting verander en is daar plek-plek glad nie sleg gevaar nie.

Mens leer mos met die tyd dinge wat jou versigtiger maak en onlangs was dit weer so. Terwyl ek in dieperige water op anker gelê het, het een van die bemanning melding gemaak dat daar nogal baie water in die boot is -- agterlangs, in elk geval. Daar is gekyk of die proppe nie foutief is nie, of een van die balle dalk, maar op die oog af was dit nie die probleem nie. Nêrens was daar tekens van 'n beskadiging aan die boot self nie en veiligheidshalwe is besluit om maar uit te gaan. Ontstellend was ook die baie water onder die dek. Op 'n slag het ek stilgehou om te kyk of hierdie water ook dreineer, maar dit het selfs meer geword. By die hawe aangekom het ons verder ondersoek ingestel maar steeds nie die oorsaak gekry nie. Eers met die volmaak van die tenks het ons opgelet dat die onderste gedeelte van een van die wateruitgange afgebreek het, met bal en al. Die water het dus daar ingestroom en omdat die kabels vanaf die motors, waar dit deur die dek gaan, nie behoorlik geseël is nie, na onder gelek. 'n Verdere oorsaak was die deksel van die "water well" wat ook water deurgelaat het omdat die lekkende water hoër was, en die kabels ook hierdeur toegang verleen het na onder die dek. Ek het intussen verseker dat die lekplekke behoorlik verseël is om 'n herhaling te voorkom. Streng gesproke moet jou kabels waar moontlik natuurlik nie so gebruik word nie. Dis egter iets waarna opgelet moet word en veiligheidshalwe moet so 'n situasie vermy word. Vir enigeen sal dit loon om ondersoek in te stel hoe hulle sisteem werk. Spyt kom te laat!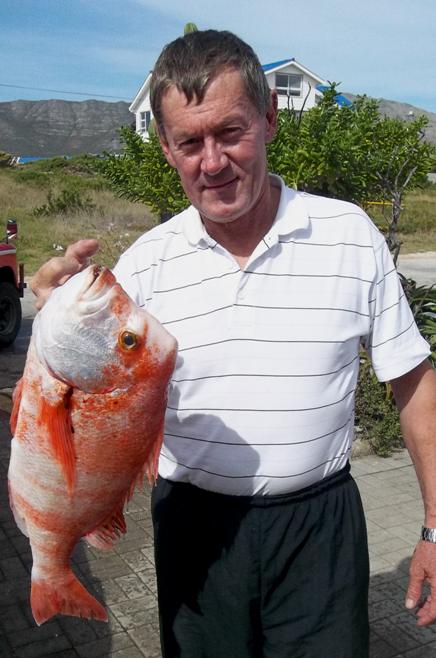 Dirk Hanekom by 'n baie mooi PW wat so raak-raak aan 4 kg wat hy by Joubert se Dam gevang het. Daar het ook 'n paar romanne in die slag gebly.
Iets wat myns insiens nogal handig is is die manier waarop jou GPS ingestel word. Gewoonlik wanneer 'n plek geplot word word 'n nommer aangegee wat mens dan verander en jou eie naam daaraan heg. Mettertyd vergeet jy wat by daardie geplotte nommer aangaan of dalk is dit niksseggend want 'n persoon se naam word byv. gebruik, net omdat hy die dag saam met jou was en daar toe vis gevang is. Dis baie meer prakties om al die plekke wat so geplot is eerder te merk met die betrokke plek se (afgekorte) naam en byv. kob daarby. Dit kan dus so lyk: FRKkob (vir Franskraal en kabeljou). Indien al jou plekke in hierdie omgewing met FRK gemerk word is dit baie maklik om te onderskei en te vind. PNTgbk vir die Punt en geelbek en so word al die plekke daarvolgens gemerk. Dit behoort op die GPS alfabeties geskik te word. Probeer dit gerus.
Groete, Seemeeu