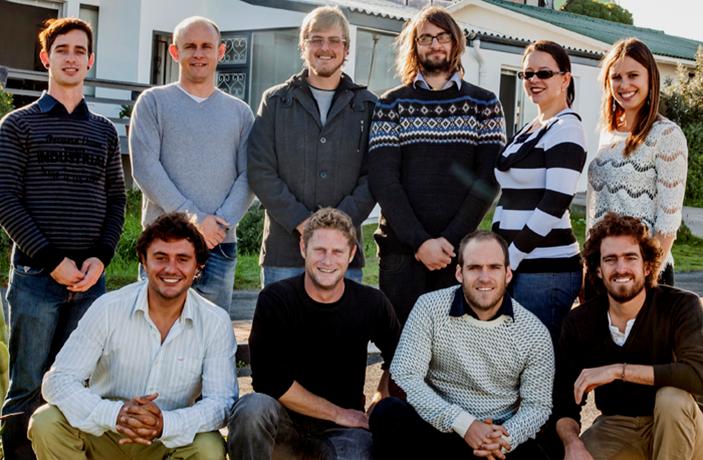 Die gedugte en dinamiese groep jongmense van DROID: Gansbaai Explore, wat besig is om 'n enorme impak op die bemarking van Gansbaai te maak. Voor vlnr is Marais Nel, Lloyd Koppel, Robert van Rooyen en Michael van Rooyen. Agter vlnr is Chris Booyens, Stephen Gleave, Jan Lutzeyer (Managing Director), Jonathan Cornelius, Candice Lombard en Justine Stewart.
Jan Lutzeyer: He moved to Gansbaai from Cape Town at the age of seven and after completing his school education in Hermanus, graduated from University of Cape Town in 2009 with Honours in Information Systems Business Science. He decided to move back to Gansbaai, where he was employed to manage Grootbos Private Nature Reserve's online marketing. Working in the Online Marketing field and his passion and enthusiasm for the online world grew by the day. In early 2011, he started DROID Projects, an Online Marketing Agency that develops all encompassing digital marketing strategies for clients in the tourism industry. He serves as Managing Director: DROID Projects.

Chris Booyens: Doing Search Engine Optimisation (SEO) for ±5 years. Responsible for making the website rank organically on search engines such as Google, Bing and Yahoo, website usability optimisation (making the website user friendly and easy to use) and conversion optimisation (improving the website to make it easier for people to enquire or find specific information/products). Studied System Development and Web mastering in 2008 and began specialising in SEO in 2009. Moved to Cape Town in 2010 to work at Purple Cow Communications as Head of SEO. Moved to Gansbaai in August 2012 to direct the SEO department of DROID Projects.

Marais Nel: Working in the online advertising department at DROID Projects since the start. Currently online advertising strategist, developing a strategy and manage online adverti-sing for the various clients at DROID Projects. Spend most of his time on Google Adwords, Facebook Advertising, Youtube Advertising as well as Bing/Yahoo advertising and analyse what the users behaviour is on the website when they visit the website. For Gansbaai Explore his task is to be first in Google for targeted keywords. His objective is to make sure that people click on the advertisements and send Enquiries/Bookings to the listers on Gansbaai Explore.

Stephen Gleave: Programmed the Gansbaai Explore system. Analyses requirements of the system and implement those new features into the system. Programming web systems for 5 years and before that he was a Java Application Developer in the financial and manufacturing sector.

Jonothan Cornelius: Studied Film at AFDA in Cape Town with his focus on Scriptwriting, Animation and Visual Effects. Worked as an editor for ZANEWS (a satirical web series on politics in South Africa) in association with Jonathan Zapiro. He then spent a few years working at a Production company in Cape Town as their animator and editor and then joined DROID Projects in Gansbaai. Grew up in Hermanus and love the area.

Robert van Rooyen: Born in Hermanus and completed his matric at Hermanus High School. Spent one year abroad working and travelling Europe and returned in 2005 to study at the University of Cape Town (UCT). Achieved Honours in B.Bus (Business science) Organisational Psychology as well as a degree in Critical Psychology through Social Sciences. Grown into the role of Online Content Marketing and Brand Development for the past 3 years at DROID Projects.

Candice Lombard: Community Manager for Gansbaai Explore which entails that she manages the Gansbaai Explore website, build business websites and also help clients to build their own business websites on Explore. Write and manage all blog posts and content for the website, Twitter and Facebook. Grew in the Western Province, but finally settled in George for 7 years where she finished High School and studied Game Ranch Management at NMMU. Thereafter some practical work at Game Farms, managed a restaurant and a pub and finally moved to Gansbaai in August 2010. Commencing January 2011 she spent two years abroad working on the cruise ships as a photographer. Joined DROID Projects in February 2013.

Justine Stewart: Grew up in Johannesburg and then moved to Cape Town in 2008 to get a Bachelor of Arts degree in Media & Writing and English at UCT (University of Cape Town). Spent a year teaching English in Thailand and travelling South America. Living and working in the Mother City before joining DROID Projects in February 2013 as junior copywriter and spend a lot of his time writing articles designed for search engine optimisation, and help out in online reputation management and Google Adwords.

Michael van Rooyen: Responsible for producing and direc-ting creative content at DROID Projects which includes writing, photography, design and conceptualisation. Born and raised in Hermanus. Loved discovering the hidden gems of the Gansbaai area since moving out here to be with DROID Projects. Work experience in the advertising, publishing and photography industry but is really enjoying the online marke-ting field, especially the travel and tourism niche.

Lloyd Koppel: Doing video work for the last 6 years. It all started in Gansbaai with the Sharks as a videographer on the cage diving boats for a year. For the next three years he tra-velled as a freelance cameraman shooting and editing promotional videos for backpackers, lodges and adventure activities all throughout South Africa. Thereafter he returned to Gansbaai where as the cinematographer for DROID Projects. His tasks entails shooting and editing quality video content for clients as well as shooting everything the region has to offer.