As we dust off the long weekend laziness and give our last thoughts to the celebration of Human Rights Day, we welcome the brisk Monday morning with its light batch of rain and mist rolling in over the Bay.

And with Walker Bay shrouded in mist, we take a moment to appreciate the beauty and tranquillity of the area we live. And what better way to show our appreciation than celebrating Earth Hour on Saturday, 29 March 2014. First celebrated on Saturday, March 31st 2007 in Sydney, Australia from 7:30pm local time, Earth Hour has now spread to include hundreds of cities around the world.


Photo by HD Photography
Earth Hour this year is scheduled for Saturday, 21 March from 8:30 until 9:30 pm local time and is aimed at turning the awareness into action by asking the question, "How do you honour the Earth?" The organizers of this worldwide movement, World Wide Fund for Nature (WWF), encourages everyone to spread the word, make your own promise to honour the Earth, talk, tweet and take action. By switching our lights off for one hour already makes a difference, imagine the real difference we can make if we set our minds to it!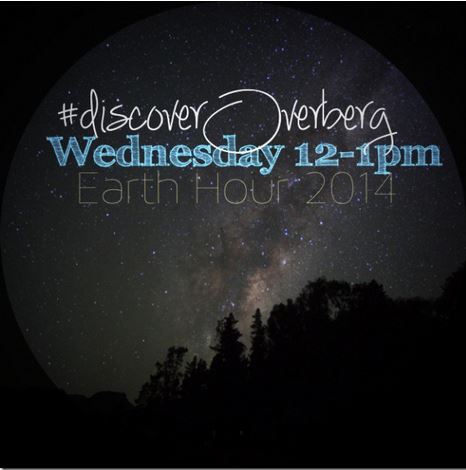 Photo courtesy of Jon Meinking | ishotimages via scarletnguni.com
Remember to join #discoverOverberg this Wednesday, 26 March from noon until 13:00 pm as we celebrate #EarthHourZA with @WWFSouthAfrica.

SPECIALS:
Whalesong Lodge
Summer Long Stay Specials
Expires: April 30, 2014
Special: Have a look at our great Summer Long Stay Specials Stay 3 nights and get a 15% discount Stay 4 nights and only pay for 3...
de kelders PRIVATE house
Special Offer
Expires: June 13, 2014
Special: Book through Gansbaai Explore and get the best deal!

Saxon Lodge
Shark & Stay
Expires: June 30, 2014
Special: FROM R1400 per person sharing, including breakfast...

Saxon Lodge
Bums in Beds
Expires: November 30, 2014
Special: Discounted rates (up to 40% off standard rates) apply for walk-in guests after 14H00 daily...

Sea Rose Self Catering
Book a Shark Dive and get FREE Accommodation
Expires: December 31, 2014
Special: Book your Shark Cage Diving Experience with Sea Rose Self-Catering for R1450 and stay for Free. You save R250!...

Sea Rose Self Catering
Last Minute Accommodation from R200 per person
Expires: December 31, 2014
Special: Book your accommodation at Sea Rose 24 hours in advance and get our last minute rate of R200 per person...

EVENTS:
Bread Making Workshop
Date: Last Thursday & Friday of the Month
Event: Experience the joy of bread making in the home of artist Neil Jonker...
Wine-Tasting Guild
Date: Last Friday of Every Month
Event: The club meets on the last Friday of every months in a different location to sample the fruits of nature...

Earth Hour
Date: 29 March 2014 from 20:30 until 21:30
Event: Switch off all your lights for 60 minutes to show your support pof Earth Hour!

INSPIRATIONAL QUOTE OF THE WEEK:
"Do what you can, where you are, with what you have." – Teddy Roosevelt