The whales arrive with the season of storms, along with vivacious winds and the rhythmic drumming of African rain on rooftops- a familiar tribal reminder that we are indeed in Nature's embrace. As a storm makes its initial announcement upon the rocky shore, De Kelders bears witness to an African symphony of wind, waves, water, whales, color and clouds.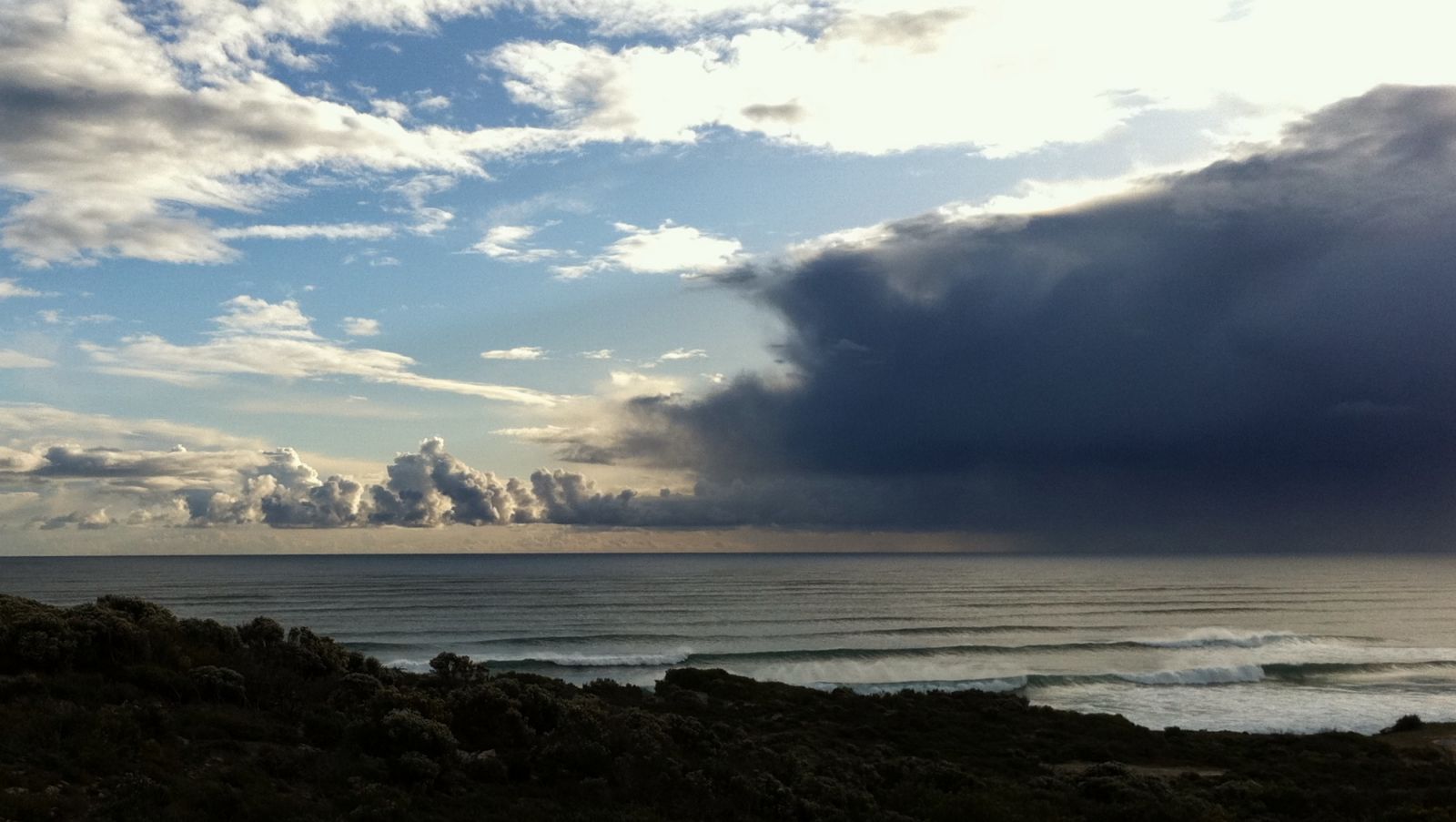 Birthed deep in the southwest pacific, this arctic union of elements has been growing and learning the secrets of the seas as it travels in its own turbulent dance across the ocean.
After three weeks of brewing, the typical winter storm greets the Walker bay locals with a convincing chill.
Cuddled up in the comfort of Whalesong Lodge, the temptation to be at the ocean's edge with the arrival of the storm is too great to resist. The clouds are still out on the horizon as I gather up scarves and other winter anecdotes for the walk outside.
Stormy days in De Kelders give rise to feelings of submerged rebellion seated deep within each of us. Especially if you venture beyond the well-loved path and embrace the resonance of your pounding heart. Hugging the jagged shoreline, the stormy sea salt spray caresses the Achilles heel. Naturally, this is for the intrepid heart and there are also gentler meanders that provide unequivocal stimulation for the spirit.
The cliff path trail is a beautiful and gentle diversion from the road. Just a few steps down you find yourself immersed in the unique flora and fauna along the cliffs. This is the path I take today, pausing as I look down the cliff face into the swirling water below.
There are cliffs here, in De Kelders, which may not be excessively high, yet still manage show just how small a human being actually is.
There are flowers, upon a moment of clear observation, which promote the realization that the difference between what we know about life, and what we think we know about life, is rather contrasting.
he first drops of rain begin to fall, caressing my skin. I turn to face the rumbling sea, beholding an oceanic beckoning to the clouds billowing over the water. The sun is casting his dusky rays, a sight of golden penetration through the clouded embrace. The clouds are wading in thick now as they begin licking every morsel of blue sky until the grey bulge promises a hefty belch. I turn and head for the warmth
within Whalesong Lodge.
The walk along the paved road is unhurried, and my feet are feeling light. I breathe in the wild wind's smell, a deep peace emanating with the welcoming of the storm.
... a slideshow of stormy moments ...