Wine and Co - Savages and Bonfires!
New in stock: SAVAGE
The wines from Duncan Savage have just been released and we are very happy to have them on our shelves!
Here are a few words from Duncan:
This year's release is made up of wines from the 2020 vintage with one 2019 in the form of the Savage Red. 2020 offered a fairly moderate growing season with many of the vineyard parcels returning to almost normal crop levels with the exception of Savage White. We see a welcome return of 'Never Been Asked To Dance' and 'Not Tonight Josephine' to the range, two great examples of Chenin across a spectrum of styles.
The harvest ran pretty smoothly with good ferments and beautiful fruit-forward aromas, all was on track for a pretty normal end to the season. Covid unfortunately arrived and a lot of uncertainty lay ahead for all of us in the wine industry due to the lockdown restrictions. As a result, many of the 2020s spent more time on skins than usual.
The irony is that adversity often brings out the best. We have planned longer skin contact for years and it was Covid that forced our hand. The Reds offer all the perfume one expects from the varieties with a touch more grip and precision. Elegance and purity however remain the cornerstone of our wine philosophy and this year's release is no exception. While accessible now, the range will deliver for many years to come, 'Not Tonight Josephine' in particular is in no hurry. Our production is again limited and I hope you enjoy the wines. Sincerely, Duncan.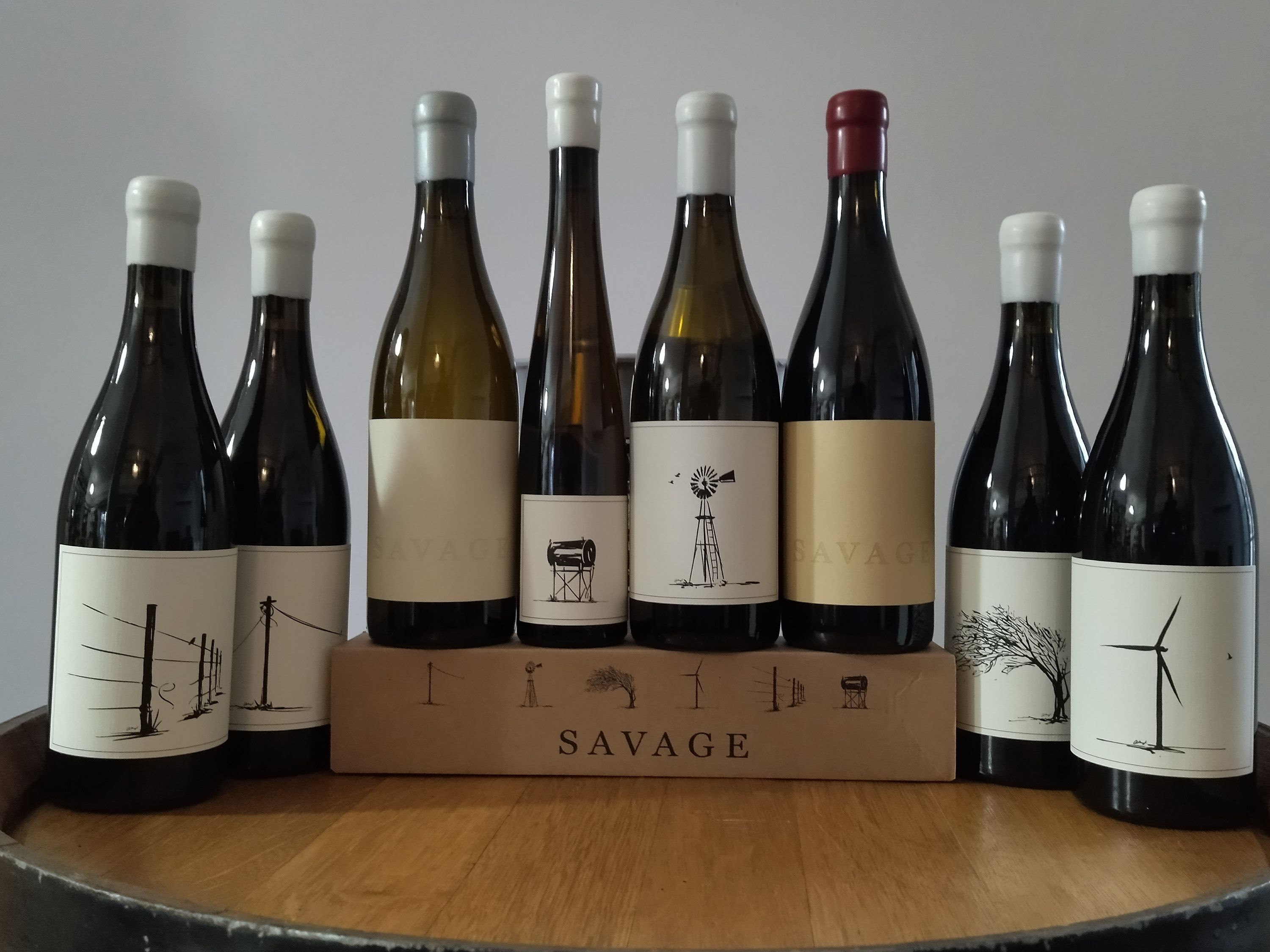 Tasting Notes by Greg Sherwood MW.
SAVAGE WHITE 2020: Savage White returns to its roots as a traditional blend of Sauvignon Blanc and Semillon. The Chenin component is now focused entirely on 'Never Been Asked To Dance'. Sourced from trellised and bush vines, the grapes were whole bunch pressed before undergoing spontaneous fermentation.
Sauvignon Blanc takes the lead, the aromatics show a pronounced spicy, herby, savoury tinged array of waxy green apples, white citrus, clementine, honeyed chamomile and root fennel with subtle hints of dried fynbos and lanolin. The palate is masterfully rich and broad, coating all corners of the palate with intense, crystalline notes of spicy yellow grapefruit, freshly squeezed tangerines and white peach cordial. The acids are intense but wonderfully tangy adding to a real sense of textural harmony and mineral complexity. A complete wine that races out the blocks and will undoubtedly give plenty of drinking pleasure immediately on release. Drink now and over the next 4 to 6+ years. Blend: 76% Sauvignon Blanc, 24% Semillon.
SAVAGE RED 2019: Syrah exclusively sourced in Stellenbosch from vineyards organically grown on decomposed granite soils. Always released a year behind the rest of the Savage range, this 2019 is a dense, dark, potent red from a powerful, concentrated, minerally focused vintage. On the nose the aromatics are marked by intense notes of earthy red and blackberry fruits, inky saline notes of black cherries, pink musk, savoury cured meat nuances, black olives and a sappy cedar wood spice complexity. With 70% of whole clusters used in the fermentation, the palate shows pronounced chalky mineral tannins with vibrantly fresh crunchy acids from the granitic soils.
Raspberries and blueberries surge to the fore on this dense, powerfully structured wine, gaining in richness and intensity as the wine slowly unfurls in the glass. The wine shows a focused prowess and concentration together with an opulent richness framed by an underlying stony minerality. A wine with undeniable focus and structure but also a surfeit of seductive charm. Drink from 2022 to 2035+.
FOLLOW THE LINE 2020: Now in its eighth vintage, 'Follow The Line' continues to be one of South Africa's most respected old vine Cinsaults. As always, the fruit comes from 40-year-old dry farmed bush vines in Darling grown on decomposed granite soils. The 2020 is spontaneously fermented with 50% of the fruit as whole clusters. Every vintage that passes boasts an incredibly perfumed floral bouquet of violets, pressed rose petals and hints of cherry blossom that melt into pronounced notes of earthy lavender, coriander and Turkish delight. The palate is incredibly cool and suave with bright tingling cherry acids. A silky weightless concentration, crystalline wild strawberry and red cherry fruits and the most delicate lacey tannins on the finish. This is a polished, ethereal, classy effort with so many of the Cinsault characteristics drawing an undeniable resemblance to young, premium Côtes de Beaune Pinot Noir. Approachable on release, but cellar-worthy for at least 10+ years, don't miss this new release. Drink now through to 2031+
THIEF IN THE NIGHT 2020: A blend of 63% Grenache, 26% Cinsault and 11% Syrah from dry farmed bush vines grown on sandstone soils. The fruit was spontaneously co-fermented using wild yeasts employing 20% whole clusters. The wine shows a delightful autumnal aromatic profile of forest undergrowth, savoury fraise de bois, tilled earth, grilled Provençal herbs and subtle shades of summer garrigue. On the palate, the wine shows plenty of textural detail, fine silky caressing tannins and harmonious fresh acids. The red and black berry fruits are earthy but impressively pure and precise, finishing with notes of bramble berries, pomegranates and sappy spice. 'Thief In The Night' is more Burgundy than Rhône in style. Drink now and over 6 to 8+ years.
GIRL NEXT DOOR 2020: Grapes from one of the saltiest, windswept 0.38 hectares of organic Syrah vines near Fish Hoek in Cape Town. These 15-year-old trellised vines on sandy gravel soils were originally planted for ornamental purposes. The 2020 vintage once again sees a 50% whole cluster portion included in the natural fermentation. Initially delicately savoury and perfumed, the aromatics are fairly restrained showing notes of lavender, cured bresaola, hints of iron, graphite and piquant plummy blackberry spice. The palate texture is incredibly elegant and fine boned, showing light touch winemaking, silky soft dry powdery tannins and a smooth, cool, classical finish revealing blackberry fruits, black peppercorns and a gentle maritime salinity. A fine, supple, complete expression of Syrah. Drink now and over the next 8 to 10+ years.
ARE WE THERE YET 2020: 50% Touriga Nacional and 50% Syrah grown as bush vines on a unique river pebble on shale terroir in Malgas. While the 2019 saw 100% of the grapes destemmed, the 2020 has a 10% whole bunch portion added. The aromatics are seductively dark and alluring with exotic notes of salty blackcurrant, blueberry, black cherry and black liquorice. Wonderfully opulent and expressive, the 2020 reveals a deliciously fleshy, creamy palate with a truly seamless texture, sweet plump velvety tannins and a long saline, maritime tinged crème de cassis finish. The 2019 was more influenced by the Syrah in the blend, lending a certain savoury Côte Rotie feel to the wine. The 2020 however is decidedly more Douro'esque in stature with deliciously opulent Touriga Nacional black- and blueberry fruit characteristics dominating. Drink now and over 10 to 12+ years.
NEVER BEEN ASKED TO DANCE 2020: The 2020 vintage releases see a welcomed return of this old vine Chenin Blanc sourced from 67 year old dry farmed bush vines grown on decomposed granite soils. Whole bunch pressed and spontaneously fermented in neutral Stockinger 600 litre barrels, this third release screams its granitic terroir with complex aromatics dominated by notes of crushed gravel, wet grey slate and struck flint. An understated petrichor character that combines with subtle notes of peach stone, toasted almonds and lemon grass herbal nuances. Like most old vine Chenin Blanc grown on granitic soils, this terroir lends quite a severe, austere and minerally taut styling to the palate in the wine's youth with plenty of wet river pebble stony undertones, crunchy yellow orchard fruits and refined pineapple pastille notes. The finish is dry and slightly rasping, but shows great persistence and intensity, finishing with last ripples of dried herbs, yellow apple skins and a mouth-watering saline bite. Drink from 2023 to 2034+.
NOT TONIGHT JOSEPHINE 2020: First produced in 2018 and only released when the quality is deemed exceptional. With no 2019 bottled, the 'Not Tonight Josephine' returns again in 2020. 100% Chenin Blanc fruit grown on rocky sandstone soils on the Piekenierskloof farm of Tierhoek. The grapes were dried for three weeks and then left for five days on skins as whole bunches with regular foot treading. Only bottled in July 2021, the wine already shows a wonderfully pure fresh precision, a vibrant tangy acidity and fabulous drinkability. The aromatics are pure and bright with delicious layers of dried apricots drizzled in honey, mango chutney, milk tart and custard filled pastries. The palate is creamy and plush, superbly balanced and elegant, neither overly sweet nor clawing with a fine creamy dried peach finesse. A mouth coating glycerol breadth and a long, pure finish with a kiss of granadilla liqueur. Drink now to 2040+.
Tasting Extreme Vineyards!
Friday | Saturday | Sunday Weekend tasting: The Bonfire Hill Red from Bruce Jack is an expression of varietals (Shiraz 36%; Cinsault 32%; Pinotage 32%) from vineyards in different regions (Breedekloof 78%; Goudini 18%; Overberg 4%). Bruce Jack says, "An intriguing, inviting blend of red summer fruits, spring fynbos flowers, Indian spice and just a hint of toasty oak on the nose. The palate is surprisingly decadent, rich, with almost creamy tannins. You'll find raspberries, blackberries, ripe plum and a hint of pepper, spice and leather on the palate. It is balanced, with just the tiniest prod of refreshing, salty acid, like a playful poke of Neptune's trident."
Life is short. Be true. Be kind. Be brave. Light a bonfire.
COVID-19 RULES:
Just a reminder that we have an ON/OFF Consumption Liquor License that allows us to be open for tastings over weekends during the newly-imposed Level 3 COVID-19 restrictions.
This means that we are open every day of the week, and will still be able to have our weekend tastings. Please note that you ARE able to purchase for local (Hermanus) delivery which will take place after closing. Any other deliveries (national or international) will be arranged for next week.
We are open 10am - 6pm Monday to Thursday, and 10am - 4pm on Friday, Saturday, Sunday and Public Holidays.
A reminder of our website: www.wineandco.co.za/shop
Please note that our website does not show the complete range of wine that we have in stock, so please do contact us if you are looking for something not listed online, especially those that are 'allocation' only. We offer free delivery in Hermanus, and free shipping to major centres around South Africa for orders over R1500. Please contact us for international shipping rates.
COVID-19 shop hours (until further notice):
- Monday to Thursday: 10am - 6pm.
- Friday + Saturday + Sunday + Public holidays: 10am - 4pm.
About Us
Have you ever heard about a great wine but could never find a bottle for yourself (to share with friends, of course)? Well, the team at Wine & Company do all the hard work for you! We visit wine farms and attend tastings to find, taste, and then stock wine from the smaller Estates and independent winemakers who buy grapes and produce outstanding wine under their own labels – much the same as the French negociants have been doing for centuries. Given that these winemakers make wine in such small quantities, sometimes just a single barrel, their wine will never be found on the shelves of the major retailers, but only in specialist shops like Wine & Company on High Street, Hermanus.
In addition to the great selection of well-known wines and MCC's, we also stock local craft gin and beer, French Champagne, Belgian Ales as well as whisky and other spirits. Wine & Company (established in 1998 by Bartho Eksteen) has a well-earned reputation for stocking hard-to-find small-batch wines and we strive to continue this great tradition. If you purchase a bottle of wine from us and it is faulty we will gladly replace the bottle and return the faulty wine to the winemaker.
Feel free to contact Wine & Company if you need a particular wine and we will do our best to source it for you. We are also able to ship wine locally and to most countries so do ask about international shipping.
Thank you for your support - stay safe - see you soon!