Stanford Pet Feeding Project
Following the announcement of the national lockdown on 26 March 2020, its envisaged impact on the unemployed and their pets became reason for grave concern. This resulted in the implementation of the Stanford Pet Feeding Project under the wing of the Stanford Animal Welfare Society. Donations have been generous, but far more is needed as the lockdown continues.
Big thanks to Willem Maclean and David Phillips for sacrificing Sundays to deliver pet food.
SAWS is there for Chico and others: Loyal to the end
Nelly Roodt
When Stanfordian Martiens Maans passed away in August last year, he had a large family mourning him - his wife, Norma, six children and 13 grandchildren.
And then there was Chico, Martiens' much-loved, 15-month old mongrel.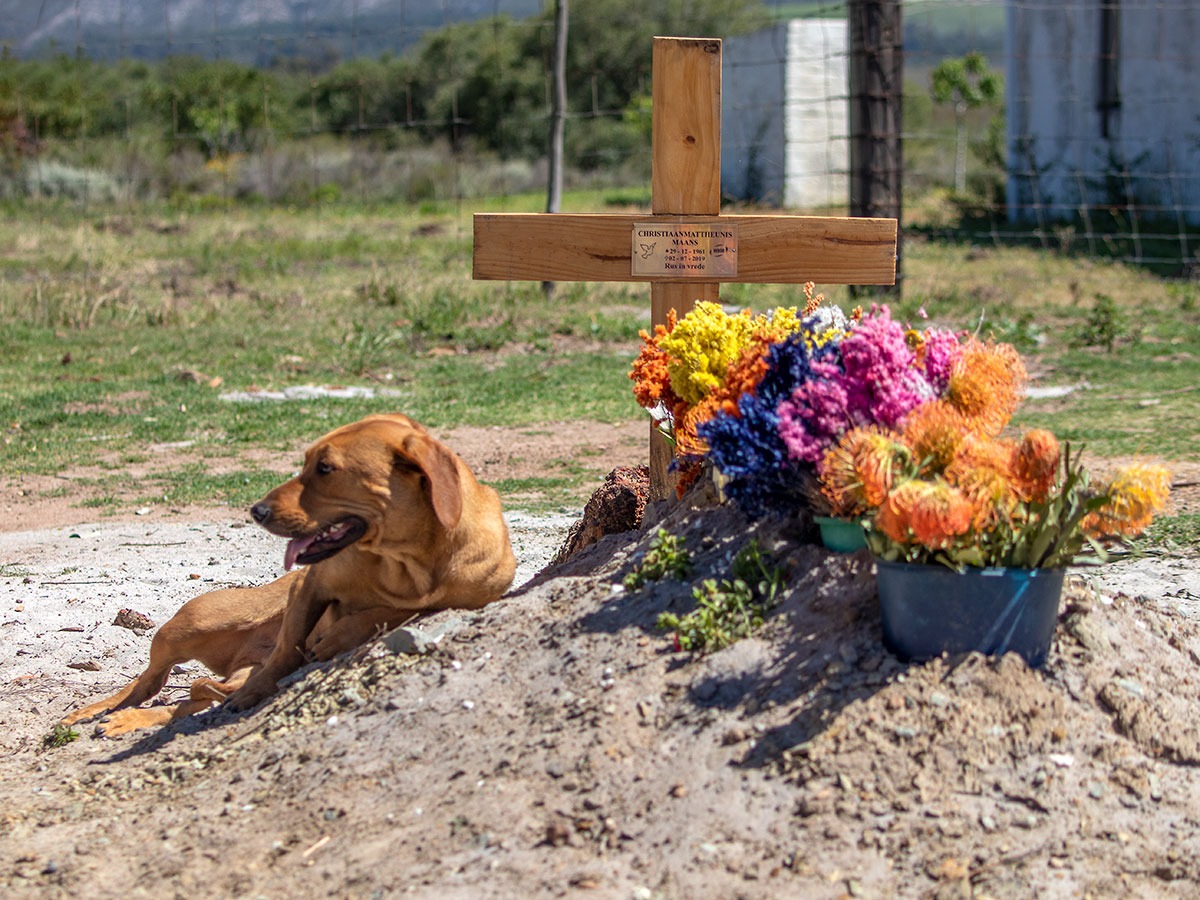 (Photo Credit: Annalize Mouton)
Chico, a short little chappie with basset-style feet pointing slightly outwards, and golden hair shining in the sun, did not go to the funeral with the family. He was locked up safely at home.
When the Maans' family returned, Chico was there. But not long afterwards, he disappeared, only to come back hours later.
This became a pattern. Norma and her children were mystified. Until one day someone told her that Chico was regularly seen lying on Martiens' grave.
"We have no idea how he came to know about the grave. None of us ever took him there," says Norma.
Norma tells that Martiens loved animals. After he had stopped working as a carpenter assistant he bought his little soulmate. Chico was about 8 weeks old and the two soon became inseparable.
When Chico was a year old, Martiens (57) died, following a serious illness.
Many passers-by who, spotting the sole wake at Stanford Cemetery, had a doggie biscuit at hand. Simply, to pay respect to Martiens and Chico and that crazy little thing called love.
Chico's period of mourning is past and he no longer goes to the grave.
Norma, now being the sole breadwinner, sometimes struggles to make ends meet. The Stanford Animal Welfare Society (SAWS) has always been there for her when she runs short of food for Chico.
There are many pets out there as loyal and loving as Chico in need of food. The situation has been exacerbated by the lockdown, which has left many pet owners without job.
Please consider helping the Stanford Pet Feeding Project of SAWS supply food for the pets of such owners.
The system in place for donations of pet food is as follows:
Pet food (dry not canned) can be purchased and left at the allocated spaces at the entrances of Overberg Agri Stanford and Stanford OK Mini Market.
Monetary donations can be paid into the Stanford Animal Welfare Society banking account with reference Stanford Pet Feeding Scheme.
For further queries please contact Veronica, Nina or Nelly (details in bow below).
Contact Details:
Veronica Carter: 082 600 1796 (WhatsApp)
Nina Morcombe: 082 453 5994 (WhatsApp)
Nelly Roodt: 082 7756 476 (WhatsApp)
Bank Details:
Nedbank Hermanus
Current ac. 147 003 1264
Code 198765
Stanford Animal Welfare