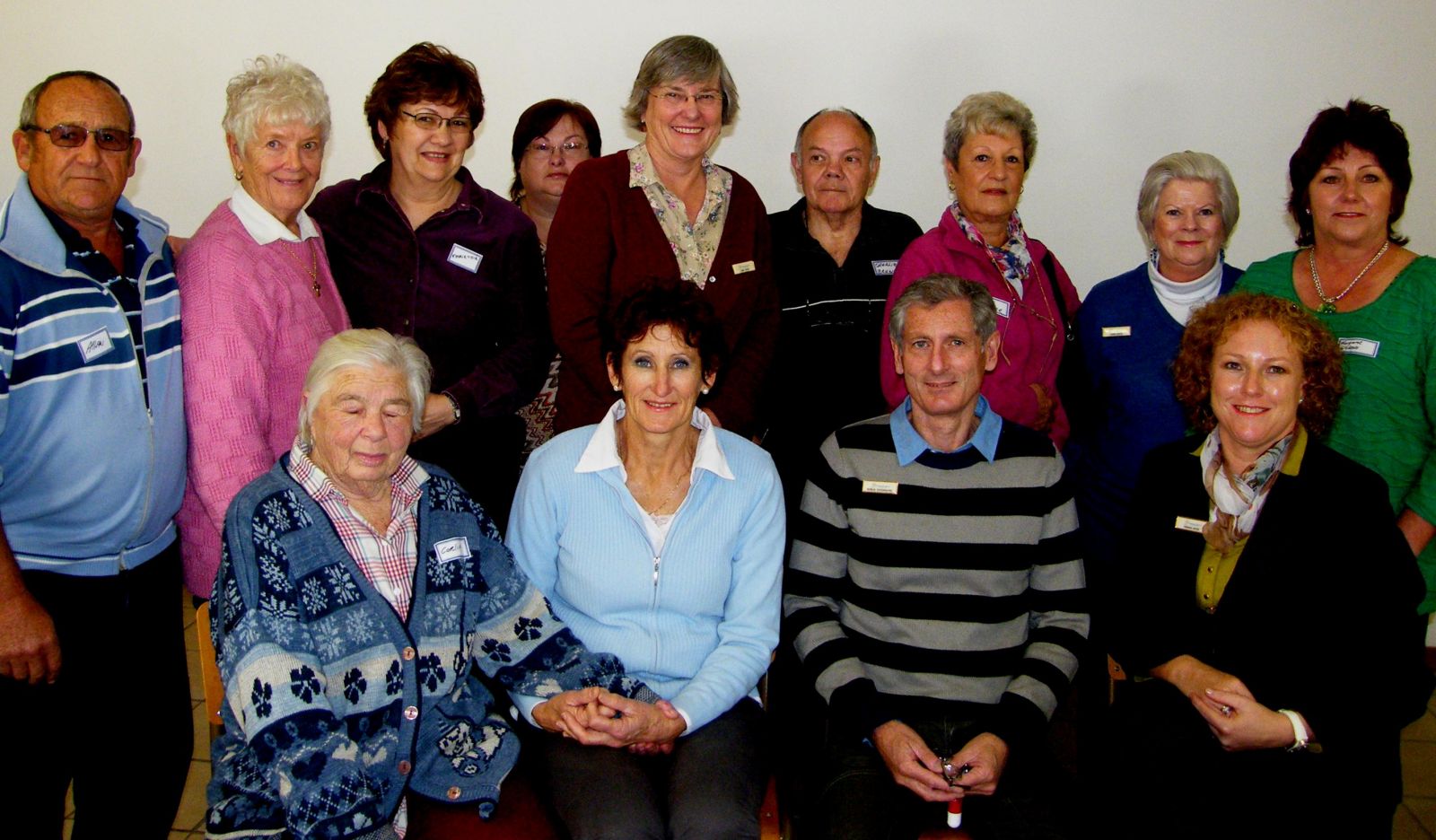 Die groep Hospice pasiente, familie, vrywilligers en personeel in Gansbaai, met Fransil Kotze regs in die voorste ry.
'n Vrywillige werker vertel die volgende: "Toe ek 5 jaar gelede as vrywilliger by Overstrand Hospice aangesluit het, het ek geen benul gehad wat "Dag-Hospice" beteken nie; die woord "hospice" het by my die beeld opgeroep van 'n baie siek persoon in 'n bed. Nou weet ek van beter: net 'n persentasie van ons pasiënte is bedgebonde, terwyl baie steeds aktiewe en betekenisvolle maande of selfs jare het om te geniet."

Overstrand Hospice het op Maandag, 7 Oktober 2013 hulle eerste Dag-Hospice vir pasiente en hul familielede in Gansbaai en omgewing suksesvol onder leiding van Fransil Kotze aangebied. "Die samesyn, gedeelde ervarings en ondersteuning laat pasiënte en hul geliefdes toe om vir 'n oomblik van hul 'siektetoestand' te vergeet en net toe te laat om met heerlike eetgoed en lekker geselskap bederf te word," vertel Fransil, Maatskaplike werker van Overstrand Hospice. Sy sê Dag-Hospice sal een maal per kwartaal plaasvind, met 'n spesifieke onderwerp en program vir die oggend. Dié spesifieke dae sal deur die Gansbaai Vrywilligers van Overstrand Hospice beplan en gekoördineer word. "Ons kan altyd nog Hospice vrywilligers op vele terreine gebruik - ons pas aan by jou gawes en die tyd wat jy tot jou beskikking het," sê Fransil. Hulle benodig byvoorbeeld gereeld vrywilligers om pasiënte met vervoerprobleme (wat nie vervoer het nie of nie self kan bestuur nie) na byeenkomste te vervoer. Voorts is daar altyd 2 vrywilligers wat aan diens is vir die voorbereiding van tee en verversings, asook vir die opruiming agterna.

"Voorstelle en bydraes vir byeenkomste is natuurlik ook altyd baie welkom, aangesien enigiets wat die aandag vir 'n wyle van die siekte kan wegneem, tot voordeel van die pasiënt dien." Fransil sê dit is altyd 'n verrykende en genotvolle oggend vir almal - ook vir die vrywilligers. Hierdie byeenkomste skep geleenthede aan pasiënte om gesellig saam met personeellede en opgeleide vrywilligers, wat aan elke pasiënt toevertrou word, te bied.

Overstrand Hospice kan gerus op die webtuiste www.overstrandhospice.org.za vir meer inligting besoek word.
Kennis kan ook van hulle uitstekende Nuusbrief op die webtuiste geneem word. Die noodsaaklikheid van vrywilligers kan nie oorbeklemtoon word nie en belangstellendes kan vir Fransil Kotze by 028-312-4679 skakel, of stuur 'n e-pos aan haar by sw.hospice@hermanus.co.za.
Hardus Botha